Bride's Rage After Venue's Sudden Rule Change Sparks Debate: 'Any lawyers?'
Every bride wants their wedding to be perfect, but in reality, sometimes problems arise that are simply out of their control. Recently, a Mumsnet post has caused a debate after a user shared that her venue had changed their rules, banning red wine from being served at their wedding.
Submitted under a fitting username of RedWineRage, the post was titled "Can our wedding venue do this??? Any lawyers?!" and was shared on the website's "Am I Being Unreasonable" channel.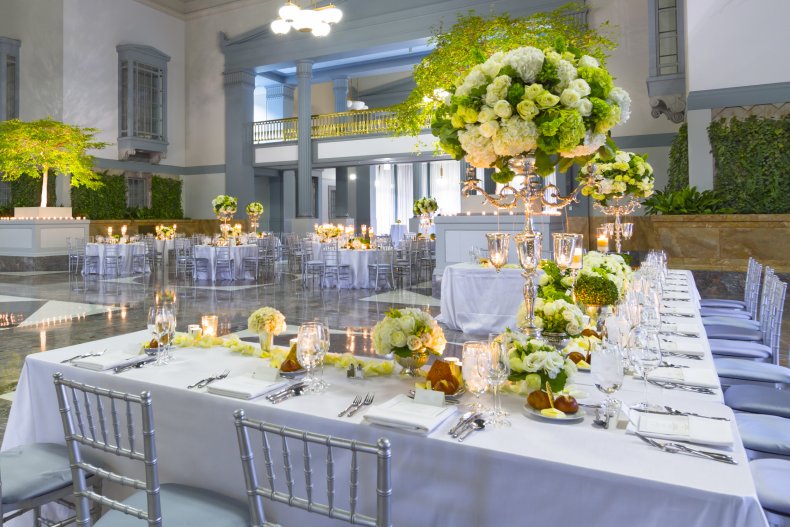 The user outlined that they are due to hold their wedding reception in a "stately home-type place which is open to the public but also does weddings, [and] has done successfully for years." According to the original poster (OP), the location is even the "top listed wedding venue in various magazines" and has "very good reviews."
"So—not some shady outfit," she summarized.
However, the OP shared that she recently received an email from the wedding venue "out of the blue" that indicated that "due to several incidents at recent events," it will no longer be serving red wine "at all, with immediate effect" and will instead replace it with rosé as part of the OP's drinks package.
The OP highlighted her frustration, sharing that her mother only drinks red wine, while several family members prefer red wine too. "We planned to have beef as a main," she added.
As part of her post, the OP asked whether or not this was "totally unacceptable" from the wedding venue, mentioning that she's considering getting another venue and "trying to claim money back through small claims [court]."
She finished by adding: "My mum can't not have an alcoholic drink at my wedding. Sorry I'm ranting and probably not being very rational."
According to the survey attached to the "Am I Being Unreasonable" post, 72 percent of Mumsnet users concluded that the OP was in the wrong in this situation.
"It's really not that big a deal. Anyone can cope for a day without red wine, or without an alcoholic drink," wrote one commenter.
"I'm guessing they've had some red wine spillages that have caused damage, so it's sort of understandable if it's a historic location," wrote another user.
"Their gaff their rules," one Mumsnet user shared succinctly.
Some people rushed to the support of the OP, highlighting that it was her special day and that she was allowed to be concerned about the last-minute change:
"This would really annoy me. I'd continue to fight it. I wouldn't change venues if I didn't have to, but I would be adamant that this change isn't acceptable," wrote one commenter. "I've never ever heard of a place doing this, seems very odd."
"My [reaction] would be the same as yours OP. You've signed up under a certain understanding and they've moved the goalposts," shared another user.
Other users tried to be more diplomatic and offered several solutions the OP could pursue instead of opting to through small claims court.
"I agree it's very annoying as beef def needs red! Could you consider changing the main course to something that would work.better with white wine?" proposed one commenter.
Another user suggested working together with the venue to find a solution: "I would start by contacting them and explaining this is important to you and can you work together to come up with a solution? Acknowledge their concerns and give reassurance that there won't be an incident?"
According to wedding planning website The Knot, the average cost for a wedding venue in 2021 was approximately $10,700, accounting to almost a third of the total cost for an average American wedding. The survey also found that to-be-weds consider the venue as one of the top three most important aspects when finalizing their wedding budget, along with guest count and location.
This wouldn't be the first time that a wedding planning dispute has made headlines. Previously, Newsweek wrote about a wife-to-be demanding her sister to cover her piercings and tattoos as well as dye her hair in order to be a bridesmaid. Newsweek also reported that a woman was told she had to lose weight to be a maid of honor at her cousin's wedding.
If you have a similar family dilemma, let us know via mailto:life@newsweek.com. We can ask experts for advice, and your story could be featured on Newsweek.