Bride's Homemade Wedding Cake Using Boxed Mix Sparks Debate
A woman shared the process of baking her wedding cake using a boxed mix in a now-viral TikTok video, but viewers' opinions were split.
Laura Saxe posted the video to her account @darlinggoose. She showed the Betty Crocker sprinkle mix that she used and how she brought her wedding cake to life in her video, which was viewed more than three million times.
Saxe told Newsweek in an email that cake is her and her husband's favorite cake for all occasions.
Although some viewers criticized the cake, others applauded Saxe's efforts.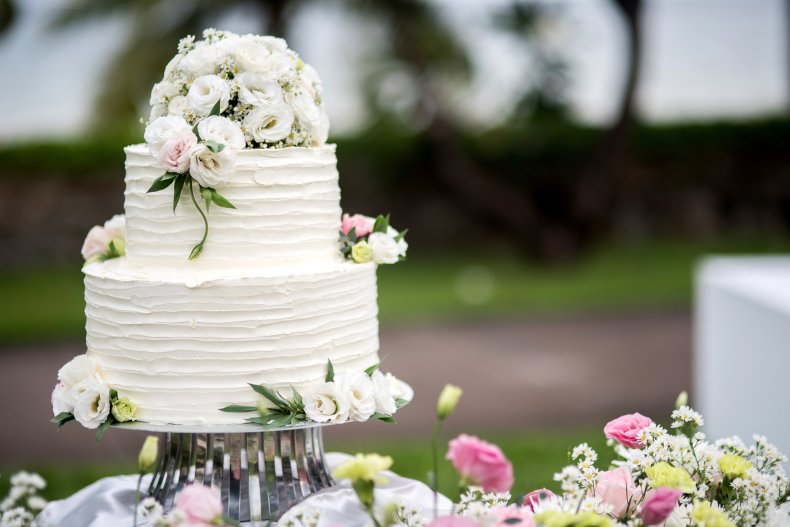 Weddings That Take The Cake
According to a study conducted by The Knot, 75 percent of married couples had cake as their dessert of choice at their wedding. The study also found that $500 was the national average cost of a wedding cake.
The price of a cake may vary, depending on the type of the cake, how big it is and if there are decorations.
"According to our study, 81 percent of couples hired a professional wedding cake baker to execute their dessert last year," the outlet reported.
A Homemade Cake
TikTok user Saxe chose to go down a different route as she set out to bake and decorate her own cake for her wedding.
Using a boxed mix that had rainbow bits, she got to work baking the various tiers that were used in the cake. Saxe refrigerated the cakes and iced them the following day with vanilla frosting. Rainbow sprinkles and a cake topper completed the two-tiered wedding cake.
"I wanted to make our wedding about all of our favorite things and so sprinkle cake had to make an appearance," she said.
While Saxe said she enjoys cooking, she rarely bakes aside from the occasional sprinkle cake or cupcakes. Her wedding cake was the first time she made a layered cake.
She said putting the cake together was more difficult than she anticipated and required the work of her, her husband and her in-laws until 1 a.m.
"The TikTok cake baking videos make it look so much easier than it is," she said. "I don't think my cake looked perfect, it was definitely leaning to one side, but it was so special to us."
TikToker Takeaways
Some viewers criticized the choice to have a homemade wedding cake.
"This has to be a joke," a viewer wrote.
"No...just no lol," another commented.
One opined that the cake resembled a birthday cake instead of a wedding cake, while some wondered why she decided to use sprinkles.
"I can hear your guests judging," a comment read.
However, many jumped to her defense and commended Saxe for baking her own wedding cake.
"Thank god someone has some common sense and doesn't pay 500 for a wedding cake," a TikTok user commented.
"People are so mean," another wrote. "I can't remember anyone's cake at weddings I've been to. If you're happy with it, that's all that matters. [It's] your day! Congrats!"
"Okay this is the cutest cake ever I'm obsessed," a viewer commented. "So different from classic wedding cakes and you save A LOT of money."
The video even prompted the verified TikTok account for Betty Crocker to comment.
"How beautiful," the company commented. "You rocked it!"
While the comments were split, Saxe said baking the cake will be a fun memory for her to look back on. And, while she did not understand why people left "hateful" comments, she appreciated the encouraging comments.
"The whole cake-making process was so special to me," she said. "People can have their opinions, but it doesn't make the cake any less special to me—it's a memory that I will forever treasure."
Other Wedding Hacks
Others have shared different stages of how they planned their own weddings.
One couple's TikTok video showed the process of how they built a private venue in their backyard, while a viral hack showed how viewers can create their own affordable centerpieces for weddings.
Another bride posted a video showing how she dyed her wedding dress from white to black.