Bride's Voice Message About First Date Resurfaces at Wedding in Viral Video
A bride was reminded of her feelings toward her now-husband after their first date thanks to a resurfaced voice message that was shared at her wedding, as seen in a TikTok video that has been viewed nearly 2 million times.
Sabrina Flores shared the clip to her account @withlovesabrinaflores that shows her male best friend, who also served as her maid of honor, playing the voice message she sent to him after her first date with her husband.
Wedding publication Brides offered a few tips to those delivering a speech at a wedding, including sharing a story, keeping it short and practicing giving the speech.
Katelyn Peterson, a professional speechwriter and founder of Wedding Words, told the outlet that the more someone practices their speech, the more comfortable they will be by the time it is time to deliver it.
"Practice your speech twice a day, starting at least a week beforehand, and record yourself a couple of times so you can hear your pacing and tone," the piece stated.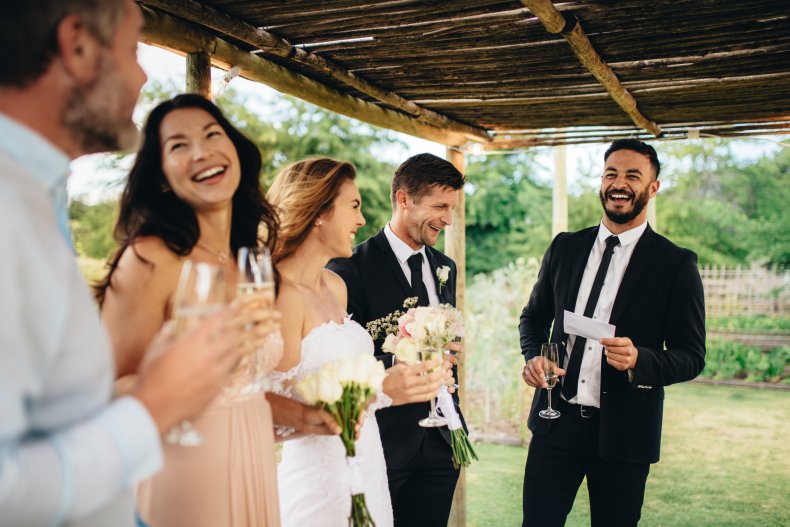 In the video, her best friend gave a brief introduction to what he was about to share before he pulled out his phone. Flores's jaw dropped and looked shocked before he began playing the message.
The voice message begins and Flores is heard explaining that she matched with her now-husband just a few days prior to their date on the popular dating app Bumble. She proceeded to compliment his looks and personality.
"He also just seems super genuine and sweet," she said.
Although they lived two hours away from one another, Flores told her maid of honor in her voice message that she went into the date with an open mind and it was worth it.
"I've never connected with anyone like I did with this guy," she said.
And, while Flores told her maid of honor she was unsure of the next time she would see him again, she concluded her voice message by saying, "Life is really fun, that's all."
When the message ended, Flores' best friend said he could not have said it better, but also jokingly warned others not to send him audio messages.
Viewers were touched by the sweet voice message.
"Brb in tears," commented the verified Bumble account.
"The fact that he saved that and [dug] it up to play it, such a sweet friend," a viewer commented. "That was sooo cute hearing it from your own words."
Another comment read, "'Life is really fun' that's the vibe someone should always bring out of you."
Newsweek reached out to Sabrina Flores for further comment.
Another wedding speech went viral on TikTok after the best man included a raunchy anecdote. Meanwhile, a post on Mumsnet garnered attention and opinions when a bride-to-be posed the question of what wedding guests cared about the most. And lastly, one couple shared their sweet story of getting married in the midst of "blizzard-like" conditions on a mountain in Peru, Vermont.