'Bridgerton' on Netflix: What the Julia Quinn Books Reveal About Season 2
Bridgerton is expected to reach over 60 million households across its first four weeks per Netflix, making it their fifth most-watched show ever—though it should be noted that the streamer counts anything over two minutes as a "watch," and its viewing claims are unverified by an outside body. Clearly, however, the show has been a huge hit for the streamer, meaning that Season 2 is likely to be coming very soon to Netflix.
The period drama is based on the Bridgerton series of books, published from 2000 onwards by romance novelist Julia Quinn. The first season was an adaptation of the first book in the series, The Duke and I, which tells the story of the kind socialite Daphne Bridgerton (played by Phoebe Dynevor) and the aloof Simon Basset, Duke of Hastings (Regé-Jean Page).
This is the first of eight main books, with The Duke and I followed by The Viscount Who Loved Me, An Offer From A Gentleman, Romancing Mr. Bridgerton, To Sir Phillip, With Love, When He Was Wicked, It's In His Kiss and On The Way to the Wedding.
Quinn's Bridgerton series of books has a unique gimmick that sets it apart from other romance franchises. Like many historical romances, it has a society family at its heart—the Bridgertons, lead by Violet (Ruth Gemmell) and her eight children, each of which handily has a name beginning with the first eight letters of the alphabet.
All of these featured in Season 1 of the show—Anthony (Jonathan Bailey), Benedict (Luke Thompson), Colin (Luke Newton), Daphne, Eloise (Claudia Jessie), Francesca (Ruby Stokes), Gregory (Will Tilston) and Hyacinth (Florence Hunt).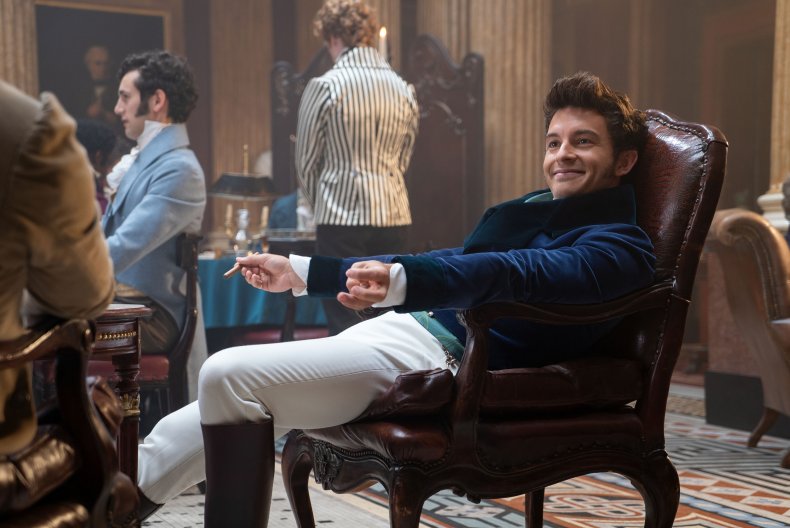 However, what is different from many similar franchises is that each of the eight books has a different character as its focus. This means that, if and when the show gets a Season 2, the show will have a new main character, Anthony.
The synopsis for the second book, The Viscount Who Loved Me, gives fans a taste of what Bridgerton Season 2 might have in store for Netflix subscribers. It reads: "Anthony Bridgerton hasn't just decided to marry—he's even chosen a wife! The only obstacle is his intended's older sister, Kate Sheffield—the most meddlesome woman ever to grace a London ballroom. The spirited schemer is driving Anthony mad with her determination to stop the betrothal, but when he closes his eyes at night, Kate is the woman haunting his increasingly erotic dreams...
"Contrary to popular belief, Kate is quite sure that reformed rakes do not make the best husbands—and Anthony Bridgerton is the most wicked rogue of them all. Kate is determined to protect her sister—but she fears her own heart is vulnerable. And when Anthony's lips touch hers, she's suddenly afraid she might not be able to resist the reprehensible rake herself..."
In an interview, Bailey has talked about the introduction of Kate into the show. He told Decider: "I'm excited for Anthony. I really care for him. If I get to fall in love vicariously through him, with an amazing actress who's playing Kate, then that's going to be amazing."
So far, however, the actor playing Kate has not been announced yet, but that announcement is sure to come when Netflix officially confirms a second season. Though they have not done so yet, ProductionWeekly reported the show was supposed to start filming its second season in summer 2020, only for it to get pushed back to March 2021. When filming begins, we should start to learn more about what exactly Season 2 has in store for the Bridgertons and Anthony in particular.
Bridgerton is streaming now on Netflix.