'Bridgerton' Season 2: What The Cast Has Said About the Next Season
Bridgerton is the latest hit show from Netflix that fans have been binging over the holidays. Season 2 of the show has not been confirmed yet, but as the first show from Netflix's overall deal with Shonda Rhimes, it is likely the show will be back for more.
With this in mind, a number of the lead cast members of the period drama—which has been likened to a Regency-era Gossip Girl—have spoken in interviews about what could be in store in the next season.
The Netflix show is based on books by Julia Quinn, each of which has as its main character a different member of the Bridgerton family. The second book has Anthony (played by Jonathan Bailey) as its lead as he falls in love with a woman named Kate, so he could be about to step up to the same position in the streaming show.
Speaking to Decider, Bailey said of his potential move to main character: "I'm excited for Anthony. I really care for him. If I get to fall in love vicariously through him, with an amazing actress who's playing Kate, then that's going to be amazing...It's going to be brilliant, whatever they decide to do."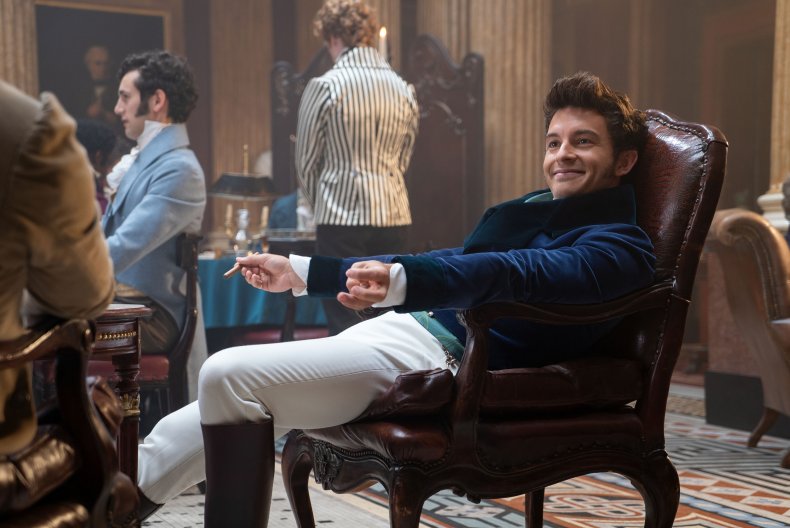 However, in a Collider interview, Bailey seemed to confirm that his character was set to step up. He said: "There might've been conversations. I think I'm really ready—the thing that I had known from the books, obviously, is that there is a future for Anthony, and so it allowed me in Season 1 to challenge the viewer to like him... knowing that possibly Season 2 might be about him, that you could really go, really far one way in order to give him as much room to grow."
Showrunner Chris Van Dusen told Collider, meanwhile, "this being a family of eight children and there being eight books, I would love to be able to focus and really tell stories and love stories for all the Bridgerton siblings. For each character, for sure."
This, of course, would mean less of a role for Daphne (Phoebe Dynevor) and Simon (Regé-Jean Page) and their troubled marriage. Dynevor herself hinted that this would be the case in a Harpers Bazaar interview, in which she said: "If we're sticking to the books, it's sort of Anthony's turn now....I think love's always shifting and changing. So who knows? I'd like to see what happens next [between Daphne and Simon]. And also, I'd like to see Daphne get involved in Anthony's love life, since he was so involved in hers."
Asked about the future of the Daphne and Simon storyline, meanwhile, Van Dusen told Collider, "I think it's too early to tell right now. I think that we're along for the ride of Daphne and Simon's love story this first season. And, I think we've done some work in Season 1 to set up other characters. We really dig into Anthony's love story. We're really exploring Benedict as well, and Collin, and Eloise's relationship. I think it's a deep well of story for us to explore."
Bridgerton is streaming now on Netflix.