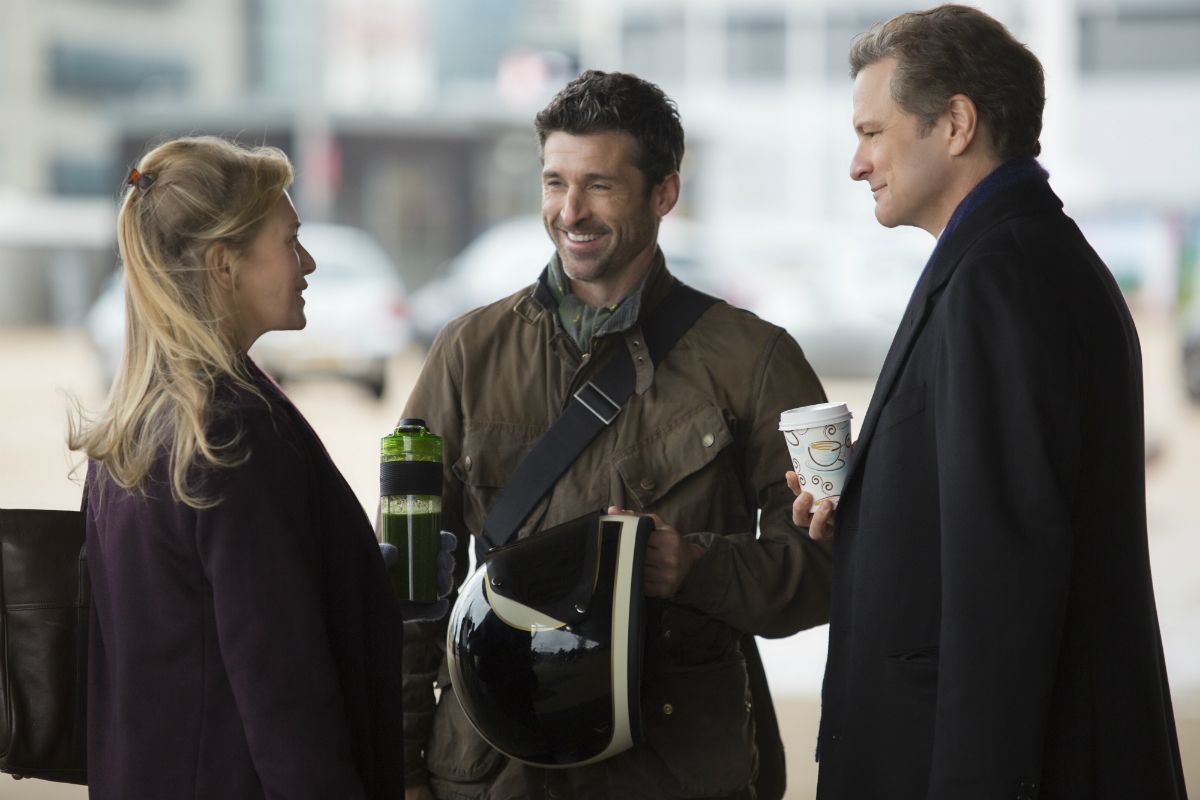 Hop on the London Underground, on any line, at any time of day (now including nights, following the launch of 24-hour underground train services—thanks, Mayor of London) and you'll be met with an array of faces: white, black, brown and everything in between. London, the city I was born and raised in, is an amalgamation of different ethnicities and faiths. That's what, in my admittedly biased opinion, makes it a great city to live in. So I was disappointed and, frankly, incredulous that the new Bridget Jones movie released on Friday, Bridget Jones' Baby, projects an image of a London that I cannot identify with—one that is whitewashed.
As a fan of the franchise, last week I optimistically attended a press preview screening of the third Bridget Jones movie. It's been 12 years since Renée Zellweger's last outing as the hapless TV news presenter with the oversized underwear. The movie is very funny, more in keeping with the charm of the 2001 original, Bridget Jones's Diary, which first brought Helen Fielding's modern-day literary heroine to life than Edge of Reason. The 2004 sequel was a convoluted affair that, for reasons still unknown, decided to transplant the quintessentially British comedy to a women's prison in Thailand. The film's ability to coax laughs from the audience and Zellweger's endearing return as Bridget are not in doubt. On the whole, Bridget Jones's Baby is an enjoyable experience—but the lack of diversity among the core and supporting cast, or even background artists, lets it down.
In the film, Bridget lives near Borough Market in central London. Borough is part of the London district of Southwark, one of the most ethnically diverse areas in London; in 2014, Southwark Council reported that more than 60 percent of its population were from ethnic minorities. According to census data from 2011, 26.9 percent of Southwark's minorities were black, African, Caribbean or black-British while 9.4 percent were Asian or British-Asian. A further 6.2 percent were mixed/multi-ethnic and 3.3 percent identified as 'other'. So where were all of these people as Bridget rode her bike down Borough High Street?
Sadly, the only significant representation of diversity that comes to mind were jokes at the expense of ethnic minorities. In one scene, Bridget, now producing a current-affairs breakfast program, accidentally puts the wrong Asian guest on television, mistaking an army general for his driver. In another, set at a business function, there's a running gag about how she can't pronounce the multisyllabic name of an Asian guest. Yes, Bridget Jones's Baby is a comedy and plays for laughs, but the franchise has worked best when it's poked fun at Zellweger's character—from the size of her underwear to her dismal love life—and then afforded her the opportunity to come full circle, redeeming herself of her "shame" by movie's end. These fleeting characters, again the only significant minorities in the film, have no such opportunity to be redeemed.
Bridget Jones's Baby isn't the only piece of entertainment guilty of projecting Britain less colorfully or diverse than it actually is, however. In an essay in the book The Good Immigrant, British-Asian actor Riz Ahmed writes: "The reality of Britain is vibrant multiculturalism, but the myth we export is an all-white world of lords and ladies." Movies and television programs such as Bridget Jones 's Baby and Downton Abbey, as entertaining as they are, sadly perpetuate the stereotype of Britain as a stuffy, aristocratic white society. (Downton at least has an excuse: it's set in a stately manor in the early 1900s.)
The lack of diversity in entertainment is a systemic problem in the U.K. and overseas—just look at the #OscarsSoWhite debate of earlier this year. But narrowing in on the industry here in Britain, perhaps the stream of films along the lines of Bridget Jones' Diary and period dramas that limit casting of minorities is why some of our brightest acting talent are seeking opportunities elsewhere instead of at home? Ahmed, for example, recently starred in HBO's acclaimed drama The Night Of, playing an American. David Oyelowo, one of Britain's finest actors, is taking on more U.S. opportunities, such as the Oscar-nominated Selma, and has been outspoken about the lack of roles open to him in his own country. Then there's Idris Elba, a bonafide global star, who became famous not in the U.K., but on U.S. television drama The Wire, and whose recent works are mostly Hollywood blockbusters.
As for Bridget Jones's Baby, its reflection of London, just like Bridget's love life, is a shambles. But unlike her love life, there's no glee in laughing along with her.
Bridget Jones distributor Universal has been contacted for a response. We will update this piece if/when we receive a reply.