Netlfix's latest true-crime docuseries Crime Scene: The Vanishing at the Cecil Hotel focuses on the 2013 case of Elisa Lam, a college student who went missing while visiting Los Angeles. The last known footage of her is an infamous elevator video, in which she appears to act strangely and is never seen afterward. Days after her disappearance, her body was found in one of the hotel's rooftop water tanks. The mystery surrounding what happened to her is the focus of the series.
Unfortunately, this wasn't the first time something horrific happened at the hotel that resulted in someone's death. The Cecil Hotel's 94-year history is laced with prostitutes, drug dealers and murder.
The Cecil, which opened 1927, has 299 hotel rooms, along with 301 single-room occupancy rooms (folks who checked into those used communal bathrooms in the hall). The Cecil is located at 640 S. Main Street in Los Angeles, not far from skid row. One of the poorest neighborhoods in the world, skid row is riddled with homeless people, drug abusers and is said to be extremely dangerous. When it was built, the hotel was to host businessmen and socialites; guests would enter a gorgeous marble lobby, filled with stained glass and palm trees. However, its fortunes took a turn for the worse a few years later.
When the Great Depression hit in the 1930s, the Cecil became more of a transient hotel for folks to stay. "This was just a place where people who were really down on their luck were going," tour guide Richard Schave said, via CNN. "These hotels are filled with people who are at the edge of being integrated in society." The hotel soon got a reputation as a meeting place for criminals, drug dealers and prostitutes.
According to the Los Angeles Times, the hotel was one of the first "public meeting places" for Alcoholics Anonymous. Its dark past earned it the nickname "Hotel Death." It is also thought to be the inspiration for American Horror Story's fifth season, Hotel.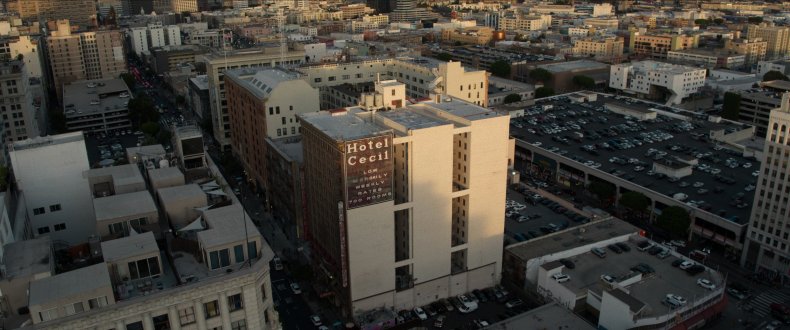 The first reported suicide at the hotel happened in 1931, as per The Tab. Many occupants who took their lives at the Cecil Hotel appeared to check in with another name, leaving several unidentified to this day.
One infamous guest was Elizabeth Short, more commonly known as the Black Dahlia. She was reported to have been seen at the Cecil Hotel's bar days before her body was found in January 1947. The Los Angeles Daily Mirrordisputes that she was there before her death, however, but the rumored connection is still eerie. Her murder remains unsolved to this day.
The Cecil grew more notorious in the 1950s and '60s, when a number of residents leapt to their death. Helen Gurnee jumped from a window on the seventh floor. Julia Moore did the same in 1962 from her eighth story window, as per Country Living. Also in 1962, Pauline Otton jumped from the ninth story window after a heated argument with her husband. CNN noted that she landed on a passerby and both were killed instantly from her fall.
Retired telephone operator and universally loved "Pigeon Goldie" Osgood was killed in her room in 1964. CNN revealed that she was stabbed, strangled and raped; the case surrounding the crime remains unsolved to this day.
In 1944, when Dorothy Jean Purcell thought the baby she gave birth to in her hotel room's bathroom was dead. Los Angeles Times reported that she tossed the infant (who was actually alive, according to an autopsy surgeon who examined the baby) out of the window. The body was found not long after on a nearby rooftop. Purcell was charged with homicide, but she was ultimately found not guilty by reason of insanity, as per Grunge.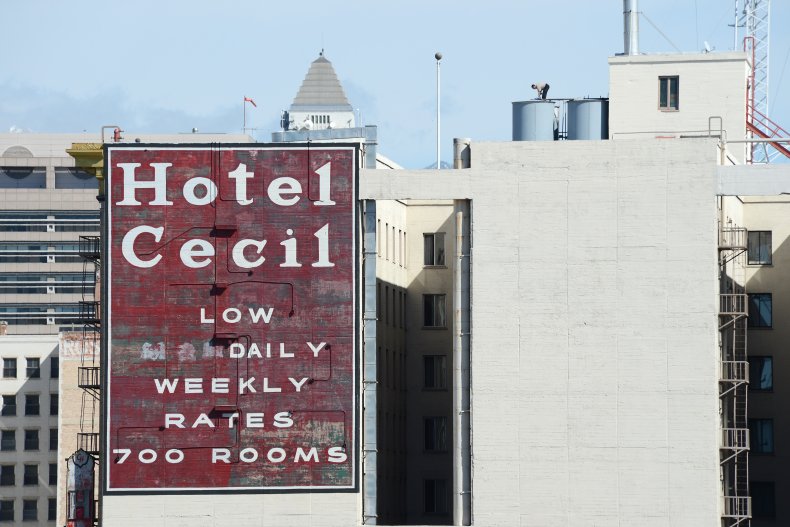 It should come as no shock that the Cecil attracted serial killers. Richard Ramirez and Jake Unterweger were reported to be occupants at the hotel in 1985 and 1991, respectively. Ramirez paid $14 a night for a room on the top floor, CNN noted. He reportedly would return to the hotel after a violent spree covered in blood, and no one batted an eye.
Ramirez wound up "just dumping his bloody clothes in the dumpster at the end of his evening and going in the back entrance," Schave said, via CNN. Unterweger, meanwhile, allegedly killed three prostitutes while he stayed at the Cecil Hotel.
In 2011, the hotel was rebranded as Stay on Main, a youth hostile targeting European travelers. It took up a few floors in the hotel, and was given a much-needed face-lift to attract travelers and distance itself from its gruesome past. However, since elevators were communal, there was always a chance visitors would interact with the permanent residents of the Cecil. The building was landmarked six years later, despite its history, according to Curbed Los Angeles.
Today, the Cecil Hotel is expected to get another major face-lift. It was bought by New York real estate developer Richard Born, and will get a major renovation, Curbed Los Angeles reported. The Cecil Hotel could potentially reopen in late 2021.
Crime Scene: The Vanishing at the Cecil Hotel premieres on Netflix on February 10.