Britney Spears Blames Her Mom for Conservatorship in Now-Deleted Post
Britney Spears has lashed out at her mother, Lynne Spears, in a since-deleted Instagram post, accusing her of coming up with the idea for her conservatorship.
The pop superstar, 39, has been under the legal arrangement—which has seen her personal and business decisions taken out of her hands—since 2008, following concerns over her mental health.
Her father, Jamie Spears, who had been at the helm of the controversial conservatorship from its inception, was suspended from the position in September.
And while the patriarch has largely been painted as the figure behind the conservatorship, his famous daughter has pointed the finger at her mother, claiming her father was "not smart enough to ever think of" such an arrangement.
Taking to her Instagram account, Britney Spears shared a quote post that read: "The most dangerous animal in the world is a silent smiling woman."
She wrote in an accompanying caption: "The moment I SMILE 😁 and I realize I haven't in a very long time !!!! My mom gets so CONCERNED and says 'You're acting weird ... what's wrong with you ???' I say 'Hi, my name is Britney Spears ... nice to finally meet you !!!'"
The "Toxic" singer went on: "Before I go any further, forgive me in advance .... It's been 13 years and I'm a little rusty 💁🏼‍♀️ !!!! It was a family business before ... it's no longer that anymore !!!!
"I was BORN today cause I get to SMILE ... so thank you for exiting out of my life and finally allowing me to live mine !!!! Psssss do I know how mean I sound ??? Yes ... I 100 billion percent I do 💯👍🏼🤷🏼‍♀️ !!!!"
Taking aim at her mother, she then wrote: "Pssss my dad may have started the conservatorship 13 years ago ... but what people don't know is is that my mom is the one who gave him the idea !!!!"
"I will never get those years back .... she secretly ruined my life ... and yes I will call her and Lou Taylor out on it ... so take your whole 'I have NO IDEA what's going on' attitude and go f*** yourself 🖕🏼🖕🏼🖕🏼 !!!!" the mother of two continued, also naming her former manager, Louise Taylor, who no longer works with the family.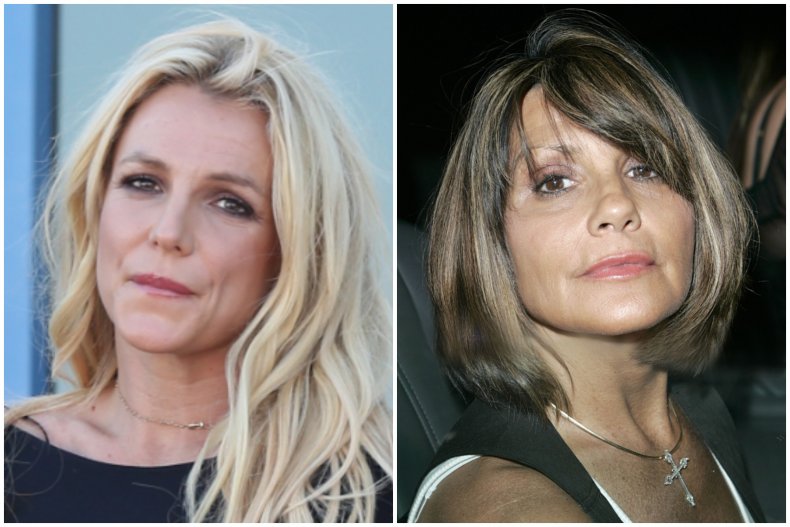 She concluded her post: "You know exactly what you did ... my dad is not smart enough to ever think of a conservatorship ... but tonight I will smile knowing I have a new life ahead of me !!!!"
The star's post comes days after she hit out at her family in another Instagram post, accusing them of "hurting me deeper than you'll ever know."
She added: "I know the conservatorship is about to be over but I still want justice !!! I'm only 5'4" and I've played the bigger person my entire life ... do you know how hard that is ???"
In a June court testimony, the singer alleged that she was made to perform, take medication and wear a contraceptive device against her will under the conservatorship.
Outside of court, she has publicly criticized her father and younger sister, Jamie Lynn Spears, in a series of posts over the past several months as she seeks to end her conservatorship, which she has accused her family of being complicit in.
The "Stronger" hitmaker has been locked in a court battle to bring an end to her conservatorship, which saw her father oversee her personal and financial affairs from 2008. He stepped down from the personal arm of the arrangement in 2019, citing ill health. He was replaced by Jodi Montgomery, who remains in her position.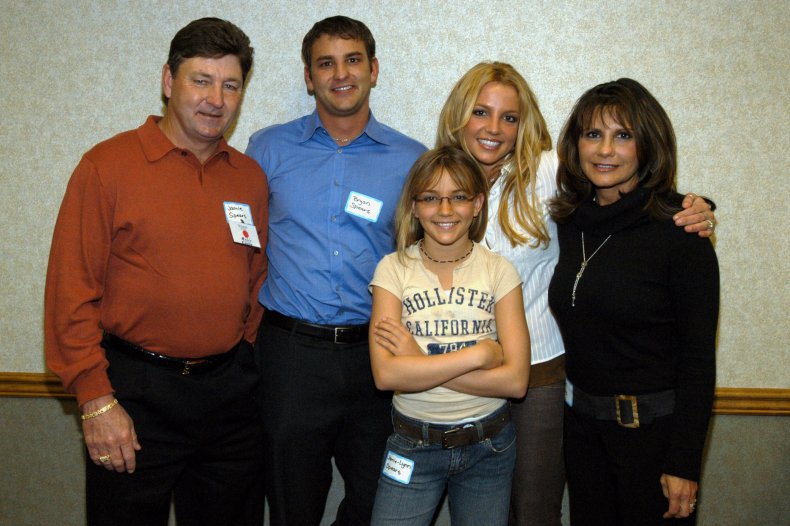 Weeks before his suspension, Jamie Spears filed to step down from the conservatorship, and criticized his ex-wife, who had publicly sided with her daughter throughout the high-profile court battle.
"Instead of criticizing Mr. Spears, Lynne should be thanking him for ensuring Ms. Spears' well-being and for persevering through the years-long tenure requiring his 365/24/7 attention, long days and sometimes late nights, to deal with day-to-day and emergency issues—all to protect Ms. Spears and those around her charged with protecting his daughter," read the filing.
"Lynne has had only limited involvement in Ms. Spears' life these last thirteen years. She has not had a parental role in her life for decades," the filing continued.
At the time of Jamie Spears' August filing, Lynne Spears said in a statement through her lawyer to The New York Times that she was "pleased Jamie has agreed to step down."
"Lynne entered into this conservatorship to protect her daughter almost three years ago. She has accomplished what she set out to do," the statement added.
Britney Spears' legal team has sought to dissolve the conservatorship altogether. All parties are scheduled to return to court on November 12 to discuss the logistics.