Britney Spears has hit out at sister Jamie Lynn along with her "so-called support network" and told fans she is "not gonna be performing on any stages anytime soon."
Spears shared an image reading "Take me as I am or eat s**t and step on Lego," alongside a lengthy comment in an Instagram post on Saturday.
The post saw the singer continue to criticize her father, Jamie Spears, and the controversial conservatorship she has been under for 13 years.
She also told fans "I quit" and criticized the recent documentaries chronicling her troubles for revisiting "humiliating moments from the past."
"I'm not gonna be performing on any stages anytime soon with my dad handling what I wear, say, do, or think," she wrote.
"I've done that for the past 13 years ... I'd much rather share videos YES from my living room instead of onstage in Vegas," Spears continued.
She also claimed the conservatorship had prevented her from putting out new music.
"And no I'm not gonna put on heavy makeup and try try try on stage again and not be able to do the real deal with remixes of my songs for years and begging to put my new music in my show for MY fans ... so I quit !!!!"
Spears then turned her attention to sibling Jamie Lynn, writing: "I don't like that my sister showed up at an awards show and performed MY SONGS to remixes !!!!! My so-called support system hurt me deeply !!!!"
"This conservatorship killed my dreams ... so all I have is hope and hope is the only thing in this world that is very hard to kill," Spears continued.
She hit out at the makers of documentaries like Framing Britney Spears for dredging up the past.
"I didn't like the way the documentaries bring up humiliating moments from the past ... I'm way past all that and have been for a long time," she wrote.
The remarks came just a day after the singer posted a comment on Instagram criticizing unnamed individuals who failed to help her when she was "drowning" but now show support in public to "save face."
"There's nothing worse than when the people closest to you who never showed up for you post things in regard to your situation whatever it may be and speak righteously for support," Spears wrote on Instagram on Friday.
"There's nothing worse than that !!!! How dare the people you love the most say anything at all ... did they even put a hand out to even lift me up at the TIME !!!???
"How dare you make it public that NOW you CARE," she added. "Did you put your hand out when I was drowning ???? Again ... NO ... so if you're reading this and you know who you are ... and you actually have the nerve to say anything about my situation just to save face for yourself publicly !!! ... Please stop with the righteous approach when you're so far from righteous it's not even funny."
Earlier that day, Jamie Lynn had shared a social media post saying: "Dear Lord, Can we end this bulls*** once and for all. Amen."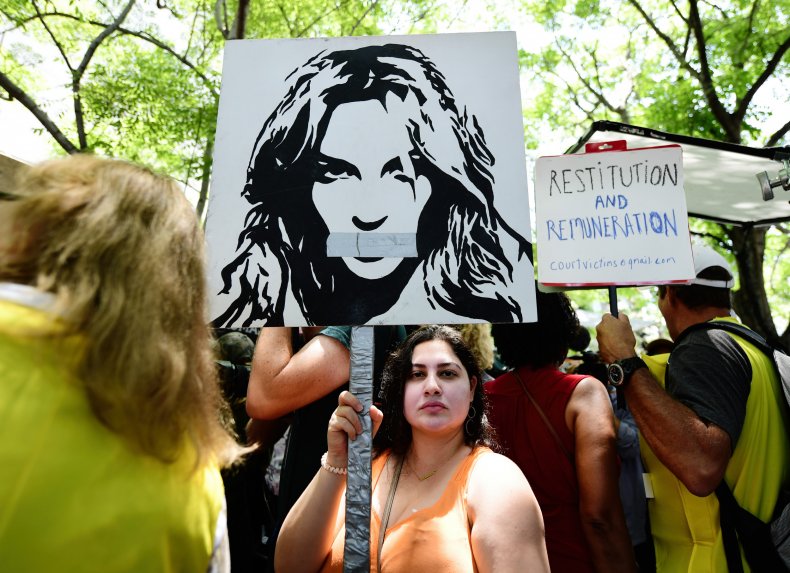 These latest posts come at the end of a week in which Judge Brenda Penny granted the singer's request for new counsel, as Spears continues her efforts to have the conservatorship set up by her father in 2008 brought to an end.
Newsweek has reached out to Britney Spears for comment.