Britney Spears Wins Huge Court Victory in Bid for Conservatorship Freedom From Father
Britney Spears has won a significant victory in her legal bid to end her father's control over the conservatorship that has made her business and personal decisions for 13 years.
The pop star made another court appearance on Wednesday and Judge Brenda Penny granted her request to appoint her own legal counsel.
The 39-year-old also announced her wish to file formal abuse charges against her father, Jamie Spears.
"I'm here to get rid of my dad and charge him for conservatorship abuse," Spears said via remote video link. "I want to press charges for abuse on this conservatorship today—all of it."
Spears is now represented by Hollywood attorney Matthew Rosengart, after the judge approved the resignation of her previous lawyer, Samuel D. Ingham III.
"This conservatorship has allowed my dad to ruin my life," Spears told the court in her second emotional testimony.
"I thought they were trying to kill me," Spears said, deeming the conservatorship "f****** cruelty."
She tearfully told the judge: "My dad needs to be removed today."
The singer also confirmed that she wants the temporary conservator of her person, Jodi Montgomery, to remain in her position.
Rosengart—whose previous celebrity clients include Sean Penn, Julia Louis-Dreyfus and Steven Spielberg—spoke in court after Spears' testimony, calling for Jamie Spears to resign as conservator.
"This is not working. What is supposed to be at the heart of this has been lost," Rosengart said, according to Variety.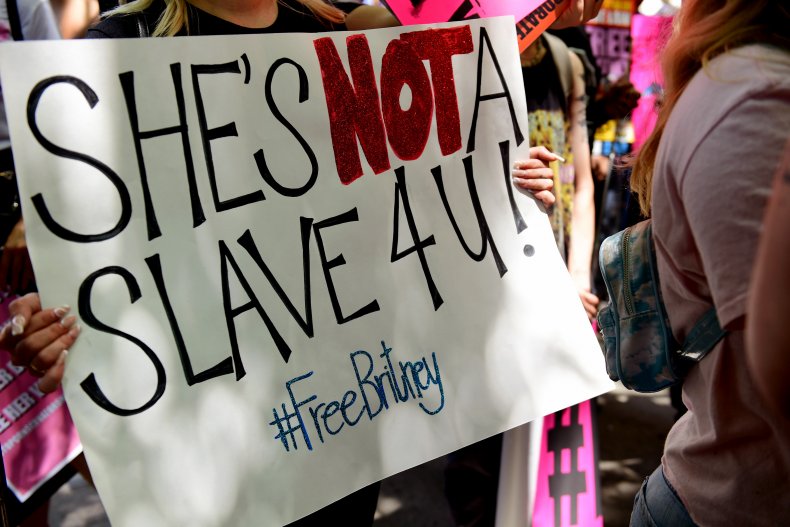 The lawyer added that he was "appalled" at Jamie Spears and said: "There is a real question as to why Mr. Spears does not voluntarily step down today.
"Is he here for financial reasons? Does anybody really believe that Mr. Spears' involvement is in the best interest of his daughter?" He would resign "if he loves his daughter," the attorney said.
Rosengart also said he would be investigating whether the conservatorship had been needed in the first place in 2008.
"A conservatorship was probably not necessary," he said.
In response, Jamie Spears' lawyer Vivian Thoreen said her client would not voluntarily resign.
Thoreen also questioned why Britney Spears was allowed to speak at length in court but "no one else has been afforded the opportunity."
The attorney added: "Many of her characterizations and memories are just incorrect."
Britney Spears' mother, Lynne Spears, supported her daughter's attempt to appoint new legal counsel. In court on Wednesday, her lawyer said of the conservatorship: "This system is broken. This is lawyers gone wild."
Wednesday's proceedings followed a setback earlier this month when Penny refused the singer's request to have her father removed from the financial elements of her conservatorship.
This request was first filed by Spears' previous attorney, Ingham, in November 2020 and the judge's decision led to a backlash from fans and #FreeBritney supporters.
This week, however, the singer has been celebrating her court victory by posting a video on Instagram showing her doing cartwheels and riding a horse with the caption: "Coming along, folks ... coming along!!!!!
"New with real representation today ... I feel GRATITUDE and BLESSED !!!! Thank you to my fans who are supporting me ...
"You have no idea what it means to me be supported by such awesome fans !!!! God bless you all !!!!!
"Pssss this is me celebrating by horseback riding and doing cartwheels today !!!! #FreeBritney."
The next hearing in the case is scheduled for September 29.