Britney Spears Says Conservatorship Security Watched While She Was Naked
Britney Spears has once again spoken out about the alleged conditions of her conservatorship, posting several long messages via her Instagram claiming that she was watched by security while she showered.
The 13-year conservatorship that Spears' father, Jamie Spears, held on her—which controlled all of her personal or financial affairs—was dissolved by a Los Angeles judge in November of last year, and since then, she has been incredibly vocal about her experiences in the arrangement and her feelings toward her family members.
On Monday, the "Toxic" singer posted several statements on Instagram regarding the conservatorship in which she claimed she was even watched when she took showers.
"After 14 years of telling me no to what I wanted...it's ruined for me...but that wasn't the worst part...the worst part was my family locking me up in that place for 4 months...Jesus f**king Christ...I'd like to see somebody tell Jennifer Lopez to sit down 8 hours a day 7 days a week...no car, own security of 5 years telling me at my own door I can't walk outside for 4 months...no door for privacy...and watched me change naked and shower," Spears wrote.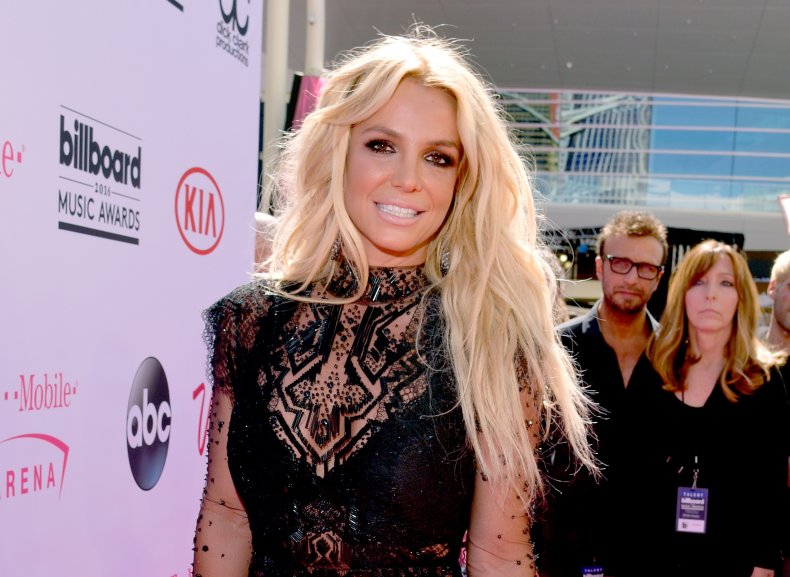 She has previously said that she was denied the privacy of having a door in her room. She went on to say that they took blood from her weekly as well as messed with her medications, claiming she was put on lithium against her will—a claim that she also alleged in June 2021 in court while fighting to end the conservatorship.
Spears wrote on Instagram, "I'd like to see a management team tell Jennifer Lopez to go through what I went through...what the f**k do you think she would do...her family would NEVER allow that."
In another post, she discussed more of her music and wanting to remix her songs during the conservatorship but being denied the possibility. "I asked to be connected to producers that would create a cool sound...I was told no...I went to a f**king Disney tribute award show put up four amazing vocalists doing exactly what I wanted to do for 14 years...short remixes of my 5 best songs for 5 minutes...I think Justin Timberlake has had the longest performance at the VMAS 7 MINUTES maybe more," she wrote.
Spears added, "My children watched it and said 'mamma why did they do that?' They ruined it for me, embarrassed me, and made me feel like absolutely nothing."
The posts are the latest in a string of messages to the singer's Instagram that some fans and PR experts have deemed "problematic." Spears has made several public comments regarding her ex-husband Kevin Federline and their teenage sons, and has also shared some risque images of herself naked, telling her father to "kiss my g**damn motherf**king a** you f**king bast**d."
Newsweek reached out to a representative for Spears for comment.