Britney Spears Fans Question if She Actually Wrote Documentary Reaction
Britney Spears' response to the recent documentary about her conservatorship is being called into question by fans.
The "Oops I Did it Again" singer was the subject of a much-talked-about documentary earlier this year titled Framing Britney Spears. Now in a new Instagram post, the 39-year-old admitted she "cried for two weeks" after she watched the film.
Spears admitted in the caption, posted on March 30, that she didn't watch the whole documentary, but was upset by the parts she did see.
"My life has always been very speculated ...watched ... and judged really my whole life !!!" she began in the caption heavily punctuated by emojis.
"I have been exposed my whole life performing in front of people," she continued. "It takes a lot of strength to TRUST the universe with your real vulnerability cause I've always been so judged... insulted... and embarrassed by the media... and I still am till this day !!!!
"As the world keeps on turning and life goes on we still remain so fragile and sensitive as people !!!"
She explained: "I didn't watch the documentary but from what I did see of it I was embarrassed by the light they put me in ... I cried for two weeks and well .... I still cry sometimes !!!!
"I do what I can in my own spirituality with myself to try and keep my own joy ... love ... and happiness !!!!"
Spears' message ended with a reflection on kindness. "Every day dancing brings me joy !!! I'm not here to be perfect ... perfect is boring ... I'm here to pass on kindness," she wrote.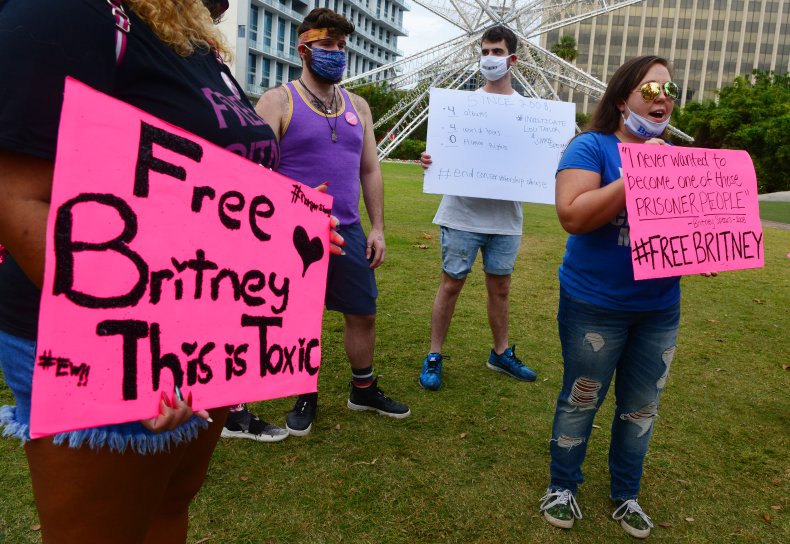 However, many fans are not buying that the caption was written by Spears herself.
"There is not a single chance that Britney wrote this #FreeBritney," reads one tweet.
While another added: "So Britney's gonna post about the doc that's helping her get her freedom and say she's embarrassed and cried for 2 weeks but not say word about that s***** lifetime movie? This does not add up #FreeBritney."
Another person tweeted: "BRITNEY DID NOT WRITE THIS."
The question of Spears' control over her social media was raised in February amid a media frenzy over Framing Britney Spears, and advocates of the Free Britney Movement have long speculated that she is not in control of her Instagram account or that she is posting secret messages to fans seeking help.
This led to Spears' social media manager, Cassie Petrey, to try and dispel the rumors.
Taking to Instagram herself, Petrey wrote: "There are a lot of inaccurate theories out there about how Britney Spears' social media operates, and I want to give as much information as I can without violating her privacy or mine. Britney creates her own posts and writes her own captions for Instagram. She finds the google images, pinterest images, quotes, memes and everything else herself.
"Nobody is suggesting any of that stuff to her. She generally edits the videos herself. If a video she sends in is edited by her social media team, it's because she gave specific instructions and asked for it to be edited that way. Then she sees it and decides if she wants to post it or not."
Petrey added: "Britney is not 'asking for help' or leaving secret messages in her social media. She is literally just living her life and trying to have fun on Instagram...My work on Britney's social media does not involve her conservatorship in any way. That's a court and lawyer thing...These are facts. Not the current fiction, assumptions, and exaggerations that are currently circulating."
In February, following the release of Framing Britney Spears, the singer seemed to allude to the documentary in a post, but did not directly reference it.
Sharing a video of her performing her hit "Toxic" on stage, she posted a somewhat cryptic reminder about "living behind the lens."
"Remember, no matter what we think we know about a person's life it is nothing compared to the actual person living behind the lens!!!!"