Britney Spears Fans Slam Dan Schneider for 'Ruthless' Parody on 'iCarly'
In 2010, an episode of iCarly aired that parodied a "washed up" pop star in what is considered to be a parody of Britney Spears—and today fans are criticizing Nickelodeon's Dan Schneider for the episode.
Spears, who recently emerged from a 13-year conservatorship, experienced a very public breakdown in 2007, culminating in a disastrous performance of her song "Gimme More" at the VMAs.
A viral Twitter thread by user @mattxiv pointed out how iCarly creator and director Schneider parodied Spears in the episode titled "iFix a Pop Star."
Schneider is also the creator of Nickelodeon's Zoey 101, which saw Spears' sister Jamie Lynn Spears lead the cast, and was created especially for her.
"I'd like to discuss how he used Britney Spears' fame to create Zoey101, only to turn around and mock her mental health and motherhood on iCarly 5 years later. a thread," the thread, with more than 60,000 likes, begins.
The thread notes that some years after the success of Zoey 101, at the height of iCarly's popularity, "Schneider wrote an episode called 'iFix a Pop Star.' The episode centers around a 'washed-up former teen pop sensation' Ginger Fox, who is an obvious parody of Britney Spears."
The official synopsis for the episode reads: "Washed-up former teen pop sensation Ginger Fox finds out that Freddie is responsible for directing and producing the music video for Wade Collins' song 'Cry Like a Lion' and drafts the iCarly crew to help get her career back on track. Considering that she still hasn't regained her marbles, they've got their work cut out for them."
The IMDb listing for the episode states that "Ginger Fox is based on Britney Spears" and as the viral thread points out, "the entire episode is a ruthless parody of Britney's 2007 breakdown, with her portrayed (through Ginger Fox) as an unhygienic, talentless, self-obsessed 26-year-old with no work ethic."
The character of Ginger Fox has a song called "hate me, love me" which is a clear reference to Spears' track "If U Seek Amy," which includes the lyrics: "Love me, hate me, say what you want about me."
The thread points out that "the 'PMAs' performance that Carly and friends are supposed to help Ginger with is a parody of Britney's infamous 2007 VMAs performance of gimme more, which she delivered amidst a mental health crisis to national media criticism."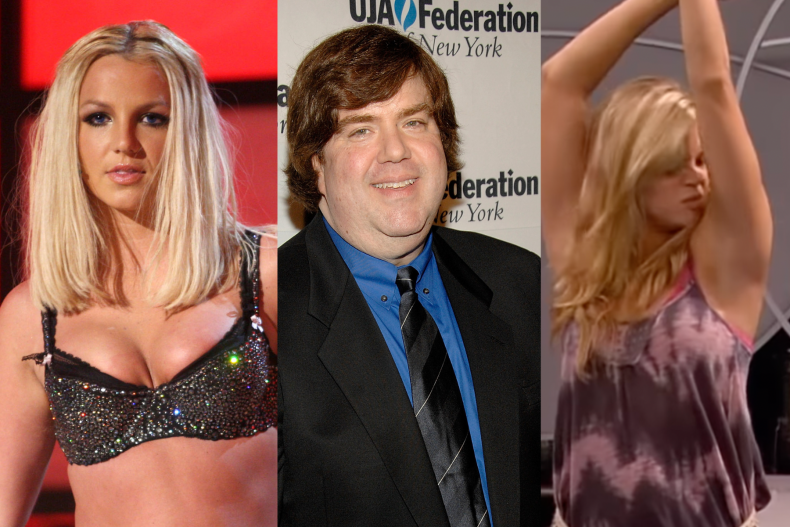 While another running joke throughout the episode is Ginger Fox's bad parenting and how she loses her infant son and leaves him in the care of the show's young protagonists.
"Perhaps most offensive and unnecessary were the jabs at Britney's ability to be a mother," the thread reads.
Newsweek has contacted a representative for Schneider for comment.
The thread comes after Schneider made headlines last week ahead of the release of iCarly star Jennette McCurdy's memoir in which she recalls her unhappy experiences working on the show.
In the book, she speaks of being encouraged to drink alcohol at work when she was underage and about being photographed in a bikini at a wardrobe fitting.
McCurdy claims that Nickelodeon offered her $300,000 if she agreed to not speak about her experiences there and refers to the person behind these acts simply as the "creator" but does not identify them.
Newsweek has contacted Nickelodeon for comment.