Britney Spears Posts Then Deletes Cryptic Jamie Lynn Throwback
Britney Spears posted some rare throwback photos to Instagram and shared a cryptic message about her family after their public feud was reignited on social media in recent weeks.
Sharing snaps from the 2003 Kids Choice Awards, the 40-year-old pop star posted three photos to Instagram, one of which features her attending the event with her younger sister, Jamie Lynn Spears.
"Reflecting back you know 🤔🤔🤔 ... STORY OF MY LIFE 🙄🙄🙄 !!! Even with my own parents ... we are the innocent little children 🤷🏼‍♀️🤷🏼‍♀️🤷🏼‍♀️ !!! Psss Kids' Choice Awards was a long time ago," the singer wrote in the caption.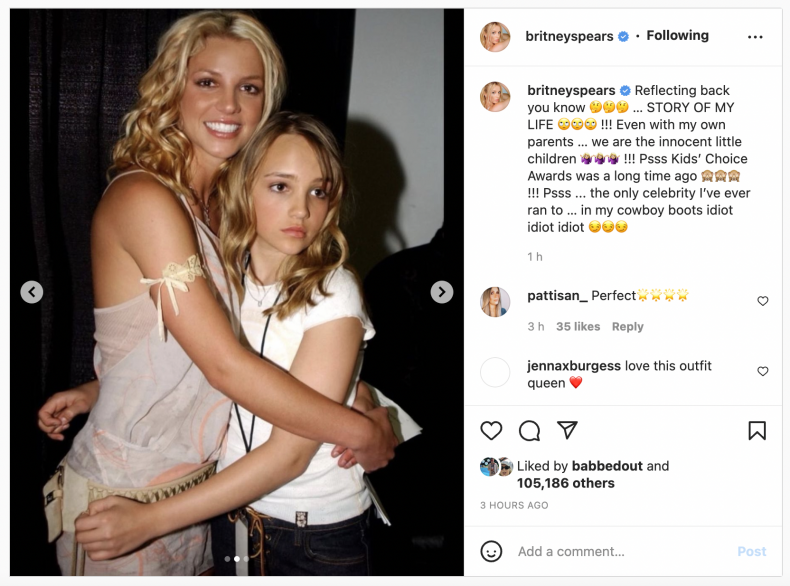 The post has now been deleted, but it comes as the pop star's family drama erupted on social media once again last week after she posted an alleged text exchange with her mother, Lynne Spears, during a 2019 stay at a mental health facility.
Earlier this year, the Spears sisters publicly exchanged heated statements aimed at one another after Jamie Lynn Spears discussed her tattered relationship with her sister while promoting her new memoir, Things I Should Have Said.
Britney Spears even called her sister a "selfish little brat."
Most interestingly, the last photo in the most recent post features Spears posing for a photo with none other than Brad Pitt.
She seemed to reference him in her caption by writing: "Psss ... the only celebrity I've ever ran to ... in my cowboy boots idiot idiot idiot."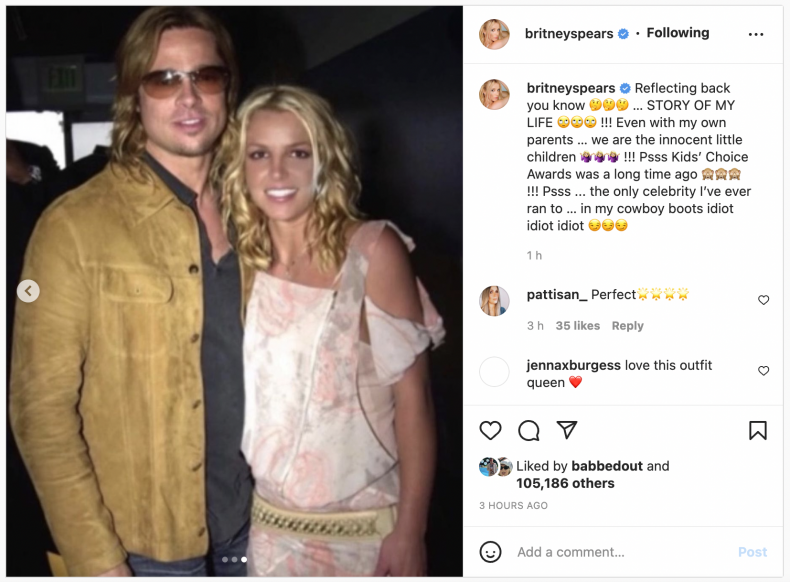 Spears' latest post comes a day after the star expressed her frustration over her wedding venue and revealed that she wasn't permitted to have her ceremony in the church of her choice.
The pop star married long-term boyfriend Sam Asghari in June after five years of being together at her former home in Thousand Oaks, California.
The star-studded ceremony took place at her home, where a chapel was created especially for the highly anticipated nuptials, but Spears revealed she had wanted to get married in a catholic church originally.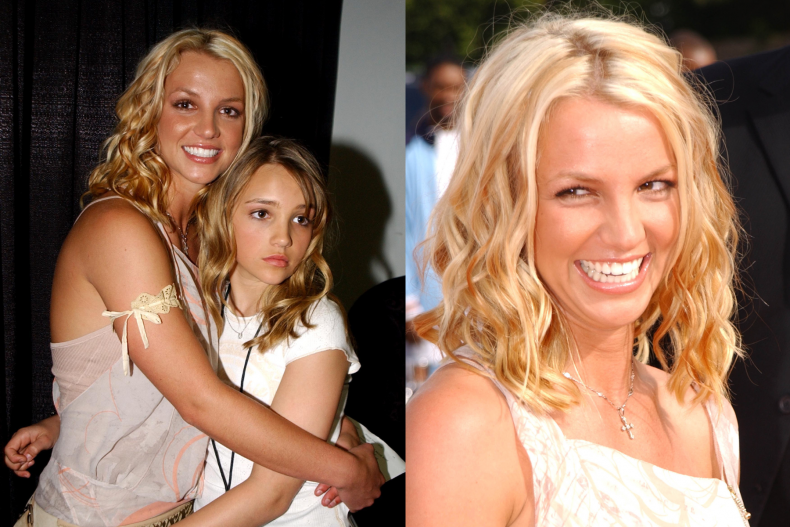 Spears shared her frustration at this and asked her followers and asked: "Isn't church supposed to be open to all 🤔🤷🏼‍♀️⛪️ ????"
The star has since been enjoying her newfound freedom and documenting her new experiences widely on social media. She also shared her first time in a bar with fans.
"This is my first time at a bar. First time," Spears said in a recent video wearing a large pair of sunglasses. "I feel so fancy and I feel so sophisticated."