Britney Spears Posts, Then Deletes, Conversations With Family: 'Proof'
Britney Spears took to Instagram in the early hours of Monday morning to post what she called "proof" and shared screenshots of text conversations with her mother and her sister from during her conservatorship.
The pop star also shared a post reflecting on her newfound freedom and how she forgets she is allowed to drink coffee now, while also questioning "what secrets" her family is "hiding."
The posts were not online for long before being deleted, but some eagle-eyed fans managed to get screenshots, which are beginning to circulate on Twitter.
In screenshots obtained by Newsweek, the first post featured a picture of a conversation Spears said was with her mother, Lynne Spears, in which she discussed the medication she said she was made to take during her conservatorship.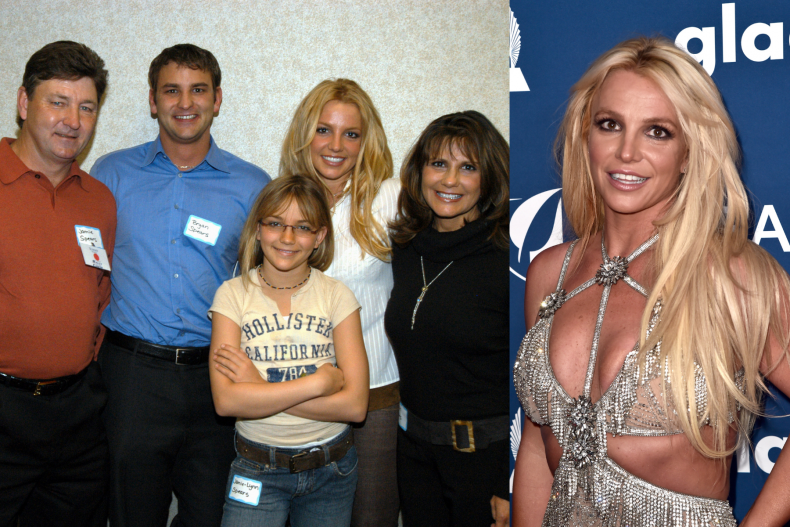 "I feel like he's trying to kill me," Spears said during that exchange, which she said went unanswered.
During explosive court testimony in June 2020, Spears stated that she was made to take mood stabilizer lithium while she was under the conservatorship, which had seen her personal and financial decisions taken out of her hands since 2008.
The pop icon's court-ordered arrangement was eventually brought to an end on November 12 following a hard-fought battle.
"It's a little different with proof..." Spears wrote in the caption of the now-deleted post. "Here are text messages to my mom in that place 3 years ago…I show it because there was no response.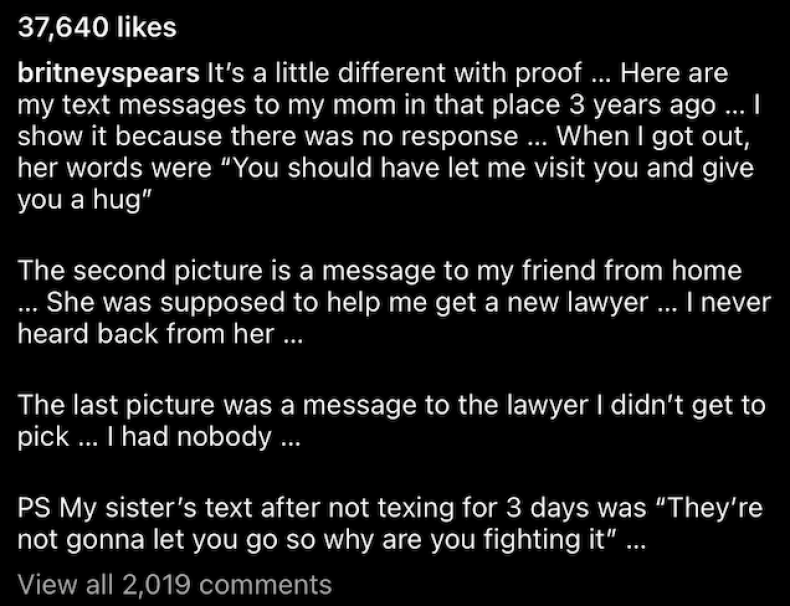 In a second deleted post, Spears shared photos of her sister and father in a parking lot and one of her now husband Sam Asghari out having coffee with his sisters.
She said that these photos were taken during the pandemic when her already limited freedoms were even more restricted.
"I'm reflecting back because it was during Covid when the conservatorship was still in place and I couldn't have the keys to my car or leave my home," she wrote. "But as you can see, my sister and my dad are out together and my husband and his sisters are all out having coffee."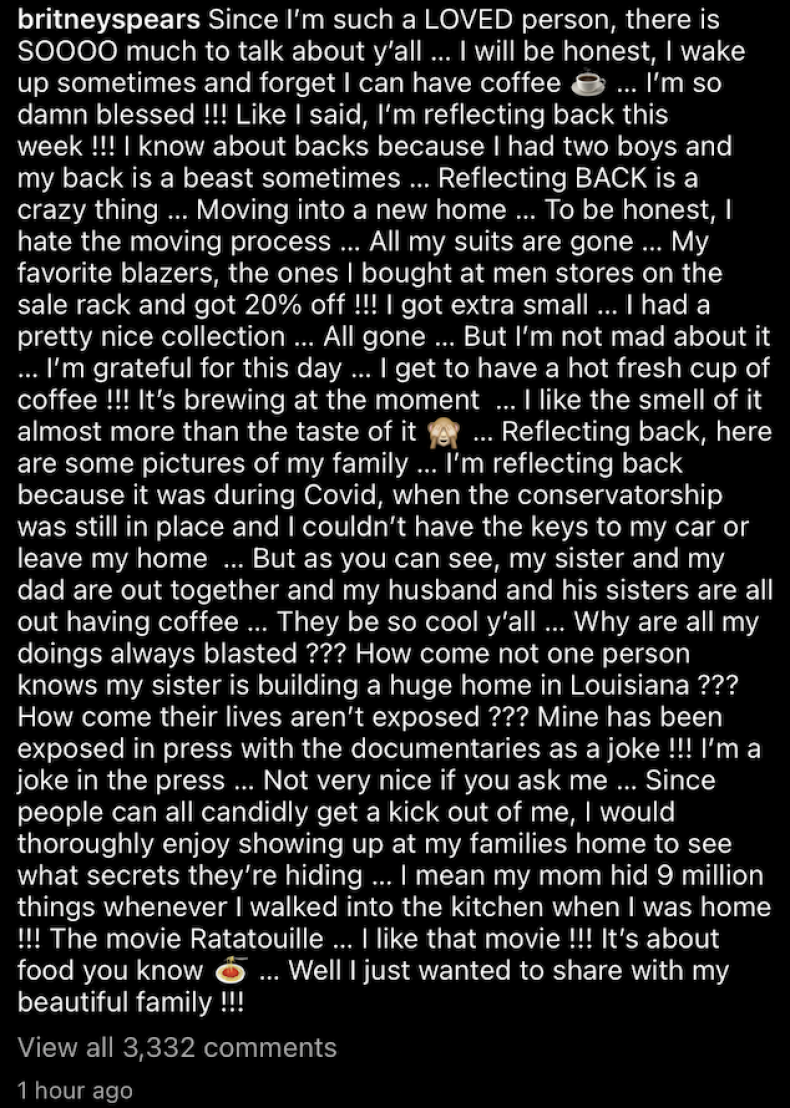 She then went on to mention her sister Jamie Lynn Spears—who she publicly feuded with at the beginning of 2022—and said she is "building a huge home in Louisiana."
"How come their lives aren't exposed??" she asked. "Mine has been exposed in the press with the documentaries as a joke!!! I'm a joke in the press...Not very nice if you ask me..."
She continued: "Since people can all candidly get a kick out of me, I would thoroughly enjoy showing up at my families home to see what secrets they're hiding..."
Newsweek has contacted lawyers for Britney Spears, her parents Jamie Spears and Lynne Spears, and her sister Jamie Lynn Spears, for comment.
This latest round of Spears family drama comes as the pop star's father, Jamie Spears has been ordered to appear in court for questioning over surveillance allegations during his daughter's conservatorship.
The 40-year-old pop star accused her father of "conservatorship abuse" in court testimony in summer 2021 as she battled to be released from the conservatorship. She has regularly spoken out against him, and other family members, on social media.
Jamie Spears' lawyers have maintained that as conservator, he always acted in his daughter's best interests.
Last week, Spears' fans expressed their concerns for the star after she posted a string of nude selfies to Instagram.