Britney Spears has lashed out at her sister, Jamie Lynn Spears, once again, this time taking her younger sibling to task for her most recently unveiled interview.
The Spears sisters have publicly exchanged statements aimed at one another over the past several days, after Jamie Lynn Spears discussed a tattered relationship with the pop star while promoting her new memoir, Things I Should Have Said.
And after accusing Jamie Lynn Spears of lying in her Good Morning America interview, Britney Spears has now shot back at the Zoey 101 alum over claims she made about her during an appearance on the podcast Call Her Daddy.
During the interview, Jamie Lynn Spears said that the "Toxic" singer offered to buy their mother, Lynne Spears, a house if she divorced their father, Jamie Spears.
"I was really confused by that," Jamie Lynn Spears said. "Now looking back, like what a weird f****** thing to do. It seems like a weird thing, like, 'I'll give you a house if you divorce Dad.' Why would your kid be able to tell you that?"
Re-uploading a deleted Instagram post on Wednesday, Britney Spears slammed her sister's perspective on the matter, as she called her a "selfish little brat."
The post included a continuation from a previously shared statement, in which she said that she should have slapped her mother and sister "right across your f****** faces" during a trip home to Louisiana following her split from Justin Timberlake in 2002.
Pop icon Britney Spears wrote: "And WHY do I say that ???? You selfish little brat !!! Saying how weird and dumb it was that I bought a house for Mamma !!!! She was so proud and you told that interview girl that it was just weird ....
"LIKE I GUESS I WILL JUST WALK IN THESE HALLS ... Why did you say that ??? And why watching your at length interview ... Really 2 HOURS or more ?????"
The star then went on to address a part of Jamie Lynn Spears' book in which she alleged that her older sister had grabbed a knife and locked them both in a room, saying it was "the only lie you've ever told in your life."
"Why is that conversation 20 min ??? and the most degrading to me ... OH BUT you don't want to keep talking about it because you don't want to HURT ANYBODY'S feelings ... yet you let it linger forever saying you felt unsafe with me and WEIRD .... f*** you Jamie Lynn !!!!"
Britney Spears went on to accuse her sister of engaging in "hateful" behavior toward their mother during that same trip she took home 20 years ago.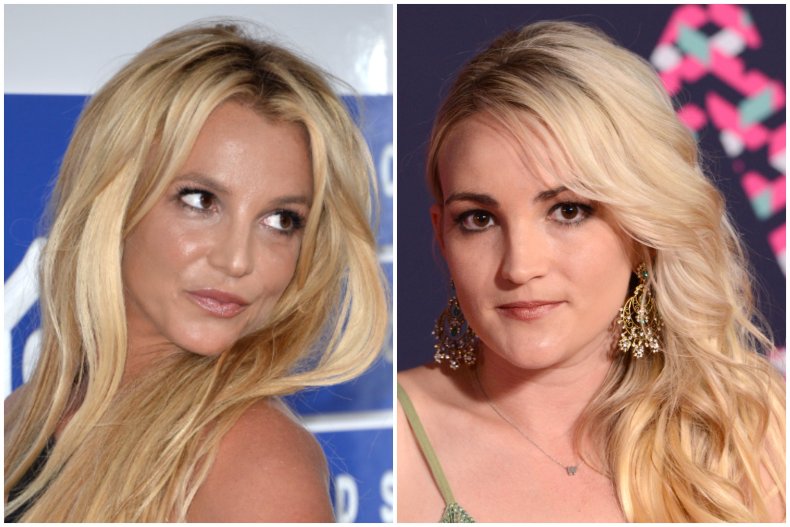 "My mouth was on the floor the way you talked back to Mamma when I came home," she wrote. "Shocked out of my mind !!!!!! You were f****** hateful to her and I know Mamma had been lazy with me but I'm sorry you deserved WAY MORE than a purse knocked at you by Mamma ...
"She should have WHIPPED YOUR ASS ...Poor Mamma took it too just like I did in the end ... She worshipped you too much I know but if you came out of my stomach I would have popped the s*** out of your little ass."
Speaking with Call Her Daddy host Alexandra Cooper, Jamie Lynn Spears said that she was "so sad" when her sister broke up with fellow pop star Timberlake—a statement that Britney Spears also challenged in her post.
"When I came home you and your little friends all thought I wasn't cool," the mother of two continued. "You felt bad for me in the breakup ... HELL NO you didn't !!!
"You and your friends all dyed your hair like Christina Aguilera and you no longer would play with me anymore !!!! I NEVER shut you out ever ... I get it, you were 12 but you were f****** hateful to Mamma being cool with your stupid dark hair ...
"You can paint it however you like but dear child ..... YOU shut me out when i needed you the most !!!! Writing in your book saying I wasn't like your mom anymore ... No, you hurt me."
Britney Spears' post comes after her lawyer, Mathew S. Rosengart, issued a cease and desist letter demanding that Jamie Lynn Spears stop talking about her during interviews—with legal action threatened should she refuse to comply.
The letter stated, per Entertainment Tonight: "We write with some hesitation because the last thing Britney wants is to bring more attention to your ill-timed book and its misleading or outrageous claims about her.
"Although Britney has not read and does not intend to read your book, she and millions of her fans were shocked to see how you have exploited her for monetary gain. She will not tolerate it, nor should she."
The letter continued: "Having endured a 13-year conservatorship that stripped her of civil rights and fundamental liberties, Britney will no longer be bullied by her father or anyone else.
"Publicly airing false or fantastical grievances is wrong, especially when designed to sell books. It is also potentially unlawful and defamatory. You recently reportedly stated that the book was 'not about her.'
"She takes you at your word and we, therefore, demand that you cease and desist from referencing Britney derogatorily during your promotional campaign. If you fail to do so or defame her, Britney will be forced to consider and take all appropriate legal action."