Britney Spears Says She Should Have 'Slapped' Sister, Mom As Feud Escalates
Britney Spears has lashed out at her sister, Jamie Lynn Spears, and mother, Lynne Spears, in an Instagram post as the family war of words continues.
Over the past several days, Britney Spears, 40, has openly refuted certain claims made by her sister in her controversial new memoir, Things I Should Have Said.
While promoting her book, Jamie Lynn Spears, 30, has sat down for interviews on Good Morning America and the podcast Call Her Daddy, discussing her sister's 2002 breakup with Justin Timberlake during her latter media appearance.
Reacting to the fresh round of attention on her past romance, Britney Spears suggested that she wasn't supported by her sister and mother as she endured the heartbreak of the split—and said she should have "slapped" the pair.
Sharing a photo of a pair of sweet holiday drinks, the "Toxic" singer wrote: "I flew home to Jamie Lynn on the couch watching her tv shows right after Justin and I broke up... I was a ghost there [ghost emoji] !!!!!
"I had worked my whole life and I didn't know how to be served by Mamma ... Sit there and get served the chocolate milkshakes with the perfectly crushed ice with the secret chunky sugar meanwhile Jamie Lynn is 12, she indulges with the TV for hours then goes to lay out on a raft at the pool. I'm in shock because this was never my life !!!! Justin's family was all I knew for many years ..."
The pop icon then appeared to imply that her own fame and success played a part in kickstarting Jamie Lynn Spears' career as a child star.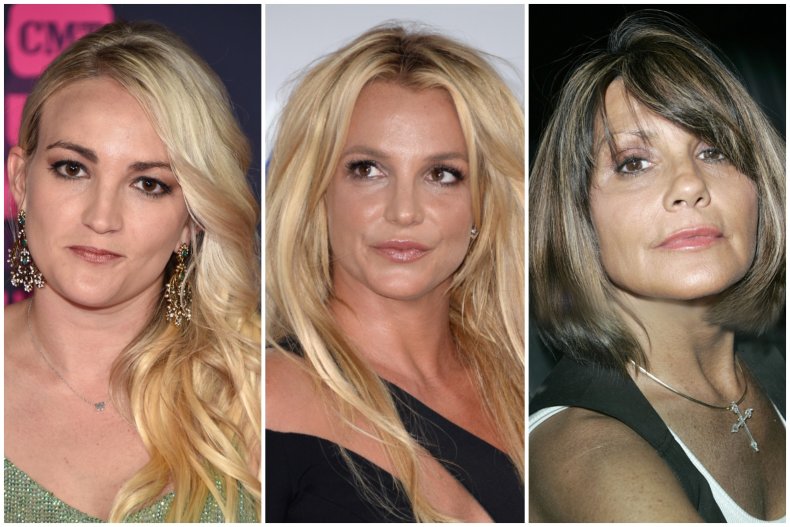 "Things were different now and Jamie Lynn had a new Nickelodeon show," the singer went on. "All I remember saying was 'DAMN !!! How the hell does a 12 year old land a Nickelodeon show ????' ..... HMMMMMMMM ....
"Well I never got my iced chocolate drink [woman shrugging emoji, cup with straw emoji]!!! I mean yeah ... I'm grown up right ??? But then maybe I might need a little support."
Britney Spears then appeared to address her sister's claims in her memoir that the star was, at one point, "scared" and locked the two of them in a room while holding a knife.
"One time, she said to me, 'Baby, I'm scared,' and took a large knife from the kitchen, pulled me along to my room and she locked us both inside," Jamie Lynn Spears wrote.
"It was a People Magazine cover," said mother-of-two Britney Spears in her Instagram post. "The people show up and as Jamie Lynn says, I was scared !!!! F*** yeah !!!"
Britney Spears went on to say that her journey back to her family's Louisiana home was made all the more discomforting by her mother allegedly being incapacitated on pain medication in the midst of her split from their father, Jamie Spears.
She wrote: "My Mamma was on pain medication and could barely hold a conversation in the house because her and my dad split and she was more messed up than anything !!!! I remember her sitting on the floor in a conversation and she never got up."
Saving her most cutting words for last, the star concluded her post: "I'm sorry Jamie Lynn, I wasn't strong enough to do what should have been done ... slapped you and Mamma right across your f****** faces !!!!!"
Shortly before her post, Britney Spears shared a video of herself posing in an ensemble that she said was a "new" version of the one she wore in her debut "...Baby One More Time" video, as she wrote about the loneliness she faced during her career.
She wrote: "In life a lot of people say 'DO I MATTER ????' ... try eating alone for 4 months morning [sun emoji] ... noon [clock emoji] ... and night [crescent moon emoji] Jamie Lynn. I asked myself every day 'DOES ANYBODY CARE ??? WTF ??? DO I MATTER ???'
"I would honestly be very interested to see your pretty face in the setting I was forced to be in and asking yourself 'DO I MATTER ???' I didn't get to cry [crying face emoji] ... I had to be strong ... TOO STRONG [flexed biceps emoji] !!!
"So yes ... YOU DO MATTER and don't you ever think for one f****** second you don't."
Britney Spears and Jamie Lynn Spears have been directing social media posts at one another over the past several days, with the former accusing her sister of lying about her in her recent Good Morning America Interview.
Jamie Lynn Spears has since offered to end their feud privately, branding their public war of words over social media "embarrassing."