Jamie Lynn Spears Hits Back at Britney Spears, Says Book Is 'Not About Her'
Jamie Lynn Spears hit back at her sister Britney Spears, after the pop star challenged claims made in her new memoir, Things I Should Have Said.
The singer, 40, took to Twitter on Thursday to reveal that she had watched her younger sibling's interview on Good Morning America, which was first broadcast on Wednesday, and she accused her of selling "a book at my expense."
Hours later, former Zoey 101 star Jamie Lynn Spears, 30, shared a statement on her Instagram account, in which she said that the book is "not about" her sister.
"Last thing I want to be doing is this, but here we are... It's hard to see these posts, as I know the world also feels," the mother of two wrote. "I just wish her well. Brit, I am always here, you know behind the scenes I have always been here.
"It's becoming exhausting when conversations, and tests we have in private don't match what you post on social media. I know you're going through a lot and I never want to diminish that, but I also can't diminish myself."
Jamie Lynn Spears went on to state that she and her family had been dealing with "death threats" as a result of Britney Spears' "vague and accusatory posts" on social media.
"Quite frankly, the things being said are absolutely not the truth," she continued, "and I have to clarify that, because now it's getting harder for me to rationalize to my oldest daughter why our family continues to get death threats, as a result of their aunt's vague and accusatory posts, especially when we know she could tell the truth, and put an end to all of it in one second if she wanted to.
"Sadly, after a lifetime of staying silent, I have come to realize this isn't going to be a reality, and I may have to set the record straight myself in order to protect mine and my family's well being."
"That being said, I hate to burst my sister's bubble, but my book is not about her," she continued. "I can't help I was born a Spears too, and that some of my experiences involve my sister. I've worked hard since before I was even a teenager, and I've built my career in spite of just being someone's little sister."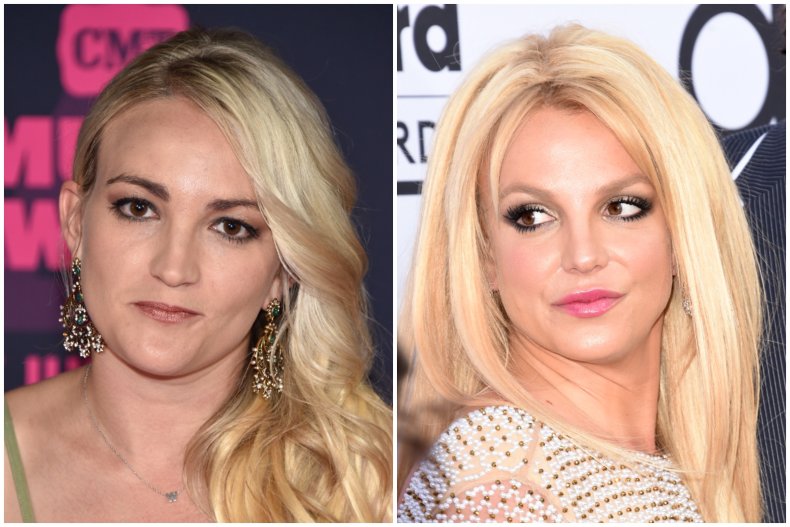 Concluding her post, Jamie Lynn Spears said she wanted to "put an end to the unhealthy chaos" and that she will "always love" her superstar sister.
She wrote: "There are no sides, and I don't want drama, but I'm speaking my truth to heal my traumas, so I can close this chapter and move forward, and I wish my sister could do the same.
"No matter what comes, I will always love my big sister, and be here for her. It's time to put an end to the unhealthy chaos that has controlled my life for so long."
In her Good Morning America interview, Jamie Lynn Spears spoke of how she "adored" her sister when the two were growing up, though it was shared that she had written about the star changing, describing her behavior as "erratic, paranoid" and "spiraling."
"Toxic" singer Britney Spears shared in no uncertain terms that she was unhappy with the way her behavior was portrayed by her sister.
"She was never around me much 15 years ago at that time ... so why are they even talking about that unless she wants to sell a book at my expense???" Britney Spears wrote.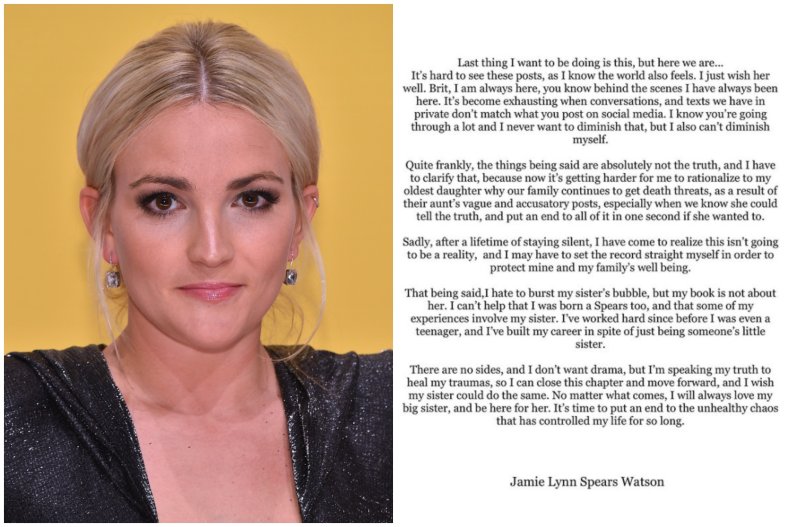 In November, Britney Spears was freed from her conservatorship after almost 14 years of having her personal and financial decisions taken out of her hands. The controversial arrangement was put in place amid concerns for the singer's mental health.
During court testimony last year, she spoke candidly about the anguish the conservatorship had caused her. Her father, Jamie Spears, was suspended from the arrangement months before it was ultimately dissolved.
Britney Spears, who has spoken out against her family on numerous occasions on social media in recent months, said in her Twitter post that her family had "ruined my dreams 100 billion percent and try to make me look like the crazy one."
"My family loves to pull me down and hurt me always so I am disgusted with them!!!" the mother of two added.
While Jamie Lynn Spears has faced criticism for not publicly expressing support for her sister at the height of her conservatorship battle, she said in her Good Morning America interview that she was happy the conservatorship had ended.
"First off, I don't understand what it was [that was] put into place," she said. "I was 17 years old, I was about to have a baby. So I didn't understand what was happening. Nor was I focused on that. I was focused on the fact that I was 17 and about to have a baby. I understand just as little about it then as I do now."
Asked about her sister's July Instagram posts, in which Britney Spears criticized her for performing a remix of her song "Till the World Ends" at the 2017 Radio Disney Music Awards, Jamie Lynn Spears said that she found the reaction "confusing."
"Honestly, it was somewhat confusing to me about that. And I actually have spoken to her about that, and I was doing a tribute to honor my sister and all the amazing things that she's done," she said, adding that she didn't understand why it bothered her sister.
Reacting in her Twitter post, Britney Spears wrote that it "may sound like a silly thing to most people but I wrote a lot of my songs and my sister was the baby. She never had to work for anything. Everything was always given to her!!!"
The "Gimme More" singer shared that she had watched the interview while suffering from a headache and 104-degree fever, which she said made it easier to watch her sister's interview as she "had to surrender to not caring."