Britney Spears Now Locked in Legal Battles With Both Her Sister and Dad
Britney Spears' family feud has taken an unprecedented turn, as it now sees her legally facing off against her sister and father over separate matters.
The pop superstar, 40, has publicly shared a series of far-from-glowing takes on her family over the past few months, intensifying her criticism of them when her battle to be released from her conservatorship reached its height.
And the "Toxic" singer turned things up a notch in her war of words with her sister, Jamie Lynn Spears, when she issued the former Zoey 101 star with a cease and desist letter over the promotion of her new memoir, Things I Should Have Said.
Britney Spears' lawyer, Mathew S. Rosengart, has demanded in the letter that Jamie Lynn Spears stop discussing her sister's life during interviews—and she's set to face legal action should she refuse to comply.
The letter begins, per Entertainment Tonight: "We write with some hesitation because the last thing Britney wants is to bring more attention to your ill-timed book and its misleading or outrageous claims about her.
"Although Britney has not read and does not intend to read your book, she and millions of her fans were shocked to see how you have exploited her for monetary gain. She will not tolerate it, nor should she."
The letter goes on to state: "Having endured a 13-year conservatorship that stripped her of civil rights and fundamental liberties, Britney will no longer be bullied by her father or anyone else."
"Publicly airing false or fantastical grievances is wrong, especially when designed to sell books. It is also potentially unlawful and defamatory. You recently reportedly stated that the book was 'not about her.'
"She takes you at your word and we, therefore, demand that you cease and desist from referencing Britney derogatorily during your promotional campaign. If you fail to do so or defame her, Britney will be forced to consider and take all appropriate legal action."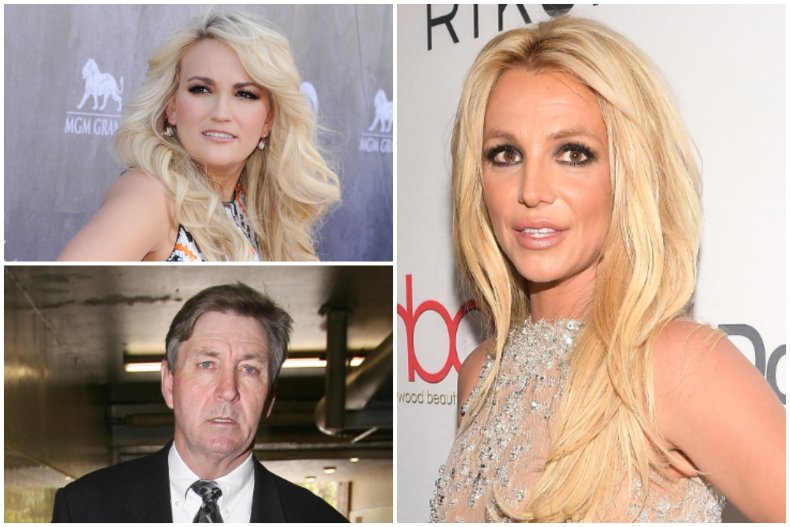 Britney Spears recently accused her sister of lying in certain accounts of her shared with the public, while promoting her book, including stating during her Good Morning America interview that the singer's behavior was "erratic, paranoid and spiraling."
And while she has continued to defiantly share her opinions on her sister, as well as their mother, Britney Spears is also legally battling their father, Jamie Spears, in the aftermath of her conservatorship, which ended in November after almost 14 years.
Ahead of their courtroom showdown, which is scheduled for Wednesday, Britney Spears and her lawyer have asked a judge to block Jamie Spears' ability to dip into her fortune for his legal representation, amid the probe into his alleged "misconduct" and "self-dealing" while overseeing her conservatorship.
They have claimed that Jamie Spears has already "siphoned" more than $6 million of her money and should "consider hiring other, less expensive counsel whom he can afford," instead of using her money for "obfuscation and stonewalling."
The new filing reads, per Rolling Stone: "Permitting Mr. Spears to pay his lawyers from Britney Spears's estate without judicial oversight—largely for the purpose of mounting a 'defense' to potential claims against him—would grant them a license to run up fees waging a war of attrition, obstruct efforts to discover the truth about everything Mr. Spears has done, and incur fees not to assist the 'transition'... but to defend himself and cover up the truth."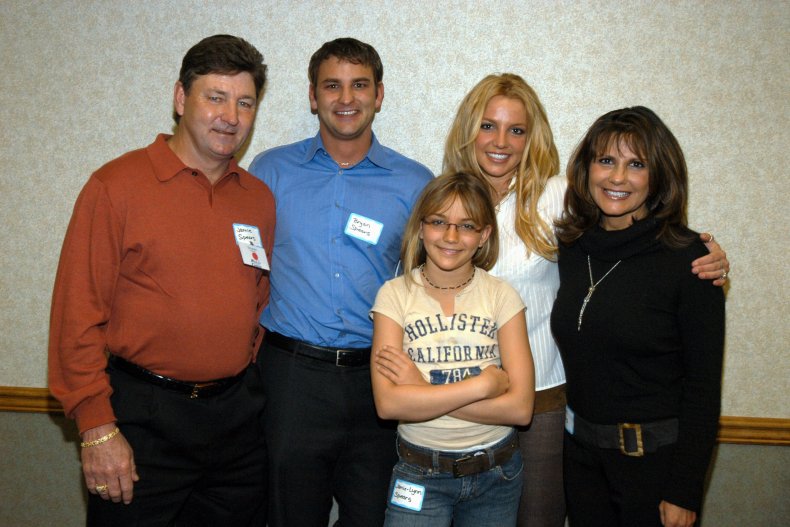 In documents filed last month, Jamie Spears petitioned to seek the court's approval for his daughter's estate to pay his new lead lawyer Alex Weingarten, who charges $1,200 per hour, while his co-counsel Eric Bakewell comes at a price of $860.
"Prompt payment on account of Jamie's attorneys' fees is necessary to ensure the Conservatorship can be wound up quickly and efficiently to allow Britney to take control of her life as she and Jamie desire," the petition stated.
While Britney Spears was under the conservatorship—which saw her personal and financial decisions taken out of her hands—Jamie Spears' legal costs were covered by the singer's estate.
Britney Spears had accused her father of "conservatorship abuse" in her court testimony, alleging that she had been forced to perform, take medication and wear a contraceptive device against her will.
Jamie Spears was suspended from the conservatorship in September, two months before the arrangement was altogether dissolved in November.
The patriarch has insisted that he has acted in the best interests of his daughter, who was placed under the conservatorship amid concerns over her mental health.
It was stated in Jamie Spears' filing that he still owes his daughter "fiduciary obligations," despite having been forcibly removed from the conservatorship.
Britney Spears' lawyer has accused Jamie Spears of "acting faithlessly, elevating his interests above those of his daughter." They have also stated that Jamie has "failed to cooperate" with the continuing investigation.
Days after her conservatorship was dissolved, Britney Spears spoke out against her family, stating that "they should all be in jail" in a post shared on Instagram.
She wrote, in part: "[H]onestly it still blows my mind every day I wake up how my family and the conservatorship were able to do what they did to me ... it was demoralizing and degrading !!!! I'm not even mentioning all the bad things they did to me which they should all be in jail for ... yes including my church going mother !!!!
"I'm used to keeping peace for the family and keeping my mouth shut ... but not this time ... I have NOT FORGOTTEN and I hope they can look up tonight and know EXACTLY WHAT I MEAN !!!!"