Britney Spears appeared to take a swipe at her younger sister, Jamie Lynn Spears, in an Instagram post on Tuesday.
On Monday, Jamie Lynn Spears, 30, took to Instagram to unveil the cover of her book, Things I Should Have Said, in which she said she will be "opening up about my own mental health."
The book, it was revealed earlier this year, was set to carry the title I Must Confess: Family, Fame, and Figuring It Out. The working title proved to be controversial, as it drew a line from Britney Spears' debut hit "... Baby One More Time."
Following Worthy Publishing's statement that the then-unconfirmed news had been "erroneously released online," per Page Six, Jamie Lynn Spears revealed the new cover and title.
However, Britney Spears, 39, appeared to take a subtle swipe at her sister's literary outing, when she wrote on Instagram alongside a photo of herself: "Psssssss also great news ... I'm thinking of releasing a book 📚 next year 😜 but I'm having issues coming up with a title so maybe my fans could help !!!!
"Option #1 ... "S***, I really don't know" Option #2 ... "I really care what people think" 😂🙄🤷🏼‍♀️ !!!!" What do you guys think 🤔🤔🤔 ????"
"The things my sister shouldn't have said," suggested one of the singer's followers, while another commented: "Lmaooo I'm loving this shade 😂."
In recent months, the Spears sisters' relationship appeared to deteriorate under the glare of the public eye, through their comments and posts on social media.
Back in July, as her conservatorship battle gathered pace, Britney Spears took to Instagram to post to urge an unnamed person to "stop with the righteous approach when you're so far from righteous."
Days later, the "Toxic" singer's posts became more targeted, as she called out her younger sibling for performing her song at the 2017 Radio Disney Music Awards, when Jamie Lynn Spears sang her sister's 2011 track "Till the World Ends."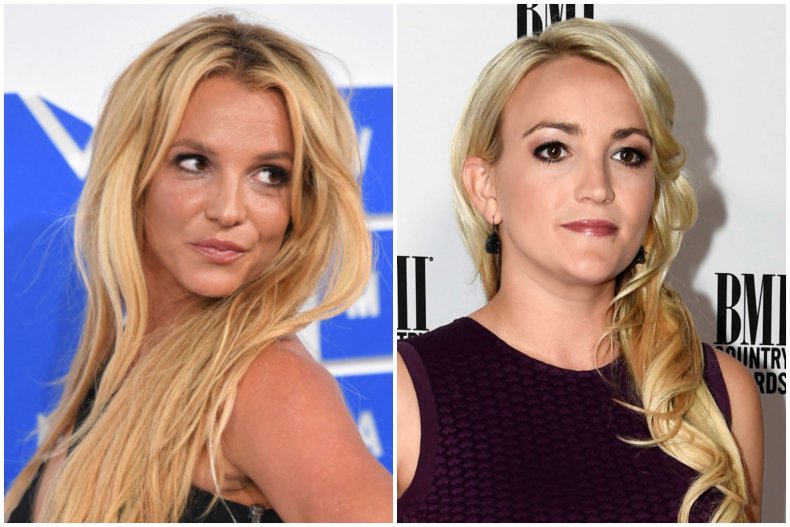 Alongside an image emblazoned with the words, "Take me as I am or eat s*** and step on Lego," Britney Spears wrote: "I don't like that my sister showed up at an awards show and performed MY SONGS to remixes !!!!! My so-called support system hurt me deeply !!!! This conservatorship killed my dreams."
Soon afterward, Jamie Lynn Spears posted a mirror selfie on her own Instagram account that showed her wearing an all-red ensemble.
"May the peace of the Lord be with you, and your spirit," the Zoey 101 star wrote in her original accompanying caption. The caption has since been edited to emojis.
Britney Spears appeared to respond with a video of her dancing, as she wrote: "May the Lord wrap your mean a** up in joy today .... PS RED !!!!! Pssss ... this is Bad Guy part 2 ... same song new dance ... if you don't like it ... don't watch it !!!!!"
Jamie Lynn Spears had faced criticism over the summer for not publicly speaking out about her sister's conservatorship battle, particularly after the star described the arrangement as "abusive" in an explosive court testimony in June.
Speaking in a video on Instagram in June, Jamie Lynn Spears said: "I don't care if she wants to run away to a rainforest and have a zillion babies in the middle of nowhere, or if she wants to come back and dominate the world like she has so many times before. Because I have nothing to gain or lose either way.
"This situation does not affect me either way because I'm only her sister who's only concerned about her happiness. I've made a very conscious choice in my life to only participate in her life as her sister and an aunt to her boys."
Addressing her decision to remain publicly silent on the matter, she added: "Maybe I didn't support her the way the public would like me to with a hashtag on a public platform, but I can assure you that I've supported my sister long before there was a hashtag, and I'll support her long after."
The sisters' father, Jamie Spears, was recently suspended from Britney Spears' conservatorship. Via the arrangement, he oversaw her personal and financial affairs from 2008, amid concerns for the pop star's mental health.
Citing health reasons, Jamie Spears stepped down from the personal arm of the conservatorship in 2019, and was succeeded in that area by Jodi Montgomery. He has been replaced by accountant John Zabel since his suspension.
Britney Spears' legal team has launched a bid to dissolve the conservatorship altogether, with parties on all sides returning to court on November 12.