Britney Spears and Jamie Lynn Spears' relationship appears to be publicly unraveling amid the pop star's ongoing conservatorship battle.
The sisters have both referenced the situation on social media, with the elder directly calling out her family members for not supporting her during her difficult times.
Following the appointment of her new lawyer last week, in a major victory towards ending her conservatorship, Britney Spears took to Instagram on Friday where she lashed out at those who did not help her while she was "drowning" but are now showing support publicly to "save face."
Sharing an image reading, "Never forget who ignored you when you needed them and who helped you before you even needed to ask," the 39-year-old wrote in her caption. "There's nothing worse than when the people closest to you who never showed up for you post things in regard to your situation whatever it may be and speak righteously for support," Spears wrote. "There's nothing worse than that !!!! How dare the people you love the most say anything at all ... did they even put a hand out to even lift me up at the TIME !!!???
"How dare you make it public that NOW you CARE," she added. "Did you put your hand out when I was drowning ???? Again ... NO ... so if you're reading this and you know who you are ... and you actually have the nerve to say anything about my situation just to save face for yourself publicly !!! ... Please stop with the righteous approach when you're so far from righteous it's not even funny."
Though she did not reference anyone specifically in this post, over the weekend, her messages became more candid.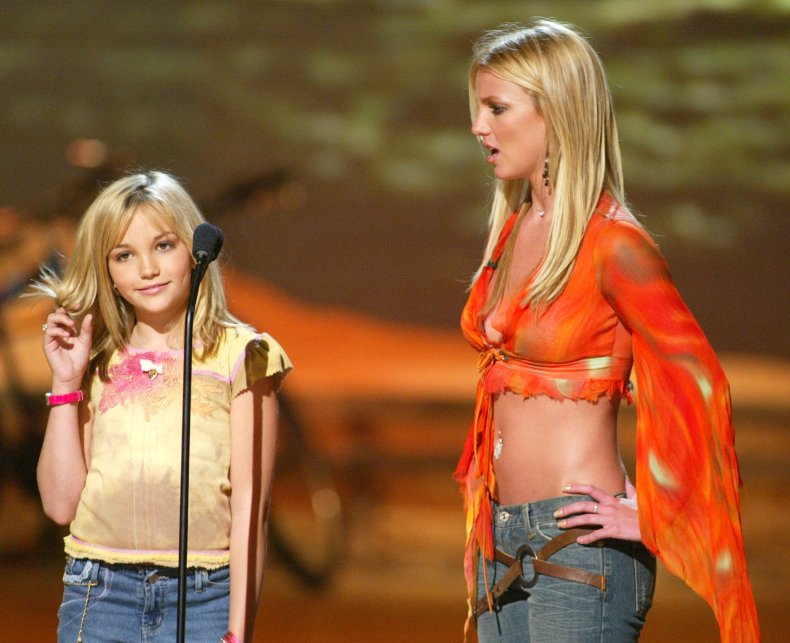 The "Toxic" singer directly criticized her younger sister on Saturday, and called her out for performing her own songs at an award show.
Sharing a photo with the slogan: "Take me as I am or eat s*** and step on Lego," Spears told fans and added: "I don't like that my sister showed up at an awards show and performed MY SONGS to remixes !!!!! My so-called support system hurt me deeply !!!! This conservatorship killed my dreams."
The performance in question took place at the 2017 Radio Disney Music Awards when Jamie Lynn Spears sang her older sibling's 2011 hit "Till The World Ends."
Footage of the performance is circulating on social media, with fans noticing Britney Spears' discomfort in the audience.
As of Sunday night, Britney Spears has taken another jab at her younger sister.
On Sunday, July 18, Jamie Lynn Spears shared a mirror selfie in a red top and skirt and red heels on Instagram.
"May the peace of the Lord be with you, and your spirit," the Zoey 101 star originally captioned the post.
However, Britney Spears then seemed to respond with a video of her dancing along with the caption: "May the Lord wrap your mean a** up in joy today .... PS RED !!!!! Pssss ... this is Bad Guy part 2 ... same song new dance ... if you don't like it ... don't watch it !!!!!"
Jamie Lynn Spears since edited her caption to just display some emojis.
On Wednesday, July 14, the day of Britney Spears' second court testimony, the younger sibling shared an Instagram story asking: "Dear Lord, Can we end this bulls*** once and for all. Amen."
Jamie Lynn Spears has been receiving harsh criticism in recent weeks for not speaking out about her sister's situation, after the pop star labeled the conservatorship "abusive" in court.
The actress first broke her silence on the situation in late June after her sister delivered an explosive testimony in court about her wish to end the conservatorship.
"I don't care if she wants to run away to a rainforest and have a zillion babies in the middle of nowhere, or if she wants to come back and dominate the world like she has so many times before. Because I have nothing to gain or lose either way," Jamie Lynn Spears said in a video posted to Instagram. "This situation does not affect me either way because I'm only her sister who's only concerned about her happiness. I've made a very conscious choice in my life to only participate in her life as her sister and an aunt to her boys."
She also addressed the criticism she received for remaining silent, adding: "Maybe I didn't support her the way the public would like me to with a hashtag on a public platform, but I can assure you that I've supported my sister long before there was a hashtag, and I'll support her long after."