Fans React to Video of Britney Spears Watching Jamie Lynn Sing: 'Toxicity'
Britney Spears fans have flocked to a YouTube video of Jamie Lynn Spears performing one of her sister's songs during a 2017 awards show tribute.
Jamie Lynn sang her older sibling's 2011 hit Till The World Ends as part of a star-studded medley at the 2017 Radio Disney Music Awards.
Hailee Steinfeld, Kelsea Ballerini, and Sofia Carson also performed notable hits from the singer's back catalogue.
Spears attended the show with her younger sister and mother Lynne Spears.
However, her involvement is now being viewed in a new light after she appeared to hit out at Jamie Lynn's performance in an Instagram post on Saturday.
Spears wrote: "I don't like that my sister showed up at an awards show and performed MY SONGS to remixes !!!!! My so-called support system hurt me deeply !!!!"
Fans have been pouring over unofficial footage of the performance ever since and flooding the comments section with messages of support for Britney.
Celine Khan wrote: "Here after Britney's post, Britney did not want this .... she was forced to sit through it. Let that sink in. Her sister is constantly begging for attention through her sisters name."
Annie Laurin agreed: "Yeah you can clearly see Britney is not enjoying this and she had that awkward look in her eyes."
Diego also spotted Spears looking less than enthusiastic about the performance.
"You guys can literally see that brit is NOT having it, she just looks so "get me the f out of here,'" he wrote.
BoneStudio15 wrote: "I was always so confused by this. Britney didn't need a tribute if she was still capable of performing her songs herself."
Erin Dale Darling, meanwhile, reflected on how the video "hits different now" in light of her remarks.
"I don't think Britney was enjoying herself here at all, other than having a night out with her kids; she was just phoning it in 'cause she had to be there," she said.
"Her hug with Jamie Lynn looked really half-hearted and awkward, and she didn't even thank her in her speech; she thanks her fans and her sons, but not her family. The toxicity was there all along, we just didn't see it."
Tijana Misic also noticed the apparent snub, writing "Now I understand why she didn't even say anything about girls performing. Only thanked to Radio Disney, her fans and boys."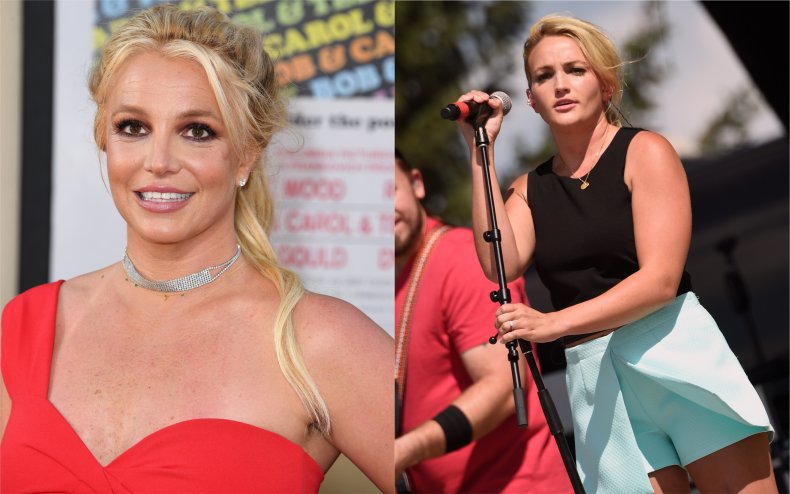 Zully Ramos felt the video made for a difficult watch.
"To think Britney was not smiling genuinely or happy at this time & for so many years, is heartbreaking," they wrote.
"She kept it together for her fans. But enough is enough! She deserves the world."
The video has now been viewed more than 460,000 times and has amassed over 1,600 comments.
Debate over the performance even spilled on to Twitter where one eagle-eyed user picked up on what they saw as Spears' telling reaction to her sister's efforts.
The singer's comments about Jamie-Lynn came just a day after the singer posted another lengthy statement on Instagram criticizing those who "never showed up" when she needed them most.
"There's nothing worse than when the people closest to you who never showed up for you post things in regard to your situation whatever it may be and speak righteously for support," Spears wrote.
"There's nothing worse than that !!!! How dare the people you love the most say anything at all ... did they even put a hand out to even lift me up at the TIME !!!???
"How dare you make it public that NOW you CARE," she continued. "Did you put your hand out when I was drowning ???? Again ... NO ... so if you're reading this and you know who you are ... and you actually have the nerve to say anything about my situation just to save face for yourself publicly !!! ... Please stop with the righteous approach when you're so far from righteous it's not even funny."
The statement, which was posted on Friday, came just hours after Jamie Lynn had taken to social media to write "Dear Lord, Can we end this bulls*** once and for all. Amen."
Newsweek has reached out to Jamie Lynn Spears for comment.