Britney Spears Says Jamie Lynn 'Lying' About Her in Book Was 'Kind of Insane'
Britney Spears has lashed out at her younger sister, Jamie Lynn Spears, on social media once again over her controversial memoir.
The Spears sisters publicly exchanged words in the leadup to the January release of Jamie Lynn Spears' controversial new book, Things I Should Have Said, in which her soured relationship with Britney Spears is among the topics covered.
And "Toxic" singer Britney Spears, 40, had more to say about the matter, as she accused her younger sister, 30, of "lying" in her book—a move she called "kind of insane"—in a since-deleted post shared on Instagram on Wednesday.
Apologizing for a previous slur she had hurled at her sister, Britney Spears wrote, per Billboard: "I'm sorry I called you scum but why did you lie about when I went home ???
"It's like you're going out of your way to lie about me and make me look bad !!! And if I wasn't your sister I would believe everything you're saying in your interviews ... you're actually believable !!! It's scary !!!"
The pop superstar then went on to allege in her scathing post that Jamie Lynn Spears wouldn't let her hold her newborn baby. The Spears sisters each have two children.
"Momma's mouth dropped because you would never say anything ... you would just yank her out of my arms !!!!" Britney Spears wrote. "You acted like you owned that household and I'm sorry you were too much."
Britney Spears, who in November 2021 was released from her conservatorship after 13 years, went on: "I know dad has taken a back seat because he doesn't do the conservatorship anymore so I guess you're feeling that your little sassy a** can boss them around, but I'm here as your older sister to keep it real with you and put you in your place !!!
"You have the right to tell your story but honestly the timing ... right when people are just counting down the the seconds until I do something wrong, you come out and literally say hurtful things about me lying ... that's being so unsupportive and it's kind of insane.
"I'm honestly wondering if this is all a joke and you're testing me because this is so far from you it's not even funny."
While Britney Spears has accused her sister of lying in her memoir, Jamie Lynn Spears stated in a recent interview that she had attempted to help free the star from her conservatorship, during which her personal and financial decisions were taken out of her hands.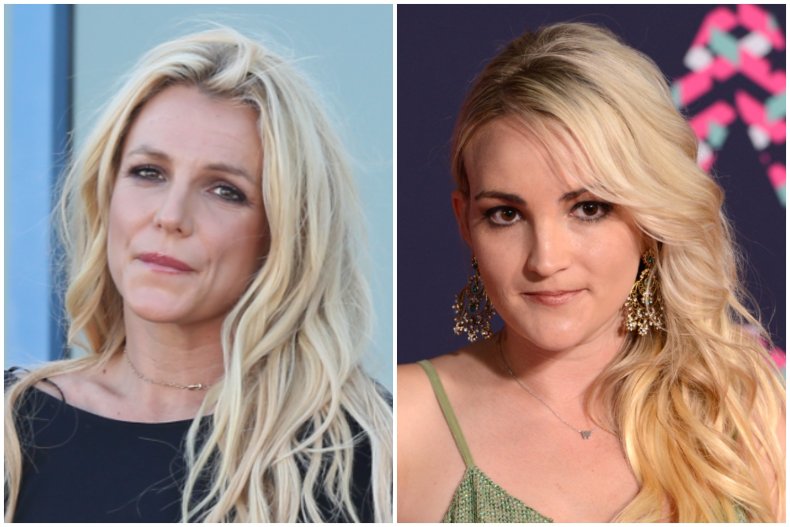 In another Instagram post on Wednesday that also appears to have since been deleted, Britney Spears spoke out against her former business management firm, Tri Star Sports & Entertainment, as she revealed plans to sue the company.
She wrote in her post that before her management team "sent me away" to a treatment facility, Tri Star brought her into their offices.
"The swanky suited up b****es ... SO NICE with their 'We are here to make you feel SPECIAL' !!!!" Britney Spears wrote, before naming her former business managers, per Billboard.
"I had lunch with Lou Taylor and Robin Greenhill ... they said 'Britney, look at your picture on the wall!' With a huge black and white framed picture in the hall of their office !!!!! Kate Beckinsale was there too !!!!! They sucked up to me and 'made me feel special' ... RIGHT .... Ha those same b****es killed me a week later !!!!"
She went on to say that her father Jamie Spears, who oversaw her controversial conservatorship until he was suspended from the arrangement in September 2021, "worshipped" Taylor and Greenhill and "would have done anything they asked of him."
"Nobody else would have lived through what they did to me !!!" Britney Spears concluded. "I lived through all of if and I remember all of it !!!! I will sue the s*** out of Tri Star !!!! Psss they got away with all of it and I'm here to warn them every day of my precious life !!!!"
Responding to the star's allegations, Tri Star attorney Charles Harder told Billboard in a statement: "These claims are entirely false as well as highly offensive, damaging and unacceptable."