Britney Spears' Mother, Lynne, Says Conservatorship Brought 'A Lot of Pain'
Britney Spears' mother Lynne Spears spoke about her daughter's conservatorship in June before her daughter delivered an explosive court testimony later that month.
Revealing her "mixed feelings" about the situation to The New Yorker, Lynne Spears is reported as being polite but secretive about speaking to the press, in case a family member found out.
The 66-year-old spoke to investigative reporters Ronan Farrow and Jia Tolentino for an expose into Britney Spears' conservatorship.
It was published on July 3, two weeks after Britney Spear's delivered a harrowing court testimony alleging abusive treatment and asking a judge to end the conservatorship that has seen her personal and financial affairs largely controlled by her father for the past 13 years.
Lynne Spears was quoted as saying that the conservatorship is "a lot of pain and a lot of worry."
"I got mixed feelings about everything," she said. "I don't know what to think... It's a lot of pain, a lot of worry."
She added: "I'm good. I'm good at deflecting."
Lynne Spears reportedly "spoke in a whisper and apologized that she might have to hang up abruptly if other family members walked in and discovered her speaking to a reporter."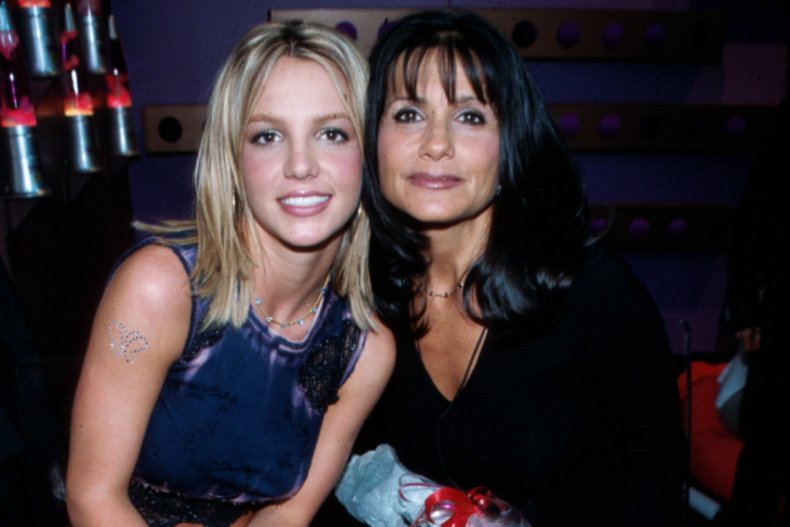 The comments are significant as they offer some insight into Lynne Spears' feelings on the conservatorship—which the Spears family has been silent on over the last decade.
In her testimony, Britney Spears said that she wanted to sue her family, namely her father Jamie, for how she has been treated while under the conservatorship.
"I would honestly like to sue my family, to be totally honest with you," the pop star said during her 23-minute statement. "I also would like to be able to share my story with the world, and what they did to me, instead of it being a hush-hush secret to benefit all of them. I want to be able to be heard on what they did to me by making me keep this in for so long. It is not good for my heart. I've been so angry, and I cry every day."
The New Yorker expose also claims that Britney Spears called the emergency line to report herself as a victim of abuse in her conservatorship the day before she delivered her testimony on June 23.
Despite never commenting publicly on the conservatorship, Lynne Spears did like some social media posts from people who voiced concern for Britney in April 2019.
Following his daughter's testimony, Jamie Spears' attorney said in a statement: "Mr. Spears is sorry to see his daughter suffering and in so much pain. Mr. Spears loves his daughter and misses her very much." In March, the singer's lawyer told CNN that "Jamie believes every single decision he has made has been in her best interest."
Last week, Judge Brenda Penny denied the request from Britney's court-appointed lawyer to have her father dropped as her co-conservator.
Meanwhile, Jamie Spears has petitioned the court to investigate claims of abuse made by his daughter in her testimony.