Britney Spears Responds to Son Jayden After He Speaks Out
Britney Spears has said she is "saddened" by recent comments made by her teenage son Jayden James Federline who spoke to The Sun about his mother's social media use.
"I've tried my best at being the best person I can be... to be basically held hostage in homes under nurses and bulls*** I hope my kids one day understand my reasoning of my play in water revealing myself as any woman would being held under blankets and supervision under the conservatorship!!!" Spears began in a message posted to Instagram.
Spears and Kevin Federline were married from 2004 until their separation in 2007, but Federline recently angered Spears' fans by sharing video footage of Spears arguing with their sons. It resulted in Spears lashing out at Federline on Instagram, celebrities voicing their support for the pop star and Spears' lawyers making a statement.
The former couple is parents to Sean Preston, 16, and Jayden James, 15 and it has emerged that the singer has been estranged from her boys in recent months.
On Thursday, Kevin Federline said he was "mortified" by his ex-wife's conservatorship in a preview for what is being described as an "explosive" interview with 60 Minutes Australia.
Until recently, she lived under a strict conservatorship, with all of her personal and financial decisions controlled by her father, Jamie, 70.
After a tumultuous year of court drama, the "Toxic" singer's assets are back under her control, and her Instagram has been reflecting how she is living her life on her own terms.
Now, Jayden James has also spoken to the media about his frustration with his mom's posts on social media and claimed she uses Instagram for "attention."
"Social media helps her. So if that's what she wants to do. I'm not going to hate her for that," he told The Sun.
"At the same time, she should come to the realization of whatever it is that stops her loving her family. It's almost like she has to post something on Instagram to get some attention.
"This has gone on for years and years and years and there's a high chance that this will never stop but I'm hoping for me that she will stop."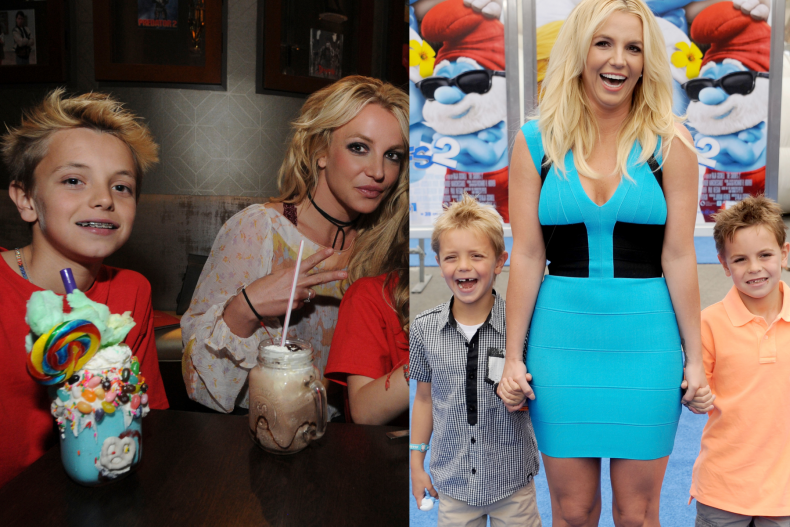 In her response, Spears urged her sons to meet up with her to discuss the situation and also asked them to realize that she lived under a harsh conservatorship for 13 years and is trying to cope with the trauma of that.
"Finally at 40 without the restraints of what my family did to me ... I say to my son Jayden that I send all the love in the world to you every day for the rest of my life!!! My love for my children has no boundaries and it deeply saddens me to know his outcry of saying I wasn't up to his expectations of a mother," Spears wrote.
Addressing the boys' father, Spears said that they might say they prefer their dad's parenting skills as his "smoking weed every day benefits your daily life at 15 and 16 to partake in a VERY COOL GENERATION."
The "Lucky" hitmaker told her son to "pick up a book and read one" before discussing how she is and told him to tell his dad to "at least mow the lawn."
She concluded her post by saying that if her kids believe their "memaw and paw paw" acted properly throughout her conservatorship, then she accepts she has failed as a mother.
"If you can honestly sit back and say with your sensible brilliant mind that what memaw and paw paw did to me was fine and call them not bad people... then yes I have failed as a mother," she said.
Spears opened up about her relationship with her two sons on August 10, revealing in a lengthy Instagram post that they are not on good terms at the moment.
"I know that teenagers are just hard to deal with...but COME ON," Spears wrote in a now-deleted Instagram post. "There's being rude then there's being HATEFUL."
Kevin Federline's interview is due to air in Australia on Sunday, September 4.