Britney Spears and Sam Asghari 'Deeply Touched' By Support Over Engagement
Britney Spears is preparing to say "I do," after announcing her engagement to long-term partner Sam Asghari on Sunday.
The pop icon, 39, took to Instagram to share a short video of herself showing off a new diamond ring, posing alongside her fiancé, 27.
After model, actor and personal trainer Asghari asked Spears if she liked her new ring in the seconds-long clip, she enthusiastically responded: "Yes!"
Captioning the footage, the star expressed her elation, writing: "I can't f****** believe it 💍💍💍💍💍💍❣️!!!!!!"
Following the announcement, Spears and The Family Business star Asghari received an outpouring of congratulatory messages from celebrities and fans alike, prompting the couple to express their gratitude in a follow-u[ statement.
"The couple made their long-standing relationship official today and are deeply touched by the support, dedication and love expressed to them," Asghari's talent manager, Brandon Cohen, told Page Six in a statement.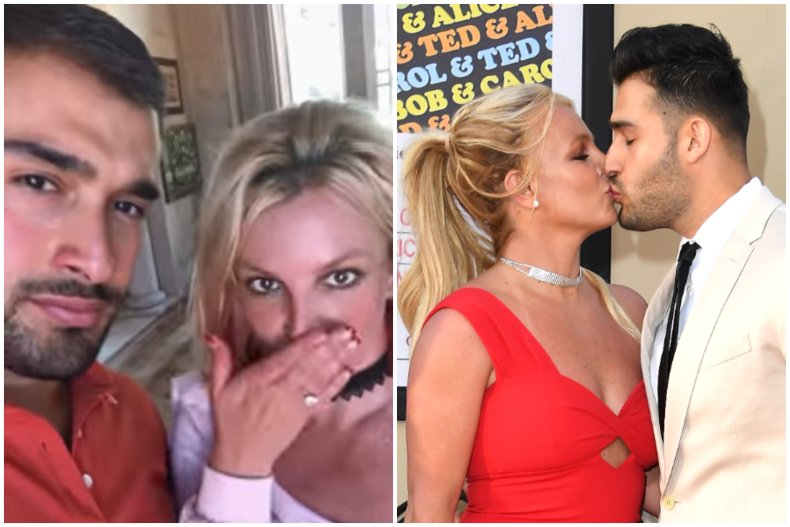 According to Page Six, New-York based designer Roman Malayev created Spears' ring, which features a 4-carat round brilliant stone in a platinum cathedral setting, enhanced with a floating solitaire design.
Giving the ring that personal touch, the inside of the band has been engraved with "Lioness"—Asghari's nickname for Spears.
"Every designer I spoke with about the ring was amazing with great ideas, but I just clicked with Roman—we really connected on the design and he was as excited as I was to make it special—that's why I chose him," Asghari said in a statement.
Jeweler Malayev said that he "couldn't feel more honored to create this ring for such a special couple."
"Their journey together has touched people around the world and we're so excited to be a part of their forever," he added. "We are thrilled to congratulate Britney and Sam on their recent engagement."
On Friday, a photo of the ring, showing the "lioness" engraving was posted on Asghari's Instagram account, before being quickly deleted, per TMZ.
At the time, Iranian-born Asghari shared a text post on his Instagram Story that read: "account got hacked and was Photoshopped—calm down everyone."
The newly engaged couple were romantically linked after meeting on the set of Spears' "Slumber Party" music video back in 2016.
In August, in the midst of her battle to end her 13-year conservatorship, Spears dedicated an Instagram post to Asghari, praising him for helping her through the "hardest years" of her life.
Captioning an image of the pair posing together, she wrote: "Not only has this cute a****** been with me through the hardest years of my life but he happens to be an extremely good cook 👨🏽‍🍳! Fast & Furious franchise, don't miss out on your next star 🌟🏎️👗🤓 !!!!"
Asghari has also publicly praised Spears, telling People in February: "I have always wanted nothing but the best for my better half, and will continue to support her following her dreams and creating the future she wants and deserves.
"I am thankful for all of the love and support she is receiving from her fans all over the world, and I am looking forward to a normal, amazing future together."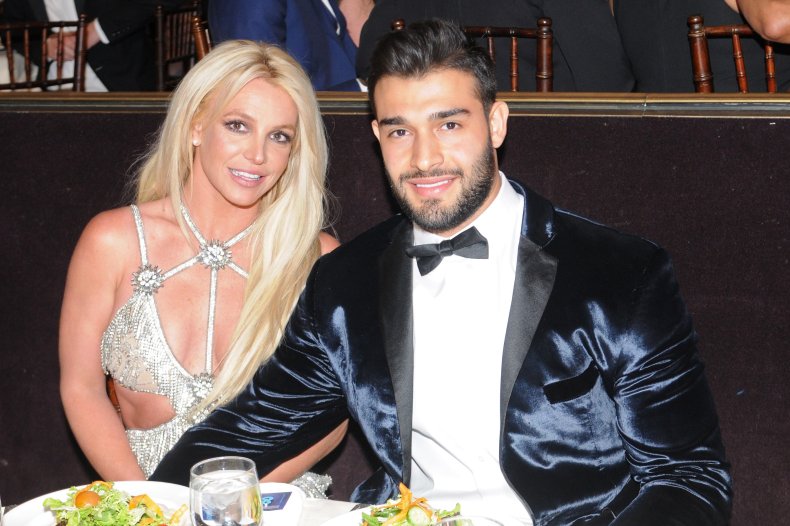 Speaking with Forbes in March, Asghari also expressed his desire to settle down and have children with Spears.
"My priorities in life are to remain humble and understand where I came from and where I'm going," he said. "I want to take my career to the next step when it comes to acting. I want to take my relationship to the next step, as well. I don't mind becoming a father. I want to be a young dad."
Spears would go on to confirm her own desire to start a family with Asghari during a Los Angeles court testimony in June over her conservatorship.
She said at the time: "I would like to progressively move forward and I want to have the real deal, I want to be able to get married and have a baby.
"I was told right now in the conservatorship, I'm not able to get married or have a baby, I have an IUD inside of myself right now so I don't get pregnant. I wanted to take the IUD out so I could start trying to have another baby."
The "Gimme More" singer shares two sons—Sean Preston, who will celebrate his 16th birthday on Tuesday, and Jayden, who turned 15 on Sunday—with her ex-husband, Kevin Federline.
Spears last month scored a legal win when her father, Jamie Spears, filed a petition requesting to step down from the controversial conservatorship.
Jodi Montgomery continues to oversee Britney Spears' personal decisions under the conservatorship, which will remain in place until Judge Brenda Penny rules otherwise. The next court hearing on the case is scheduled for September 29.