Britney Spears Slammed for Fat Shaming Christina Aguilera's Dancers
Britney Spears is facing backlash for seemingly fat shaming Christina Aguilera in a new Instagram post.
The pop star has upset her legions of fans by posting an apparent dig at her fellow pop star.
Spears, who has changed her Instagram profile name to Channel 8, posted a quote attributed to comedian Rodney Dangerfield in a new Instagram post on Monday that read: "I found out there was only one way to look thin: hang out with fat people."
In the caption, the 41-year-old said she wished she could have chosen her own backup dancers for live performances and called them "the nannies for my children."
"I mean if I had Christina Aguilera's dancers I would have looked extremely small... I mean why not talk about it ??" she wrote, in what seems like an insult t the "Beautiful" singer's body.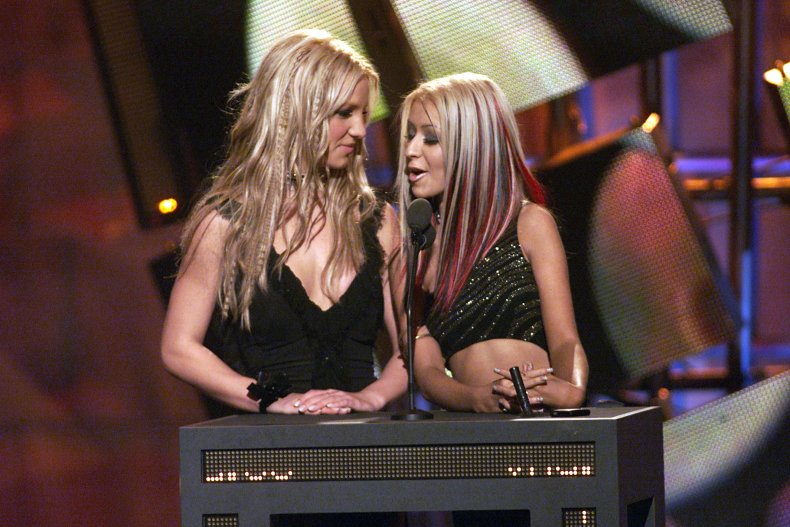 Until 2021, Spears had been living under a strict conservatorship, with all of her personal and financial decisions controlled by her father, Jamie, 70. Since then, she has been extremely active on Instagram.
She continued: "Don't you think my confidence would have been a bit better if I could choose where I lived, ate, whom I called on the phone, dated and who was on stage with me!!! It's hard sometimes now I see how much of my womanhood was stripped away at that time and every person sat back and didn't say a thing!!!
"Anyways ... I will be here talking bout things people NEVER talked about."
Spears' fans have taken to the comments to condemn her remarks about Aguilera.
"Oof. Love Britt- but this was in bad taste. Body shaming to make yourself feel better is not where it's at," reads one comment, while another person added: "Body shaming others is not the move."
Another said: "Britney pls that quote is HORRIBLE."
Newsweek has contacted Spears' representative for comment.
Spears fans are speculating that she has turned on Aguilera.
In another deleted post, originally posted in August, Spears appeared to reference her former friend and rival again.
In the post, Spears wrote a cryptic message, telling fans information she got from "a little birdie" and references Aguilera through one of her songs, "What a Girl Wants."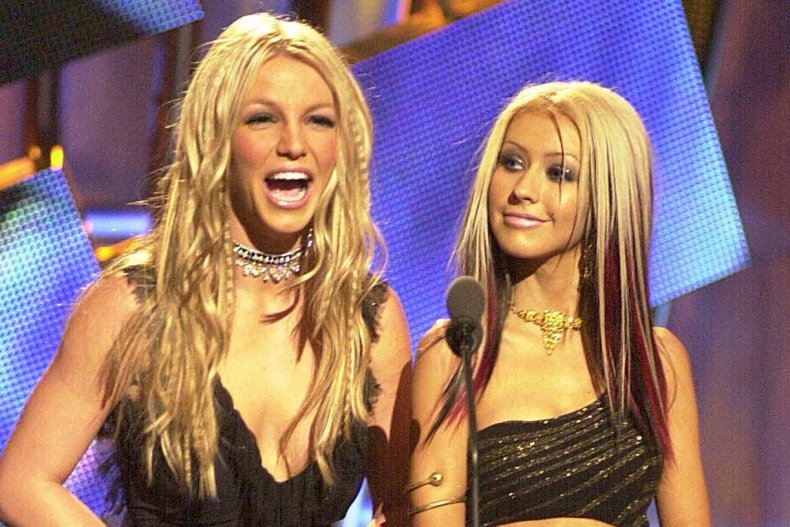 "Well someone was singing about 'What A Little Girl Wants" I mean, maybe a Pink cloud told me, either way... In conjunction to most performers who praise their roots and father's background even if he abused them... I would raise a question of BEAUTIFUL WHITE LIES which years to make no waves with me even when I read heart... either way... are we able to show this little girl how much we care??" Spears wrote.
She concluded this post with: "Because frankly the world has taught me one thing and one thing only... a**holes win... don't undermine the power of one thing and one thing only... [followed by three middle finger emojis..]."
Aguilera has been open about the abuse she suffered at the hands of her father during her childhood.
During Spears' bid to end her conservatorship, Aguilera wrote an open letter and called for her fellow singer to have the "freedom possible to live her happiest life."
"To a woman who has worked under conditions and pressure unimaginable to most, I promise you she deserves all of the freedom possible to live her happiest life," she wrote in June 2021.
"My heart goes out to Britney. She deserves all the TRUE love and support in the world."
However, in November 2021, Spears lashed out at Aguilera on Instagram for "refusing to speak" about her conservatorship during a red carpet interview.