Brittany Mahomes Claps Back at Troll Who Says She's a 'Narcissist'
Partrick Mahomes' wife, Brittany Matthews Mahomes, has clapped back at an online troll amid the fallout from comments made by podcaster Joe Rogan about the Mahomes' marriage.
Brittany has faced a lot of criticism for how she celebrates her husband's successes, with Patrick helping guide the Kansas City Chiefs to a second Super Bowl in four years.
The 27-year-old has already hit out at "jealous" trolls who have targeted her in recent weeks. Now she has given her support to a Twitter user who defended her on the social-media site.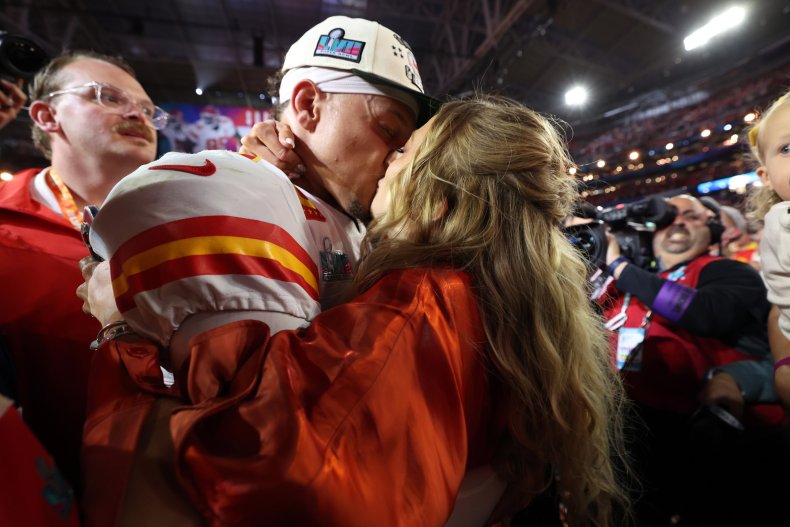 It began with The Joe Rogan Experience podcast throwing shade on Brittany at the weekend.
The show's host criticized her and the passion she has for supporting her NFL star husband. Rogan said: "Problem is, they keep that same energy when you get divorced. They come after you. They come after you with that same energy."
This led to Matthews Mahomes hitting back with a tweet seemingly aimed at Joe Rogan and his negative comments towards her.
She wrote on Twitter: "Something about grown men talking s*** about someone's wife is real weird..."
This, of course, stirred up a number of fans of Joe Rogan, who lashed out at Brittany, with one labeling her a "narcissist."
The self-proclaimed Chiefs fan tweeted: "Brittany Mahomes = Narcissist. Plain and simple. I'm a huge Chiefs fan and trust me, we hate her too. Patricks team needs to step in and remove her and his brother from social media. Joe Rogan is right though. She is gonna be awful when the divorce hits in 15-20 years."
This sparked a number of tweets in defense of Brittany. She showed her support for them by liking one comment, which read: "You are not talking for this Chiefs fan! Trust me, you are in the minority."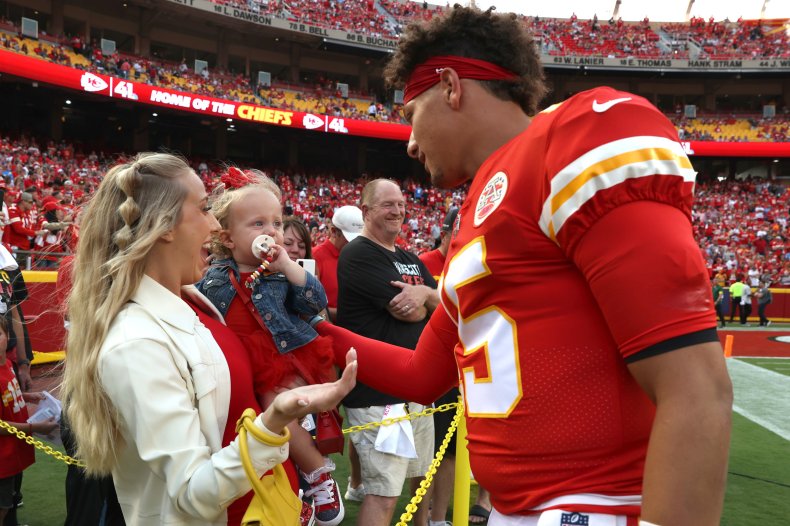 Before the Super Bowl on February 12, Brittany had lashed out at those who had taken aim at her, especially after she celebrated the Chiefs beating the Cincinnati Bengals 23-20 to win the AFC Championship in January.
"I just wish I could do what I want without getting attacked every week," Matthews wrote on Twitter in response to the backlash.
She is not the only member of the Mahomes family who has been criticized for celebrating Patrick's successes. His younger brother, Jackson, has been mercilessly trolled on social media.
The 22-year-old was labeled "embarrassing" for dancing on stage during the Chiefs' victory parade in Kansas City. Many believed that he has been trying too hard to share the limelight of his Super Bowl-winning brother.
Jackson's TikTok account bio appears to reference the widespread anger he receives, reading: "Sup I get Bullied a lot but I'm still here."
Do you have a tip on a sports story that Newsweek should be covering? Do you have a question about the NFL? Let us know via entertainment@newsweek.com.