Patrick Mahomes' Brother Posts Video About 'More Hate' After Backlash
Jackson Mahomes, the younger brother of Super Bowl champion quarterback Patrick Mahomes, recently appeared to hit back against criticism he received online after his appearance at Super Bowl LVII.
The younger Mahomes has built a presence for himself online as a social media personality and influencer, with over 1 million followers on TikTok. On Super Bowl Sunday earlier this month, he caused a stir in some corners of the internet for his appearances following his older brother's team, the Kansas City Chiefs, victory over the Philadelphia Eagles, 38-35.
Jackson first raised eyebrows when he appeared in the background of a postgame interview with his brother, doing some sort of dance before realizing he was in the shot and moving away. Later, he gained yet more attention when he appeared onstage with his brother in Kansas City during a victory parade. Jackson shared a video of the celebration to his TikTok account last week, garnering over 800,000 views.
While most comments on his post seemed unbothered by or even supportive of his celebrations, others took issue with the behavior, calling his appearances alongside Patrick "embarrassing" and "disrespectful."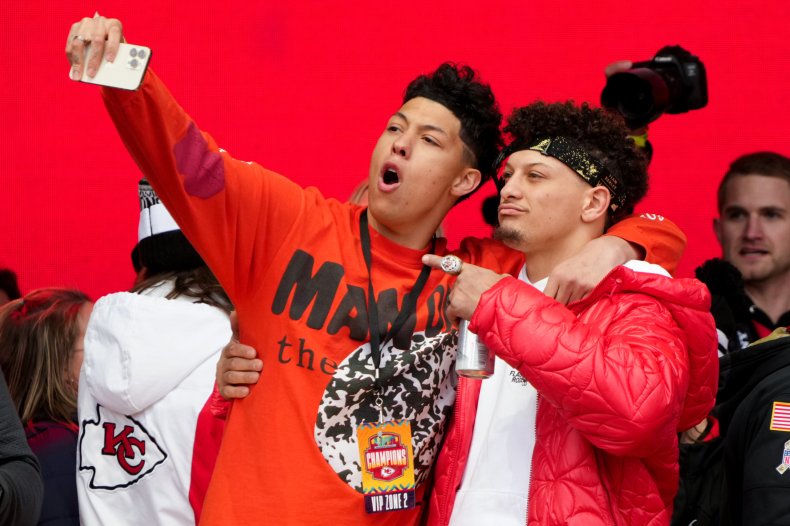 "Can Jackson get off the dam stage?" one user asked. "He is not connected to the football team. Always in Patrick's space. It not about you Jackson. Enough is enough."
"Very disrespectful to the rest of the KC Chiefs," another added. "Brother and close to him or whatever does not excuse his behavior. Weird flex man. I'm trying to make sense of it , but I can't."
On Friday, Jackson posted another video to his TikTok account, referencing the "hate" he had been receiving and seeming to brush it off with a sense of humor. The video featured a split-screen of himself alongside a clip of fellow social media personality and performer, JoJo Siwa, who, while considerably successful, has also drawn flack online on a few occasions.
"I know someone who gets more hate than you," a message onscreen in the videos reads.
Jackson's TikTok account bio, as of Saturday morning, also appeared to reference the widespread anger he received, reading: "Sup I get Bullied a lot but I'm still here." Newsweek could not, however, confirm whether or not the bio had been changed recently.
The video has so far garnered just shy of 1 million views, with some commenters offering their support.
"I actually kinda respect you for this one," one user wrote.
"We love a self aware king," another TikTok user added.
"[For real] yall need to calm down on him he's doin his best," a third user chimed in.
On Thursday, Randi Martin, mother of the Mahomes brothers, shared an image to Instagram with text that seemed to make cryptic reference to her younger son's online plight: "Your character will outweigh any lie told about you. Those that know you, know you."
"So true.." Martin wrote in a caption under the image. "Unless someone wants to believe the lie...."
Newsweek was unable to reach Jackson Mahomes for comment on the video.