Brittney Griner's College Coach Slammed for Not Commenting on Jailed Star
The sports world is up in arms after Brittney Griner's former college coach refused to comment on the WNBA star's ongoing detainment in Russia.
Griner was hit with a nine-year prison sentence after a Russian court last month found her guilty of drug smuggling and possession. Officials at a Moscow airport in February said they found 0.7 grams of cannabis oil in her luggage.
A video clip of the press conference with Louisiana State University women's basketball head coach Kim Mulkey began to circulate on social media Monday after a sports journalist asked her a two-part question.
"I just wanted to get your thoughts on Brittney Griner's situation," the reporter said in part. "I don't think I've seen anything from you on that—"
"And you wont," Mulkey replied. "I'll answer the [first question] for you."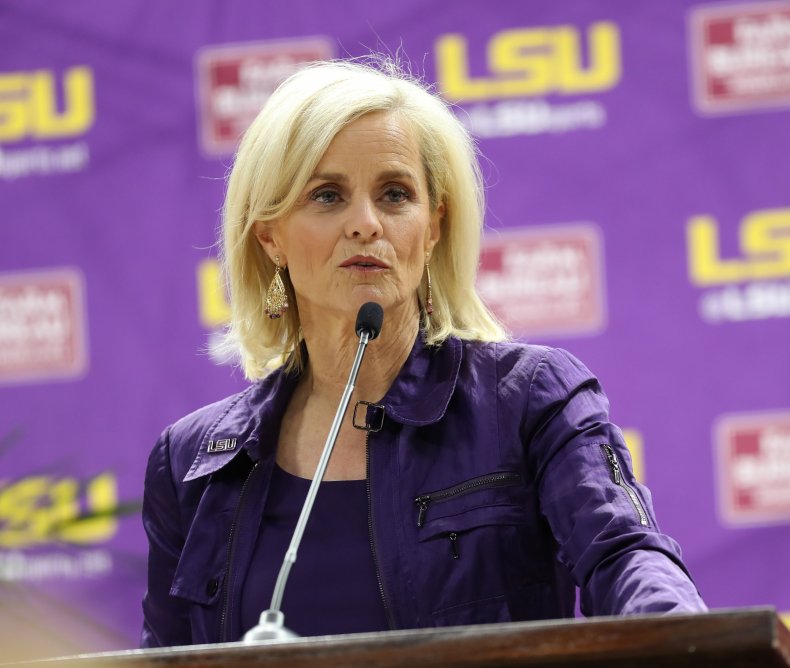 Mulkey previously coached at Baylor University, where Griner earned the top athlete spot on the school's national championship team in 2011-12, according to The Spun.
But despite their on-court successes together, the two may not be on the best terms.
Griner, 31, who is a lesbian, once told an ESPN reporter that Mulkey discouraged the team from talking about their sexual orientation. The journalist, Kate Fagan, has also alleged that Mulkey tried to get ESPN to fire her for covering the controversy.
Mulkey's response to Monday's question about Griner has triggered backlash on social media, where some users classified her as callous.
"She is who we thought she was ... It's more than sad. She didn't even go 'thoughts and prayers,'" attorney and political commentator Bakari Sellers wrote in a tweet. "Mulkey don't give a damn about BG. This is how she treats her former players. This is how she treats ppl."
"Kim Mulkey was given the opportunity to say and do the absolute *bare minimum* about Brittney Griner and instead decided it was better to lack any semblance of a soul," sportswriter Daniel Connolly tweeted.
Certain Twitter users brought up Griner's track record playing for Mulkey.
"[T]his is repugnant," Yahoo! Sports columnist Shalise Manza Young wrote in a tweet. "Griner played for Mulkey at Baylor, where she was 2x Wade Trophy winner and won a national championship)."
And others had several choice words in mind to describe Mulkey's response.
"Inexcusable, obnoxious, indefensible, absurd," Mitchell Northam, digital producer with North Carolina Public Radio-WUNC, tweeted. "Those are the first words that come to mind here, when Kim Mulkey declines to offer a comment on a player that carried her a national title, who is wrongfully imprisoned in Russia. When people tell you who they are, listen to them."
This month, President Joe Biden, who expressed outrage over the severity of the punishment, met with Griner's wife, Cherelle Griner, to discuss the White House's push to have the player returned to the U.S.
Newsweek has reached out to Mulkey for comment.