Who Is Chessie Wood From 'Monster in the Shadows' and Where Is She Now?
Chessie Wood is the mother of Brittney Wood, a teenager who disappeared in Alabama back in 2012.
That unsolved mystery is the focus of Monster in the Shadows, a three-part crime documentary series available to view on Peacock, NBCUniversal's streaming service.
The captivating case has led to various theories about her disappearance and Monster in the Shadows takes an in-depth look at the teenager's family.
The 19-year-old was last seen on May 31, 2012 after leaving her family home in Alabama at around 7.30 p.m. local time. She told her mom that she was going to meet friends, which turned out not to be the case.
According to cell phone records gathered by detectives working on the case, Brittney Wood was at the property of her uncle, Donnie Holland.
Her mom, as well as the former detective for Baldwin County who led the case (Eric Winberg), believe Holland (Chessie Wood's brother-in-law) picked Brittney up and drove to a house where he was staying on Water World Road, near Styx River.
A day later, her uncle was found in his car, parked in a secluded area of South Baldwin, with what was perceived to be a self-inflicted gunshot wound to the head. He was taken to a hospital, where he died two days after Brittney Wood's disappearance. His death was ruled as suicide.
The gun at the scene of Holland's alleged suicide attempt had belonged to Brittney Wood. Her cell phone battery was also found in the car. Both discoveries have never been fully explained.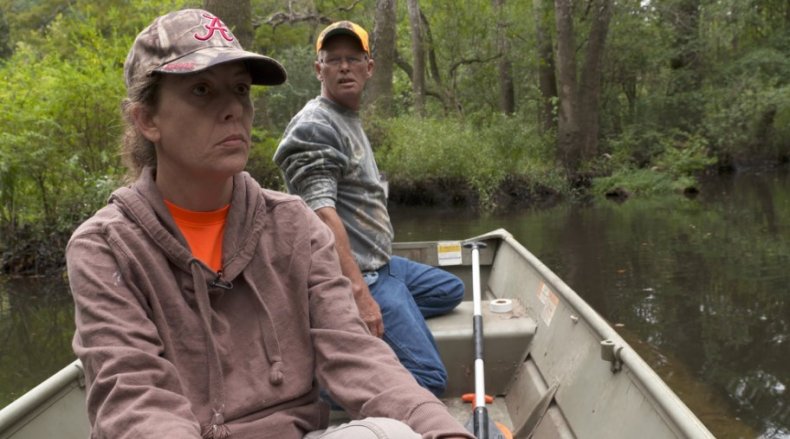 Who Is Chessie Wood and Where Is She Now?
Brittney Wood's mother has been an outspoken advocate of solving the case of her daughter's disappearance and has been leading the search.
"I'd like to find my child," she said in the trailer for the docuseries. "My goal has always been to find Brittney Wood."
In late August Chessie told Alabama's FOX10 News: "I promised her that I would not give up ever until I take my last breath, and if this documentary is it, which we're praying it may be, we were willing to give it a shot,"
The search for Brittney Wood saw law enforcement uncover an incestuous child abuse sex ring that was led by Holland and three generations of his family. Authorities determined Brittney Wood was also a victim of sexual abuse from her family.
A total of 11 people were arrested on child sex abuse charges, including Donnie Holland's wife, Wendy Holland, as well as Derek Wood, Brittney's brother.
In 2013 Chessie Wood was charged with two counts of sodomy and sex abuse of a child less than 12 years old.
In October 2016, Chessie Wood, who was reported to be 41 years old at the time, pleaded guilty to a misdemeanor charge of reckless endangerment and did not serve any prison sentence.
Oxygen, the television channel owned by NBCUniversal, reported on August 26 that Chessie's attorney Michael McDuffie continues to insist that Brittney Wood's mother was innocent of all the charges.
According to McDuffie, they decided to accept the plea deal in a bid to allow Chessie Wood to continue the search for her daughter.
In the latest docuseries, Chessie says: "All I could think of is [if] I ever go behind bars, I'll never find her.
"Nobody's gonna look for her like me," she said in the series.
In Monster in the Shadows, Eileen Swain, a member of Chessie Wood's defense team, claimed that the mother was arrested because she was publicly critical of how authorities handled Brittney's case.
"She got arrested because she dared to say you're [law enforcement] not doing anything to help me," Swain claimed in the docuseries.
In the series, Chessie Wood maintains her innocence in the child abuse sex ring that was headed by Brittney's uncle.
Chessie Wood told the program that she didn't know about the abuse taking place and was surprised to find out that Holland may have been involved.
"He [Donnie Holland] was charismatic, friendly, happy...very outgoing. He rode the roads all the time going here and there," she said in the series. "We thought he was enjoying life to its fullest."
Chessie Wood continues to live in Mobile, Alabama. She has been married to Paul Houseknecht since 2001.
In late August, Chessie Wood told local media had started planning a funeral for the 10th anniversary of her daughter's disappearance.