Remote Worker Refusing to Contribute to Boss' Maternity Gift Sparks Debate
A woman has sparked debate after revealing she "can't be bothered" to contribute any money towards her boss' maternity gift.
The employee, thought to be from the U.K., started working remotely for a firm two months ago and was told there would be a collection for her manager, who she only speaks to online once a fortnight.
She's only met her boss once at a company event and admitted she hasn't got a "great first impression" of her, claiming she hasn't "really made an effort" with her and had "checked out" of her job role.
The woman explained that she's "broke" and didn't want to contribute to the collection, but feared it would make her "look bad" if she didn't chip in.
Taking to Mumsnet under the name Stickystitch, the woman wrote: "I've been in my job for just over two months and my manager is leaving in a few weeks to have a baby. It's been announced today that there will be a collection for her gift and to send money."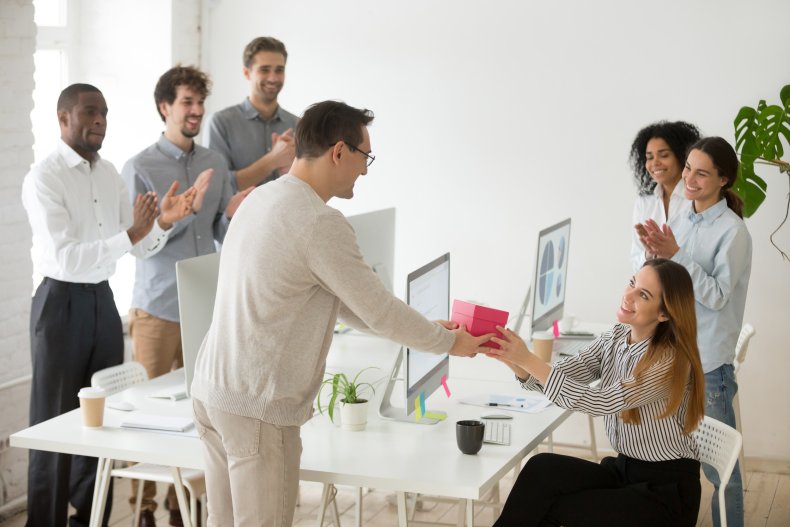 She went on: "My work is remote. I've only met my manager in person once at a company team day, I don't know her at all, she never talks to me apart from half an hour every fortnight where she just dryly goes through the motions of a one-to-one: in my opinion she had checked out of her job ages ago as she knew she was going on leave.
"She's not really made any effort with me at all, asks me to do HR admin things that are really her job, and hasn't even done half of my onboarding which has made me look bad in meetings when I haven't known pretty basic parts of the job. Haven't had a great first impression."
According to a report featured in Newsweek, CEOs hellbent on getting workers back into the office say that being physically together boosts connectivity. But a study suggests that's not the case.
Only 1 in 6 people feel strongly connected at work, with on-site employees the least connected of all, according to a study by consulting firm Accenture. Some 22 percent of fully remote workers say they feel "not connected," while the share for those in the office is nearly double.
The Mumsnet post, which can be found here, received over 100 comments from users who were divided on the issue, with some saying she has no responsibility to chip in while others felt it isn't "worth the hassle" not to contribute.
"I wouldn't bother, I rarely do anyway tbh. Saying that, I'm not too bothered by what people think. If you are, and it will play on your mind, it's worth a fiver to forget about it," wrote one user.
Another said: "Since it's your boss I'd stick a £5 in. If it was a colleague I wouldn't bother. Your call at the end of the day. No right or wrong answer."
"I'd put £5 in. Not worth the hassle not contributing could cause," wrote a third.
A fourth commented: "Don't contribute and let them know you won't contribute in future either. As a remote role you won't have a great bond with many colleagues so it's understandable."