New York City Mayor Eric Adams confirmed to a local radio station that security cameras were not operating in the Brooklyn subway station where Tuesday morning's mass shooting occurred.
"The preliminary review stated that at that particular station there appeared to have been some form of malfunction with the camera system," Adams told WCBS. "That is still under investigation. We are communicating with the MTA to find out was it throughout the entire station or was it just one camera, so that's still something that we are looking into."
Ten people were shot during the morning rush hour attack in Brooklyn's Sunset Park neighborhood, according to authorities. Laura Kavanagh, the fire department's acting commissioner, said during a press briefing that 16 people in total were being treated for injuries. Several undetonated devices were found at the subway station, and a suspect was being sought in a manhunt.
Earlier on Tuesday, ABC News was among several news outlets that reported the cameras in Sunset Park's 36th Street station—the scene of the shooting—were not operating during the attack. ABC cited an unnamed police official as its source.
During a press conference, New York City Police Commissioner Keechant Sewell responded to a question about whether the station's security cameras were functioning properly. The matter was "under investigation as we speak," she said.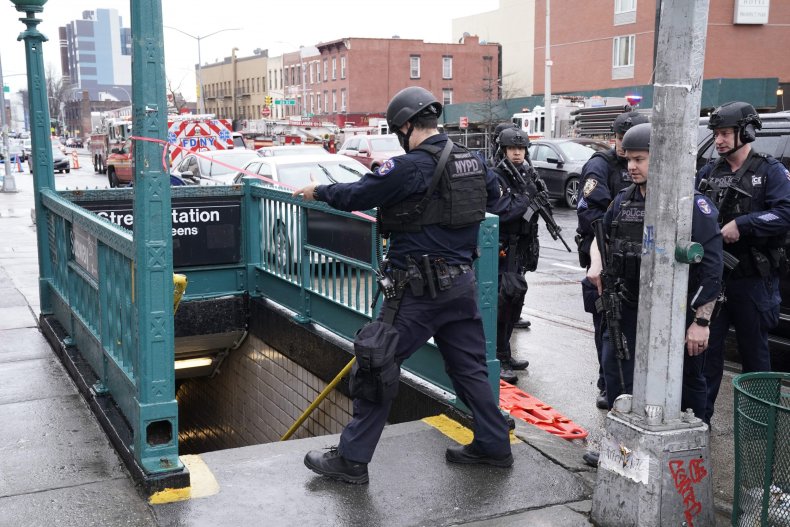 Peter Morley, a well-known health care activist, was among those who expressed frustration on social media about the station's cameras possibly not functioning.
"No working cameras in the 36th Street Sunset Park subway station is UNACCEPTABLE!" he wrote on Twitter.
In an effort to deter city crime, the Metropolitan Transportation Authority (MTA) announced in September 2021 that security cameras had been installed at all 472 stations of New York City's subway system. It reported that "thousands of cameras" were in place at stations throughout the five boroughs.
Michael Wallace of WCBS tweeted out the news of Adams' comments about the station's cameras.
Adams, who is isolating at the mayoral residence after testing positive for the coronavirus, released a video message about the shooting.
"We're praying for all New Yorkers who were injured or affected by today's attack," the mayor said in the message. "The suspect in today's attack detonated smoke bombs to cause havoc. We will not allow New Yorkers to be terrorized even by a single individual. NYPD is searching for the suspect at large, and we will find him. But we ask the public to come forward with any information."
The shooting suspect, whom Sewell described as a Black male with a heavy build, was last seen wearing a green construction-type vest with a hooded gray sweatshirt. Officials do not have a motive for the attack.
Update 04/12/22, 4:20 p.m. ET: This story has been updated with additional information and background, including quotes from a video message by Mayor Eric Adams.