Tuesday's rush-hour subway shooting in Brooklyn has raised questions about New York City Mayor Eric Adams' public transit safety plan and reignited the debate around defunding the police.
According to police, on Tuesday morning, at least 10 subway riders were shot in Sunset Park after a gunman tossed a smoke canister onto a train car and began opening fire on the crowd of morning commuters.
As of publication time, the shooter remained at large, and New York City residents have expressed concern over the increased police presence under Adams' plan, arguing that police resources have failed to ensure public safety.
"[T]he NYPD budget is more than $10 billion, they claim there are officers on every subway stop, and yet this still happened," one Twitter user wrote. "this should tell you how useful they are for public safety."
"So it turns out that all those extra cops in the subway, arresting people for fare evasion and harassing homeless people, aren't actually keeping anyone safe," another said.
Another user also mentioned police arresting homeless people on trains.
"It should concern you that that police presence results in fines, fees and removals of/for hundreds of commuters every day, but that that police presence could not prevent, anticipate or efficiently respond to a mass shooting during rush hour," another user tweeted.
User Cooper Lund expressed frustration about the police presence in the subway not stopping the shooter. "The subways are full of cops," they tweeted. "You can see them on their phones all day, and it didn't do anything to stop this."
Activist group Abolition Park mentioned an incident where a teenager was allegedly beaten by NYPD officers over an issue with a fare.
One other user said they felt the mayor would use the shooting to "justify mass surveillance."
Last year, Adams, a former NYPD officer, campaigned on a successful platform that vowed to support the city's police force as other major U.S. cities reconfigured police budgets in the wake of the George Floyd protests.
The New York Police Department's budget is the biggest and most expensive in the country. Although Adams cut funding to most city agencies in his first executive budget proposal, the mayor kept police spending flat at roughly $6 billion.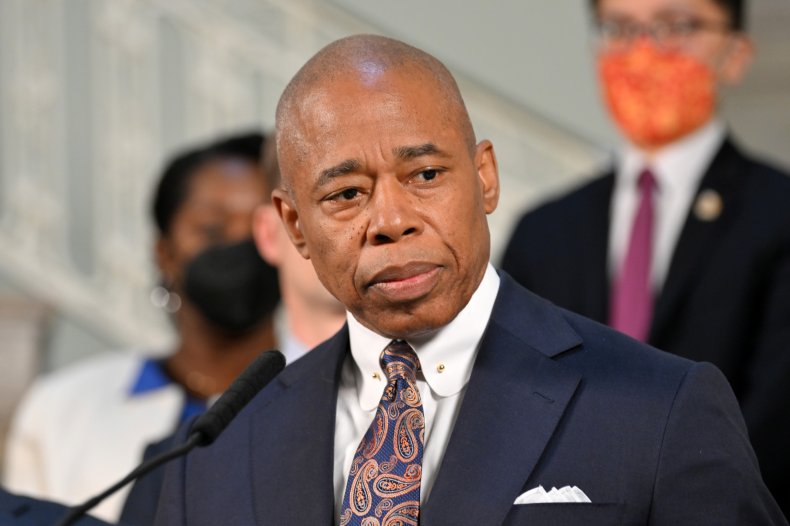 Less than two months after taking office, Adams also released a safety plan for the city's transit system in an effort to address public safety concerns while simultaneously supporting those experiencing homelessness and mental illness on the subways.
As part of the plan, 30 joint response teams from the NYPD, the Department of Homeless Services, the Department of Health and Mental Hygiene and community-based providers were deployed across the city. Each team would consist of two police officers, an outreach worker and a clinician.
Tuesday's shooting occurred at the 36th Street station which is served by the D, N and R trains—which were among the first six lines Adams' plan targeted. Teams were first mobilized on the A, E, 1, 3, N and R.
In his first statements following the incident, Adams commended New Yorkers and city officials for their response, saying: I think that when you look at how miraculous this is, you have to point to the passengers and the transit authority officials."
"I believe lives were saved based on the actions of — that we witnessed on some of the amateur video that was released. You saw passengers coming to the aid of each other. I just cannot thank New Yorkers enough for how we responded," he said.
Adams' office referred Newsweek's request for comment to the NYPD. Newsweek reached out to the NYPD for comment.