Two Brothers Murder Father for Killing Their Pet Dog—Police
Two brothers have been accused of murdering their own father after he beat the family's dog to death, police say.
The men, who have not been named but are aged 27 and 29, were arrested after the death of their 74-year-old father in South Africa. He died in hospital with serious head injuries.
The pair allegedly attacked their father at their family home and were arrested in Mbotyi, outside the town of Lusikisiki in the Eastern Cape province, at 18:00 p.m. local time on Sunday, authorities said.
South African Police Service spokesperson Sergeant Kaya Matola-Mvanyashe told local press: "According to the information, the deceased was with his family, wife, and daughter in his residence when the deceased assaulted the dog until it died, the reason being that it allegedly ate eggs and [bit] domestic animals."
The brothers then attacked their father, who died at the local St. Elizabeth Hospital, said Matola-Mvanyashe. They fled in a bid to go into hiding, the spokesperson noted, but were caught, arrested and each charged with murder.
They are due to appear in court on Wednesday, according to the SAPS.
Newsweek has contacted Sergeant Matola-Mvanyashe for further information.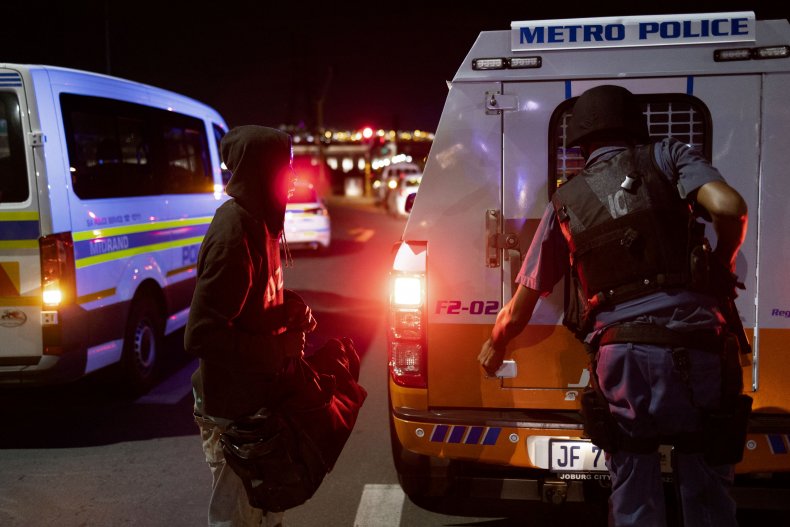 The alleged patricide comes almost four years after a young South African man was handed three life sentences in prison for the ax murders of his parents and brother.
Henri van Breda, 23, hacked his wealthy parents and brother to death at their luxury home in Stellenbosch in 2015. He also tried to butcher his 16-year-old sister, but she survived the attack—although never regained her memory of that day.
Van Breda had deliberately wounded himself and initially claimed a Black ax man had broken into the home and attacked him, too. But there were no signs of a break-in, no valuables were taken, and his injuries were minor compared to the violence inflicted on the rest of the family, who had moved to South Africa from Australia. He also delayed calling the police for hours, investigators said.
He denied the murders and a motive was never established. Some reports speculated he may have been hoping to gain the family's wealth for himself, while others said he was a drug-using university drop-out who may have become enraged at disappointing his family.
While sentencing him, Judge Siraj Desai said: "These attacks display a high level of innate cruelty and an almost unprecedented disregard for the welfare of one's own family, one's parents and siblings. Each murderous attack upon a family member constitutes a very serious crime, warranting the severest penalty possible."
South Africa officially abolished the death penalty in 1995, making life in prison the nation's most severe sentence.
In the U.S.,19-year-old Seth Settle was accused of fatally shooting his mother last month after she told him to stop smoking in the house in Lake Wales, Florida.