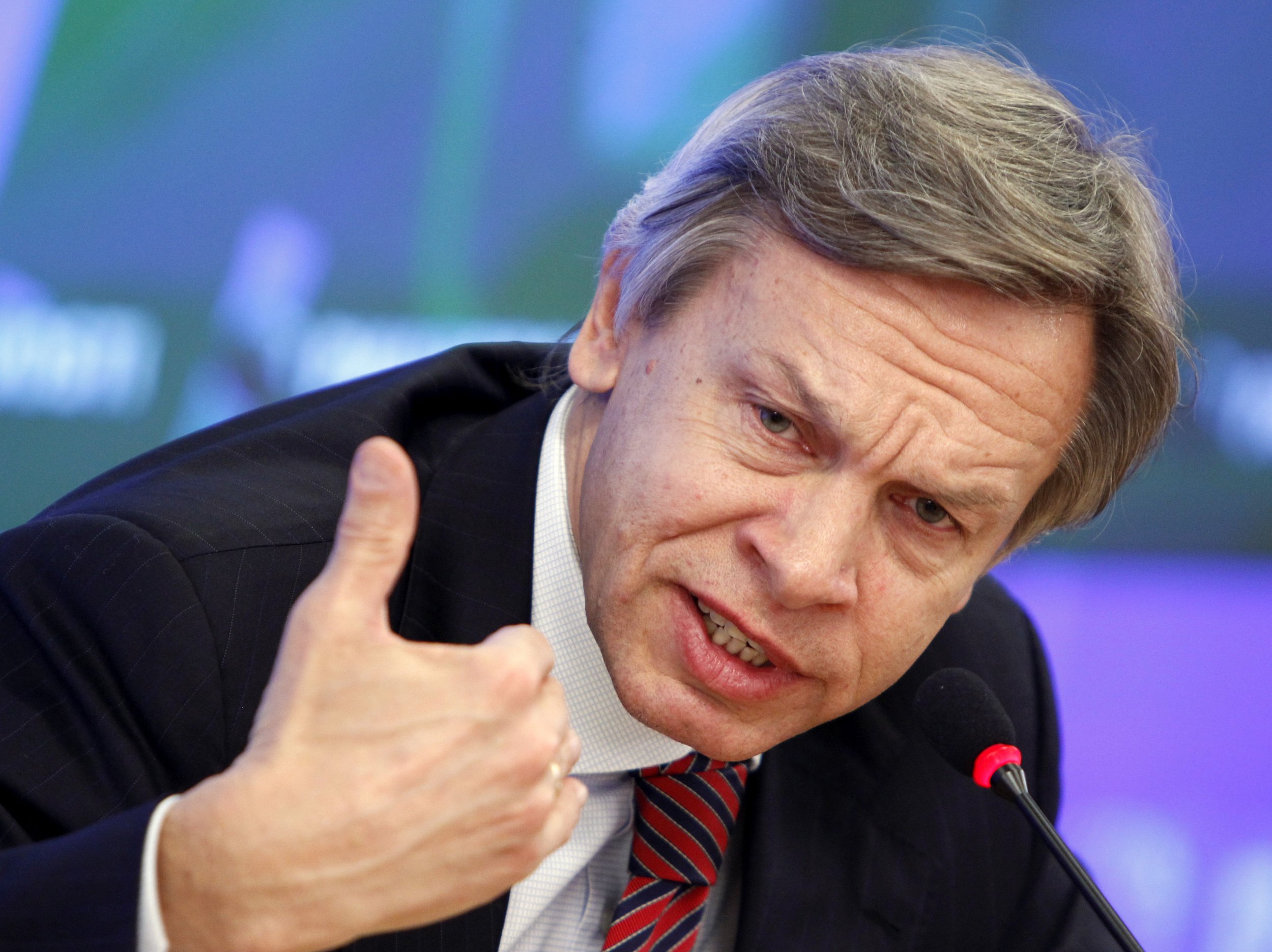 The head of Russia's parliamentary committee on foreign affairs, Alexey Pushkov, has taunted NATO over Tuesday's attacks in Brussels, accusing the alliance of neglecting defence in its own backyard to confront Russia instead.
NATO, whose head offices are in the Belgian capital, is undergoing its largest reinforcement in Eastern Europe since the end of the Cold War. Russia has repeatedly objected to NATO's decision to send more deployments to former Communist allies and has even warned that placing U.S. aircraft defences in Poland and Romania would make the countries "targets" for Russian forces.
Two blasts in Brussels' Zaventem Airport and one in the city's metro killed at least 26 people on Tuesday morning. Transport in the Belgian capital is currently on lockdown, with reports that suicide bombers caused the explosions.
In the wake of the explosions, Pushkov, who is a key member of Putin's United Russia party, took a swipe at NATO's Secretary General Jens Stoltenberg on his Twitter account. The Russian official accused the NATO chief of allowing "people to blow themselves up from right under his nose" while NATO was "combatting the imaginary Russian threat."
An hour later Pushkov returned to Twitter to express his condolences to the families of the victims and once again underlined that "Europe should realize where this evil threat is coming from and unite forces with Russia."
The NATO office in Brussels is halfway between the airport and the Maelbeek metro station where the blasts occurred, within a five-mile radius of both.
Russia's aerial campaign in Syria was widely referred to as one against "terror" and "extremist" groups by Russian officials, despite Western governments estimating that the majority of attacks were not hitting the most powerful extremist group in the country—Islamic State.
Prior to the start of airstrikes, Russia urged U.S. allies to form a wider international coalition against extremist groups in Syria . However, Moscow's desire that this coalition should help the repressive Syrian government proved a red line for U.S. allies in Europe and the region.
The Kremlin refused to comment on Pushkov's comments, but Putin expressed his condolences in a phone call with King Philippe of Belgium, according to a statement by the Kremlin press office. "The fight against this evil requires the most active of international responses," Putin said.
NATO could not immediately comment on Pushkov's statement, but confirmed that its headquarters "elevated its security posture following the explosions at the Brussels airport."
"We have also decided to increase the alert state of NATO Headquarters, in line with the Belgian government's decision to raise the national alert level," a NATO press official said in a statement.
Jens Stoltenberg said he was "deeply saddened" by the attacks in a statement. "This is a cowardly attack. An attack on our values and on our open societies," Stoltenberg added. "Terrorism will not defeat democracy and take away our freedoms."
Putin himself argued in January that the attacks that killed 130 in Paris in November 2015 could have been avoided if the West had listened to him and not embarked on intervention in the Middle East.