Brussels Attacks: At Least 30 Killed as Explosions Hit Airport and Metro Station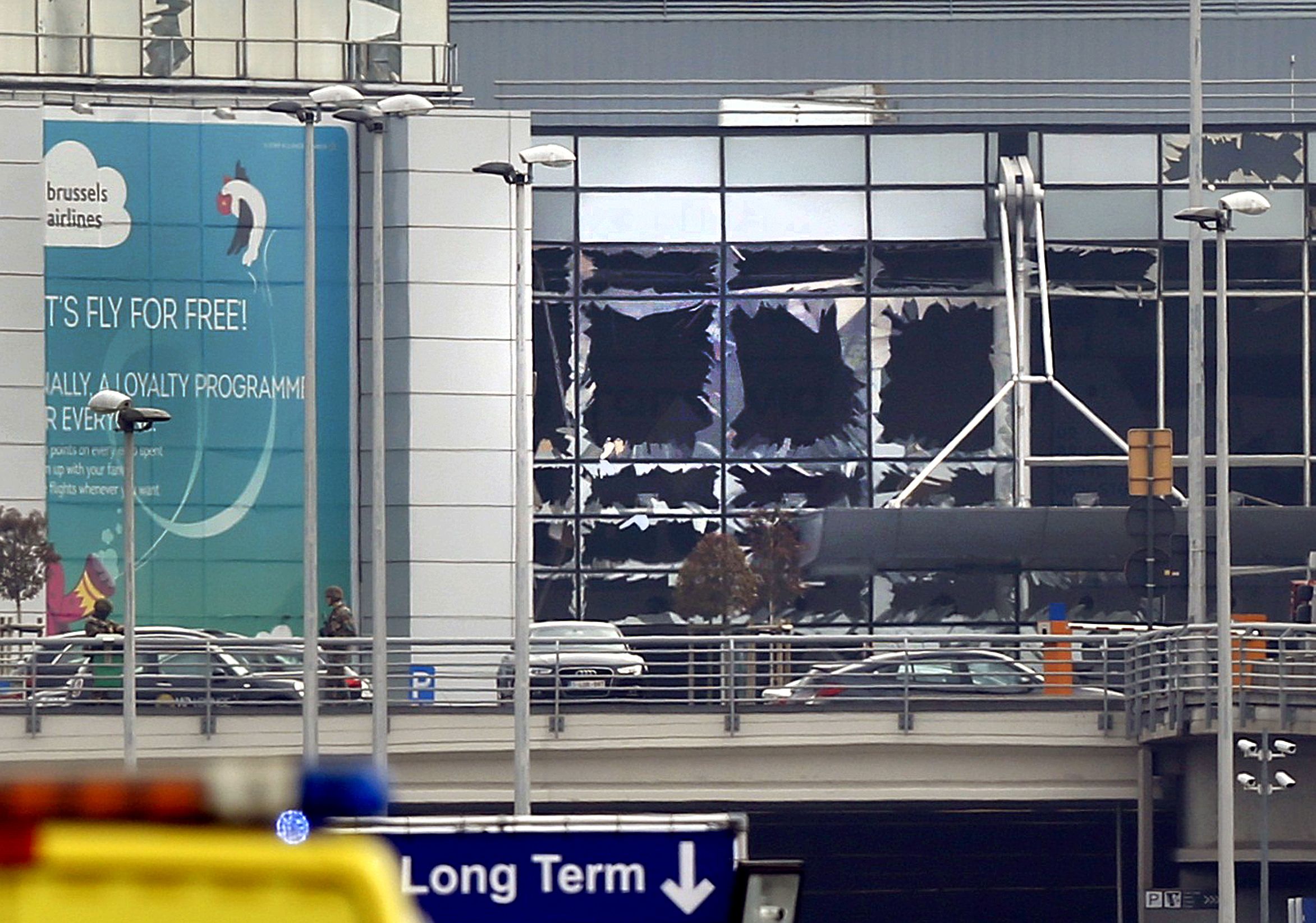 The Islamic State militant group (ISIS) has claimed responsibility for twin attacks that have left at least 30 people dead following a suspected suicide bombing at a Brussels airport and an explosion at a metro station in the Belgian capital.
Two blasts hit the departures hall of Zaventem airport just after 8 a.m. local time on Tuesday. Shots were fired and Arabic was shouted beforehand, according to Belgian news agency Belga. Early reports indicated that the explosions took place near the American Airlines desk at the airport, but this has been denied by the airline.
A statement from the Amaq news agency, which is affiliated with ISIS, said the militant group carried out the attacks with "explosive belts and devices."
FULL COVERAGE:
U.S. security sources believe at least one suitcase bomb was detonated and at least one suicide bomber was involved in the airport attack, according to the Associated Press. Security services said they deactivated a third bomb at the airport following the explosions.
Smoke was seen rising from the airport's departures terminal, which was soon evacuated, in images posted to social media. Another photo showed significant damage inside the building.
Belgian authorities have released an image showing two people suspected of carrying out the suicide bomb attacks on the airport and a third person thought to still be at large and being sought by police, as he may have information about the attack.
A third explosion was reported at the Maelbeek metro station, in the center of the city near the European Union institutions. Smoke was seen emerging from the station. The city's Metro system was suspended, according to its operator.
Investigators conducted raids on Tuesday in Schaerbeek, one of the capital's municipalities, where they found a nail-packed bomb, chemicals and an ISIS flag, Belgium's prosecutor's office said.
Maggie de Block, the Belgian health minister, said 11 people died and 81 were injured in the airport explosions, according to the BBC. Brussels Mayor Yvan Mayeur said "about 20" people had died and more than 100 had been injured in the metro blast.
At a press conference, Belgian Prime Minister Charles Michel said there had been "many dead" and "many injuries" in the attacks. He confirmed that the country's terror threat level had been raised to four, its highest point.
Michel called on "everyone to show calm and solidarity" and thanked the security and emergency services for their work.
Earlier on Tuesday, Michel had said he was following the situation "minute-by-minute" and that victims and bystanders were "top priority." Michel advised those in the city to "avoid any movement" "for the moment."
Brussels University in a statement asked all students and staff to "stay inside." In a tweet, the university said that a bomb squad had undertaken a controlled explosion on its premises.
The Belgian royal family have been evacuated, according to CNN.
Local media reported that train and tram networks have also been closed. Eurostar said it had suspended trains to and from Brussels. All flights at the airport have been suspended, the air traffic control service said.
The main suspect in November's attacks on Paris, Salah Abdeslam, was arrested on Friday in the city.
European Council President Donald Tusk condemned the attacks in a statement, calling the perpetrators "terrorists." "These attacks mark another low by the terrorists in the service of hatred and violence," Tusk said.
EU Commission Vice President Kristalina Georgieva tweeted that the EU institutions are "working together to ensure security of staff and premises." She urged staff to "stay home or inside buildings."
International condemnation of the attacks was widespread. Among those commenting were French President Francois Hollande, who tweeted that all of Europe had been hit by the attacks, and Russian President Vladimir Putin, who "expressed his condolences" for the deaths, according to an official tweet.
Britain's Prime Minister David Cameron said after a meeting of the government's emergency COBRA committee on Tuesday that Britain would be increasing police presence at ports, airports, Tube stations and international railway stations. He promised that the U.K. would "do everything we can to help." Cameron's spokesperson has said that one British national was injured in the attacks.
Britain's foreign office has advised against all but essential travel to Brussels.
A rare joint statement by EU leaders and the heads of the EU institutions condemned the attacks and said that "the European Union and its Member States stand firm with Belgium in solidarity and are determined to face this threat together with all necessary means."
Paris Mayor Anne Hidalgo said the Eiffel Tower would be lit in the color of the Belgian flag Tuesday night. German public broadcaster ZDF said Berlin's Brandenburg Gate would do the same.
Belgian Deputy Prime Minister Alexander De Croo urged those concerned about people in the city to avoid making calls and use messaging services like Whatsapp instead as mobile networks were "saturated."
This is a developing story and will be updated as more information becomes available.