Bryan Kohberger's Lawyer Is Calling for Backup
Bryan Kohberger is charged with the murder of four University of Idaho students, but is yet to enter a plea.
Judge Megan Marshall granted a motion requesting the addition of a second death-qualified attorney to Kohberger's defense team.
Prosecutors haven't yet said whether they will seek the death penalty, but legal experts believe it is likely they will.
Bryan Kohberger, the man charged in the slayings of four University of Idaho students, will have another death penalty-qualified attorney added to his defense team.
Kohberger's attorney Anne Taylor, the chief of the Kootenai County Public Defender's Office, filed a motion on March 2 to appoint a co-counsel qualified to act in cases involving the death penalty. Latah County Magistrate Judge Megan Marshall granted that motion on Tuesday.
Kohberger, 28, is charged with four counts of first-degree murder and burglary in the deaths of Kaylee Goncalves, 21, Madison Mogen, 21, Xana Kernodle, 20, and Ethan Chapin, 20. All four were found stabbed to death in a rental home near the university's campus in Moscow on November 13, 2022.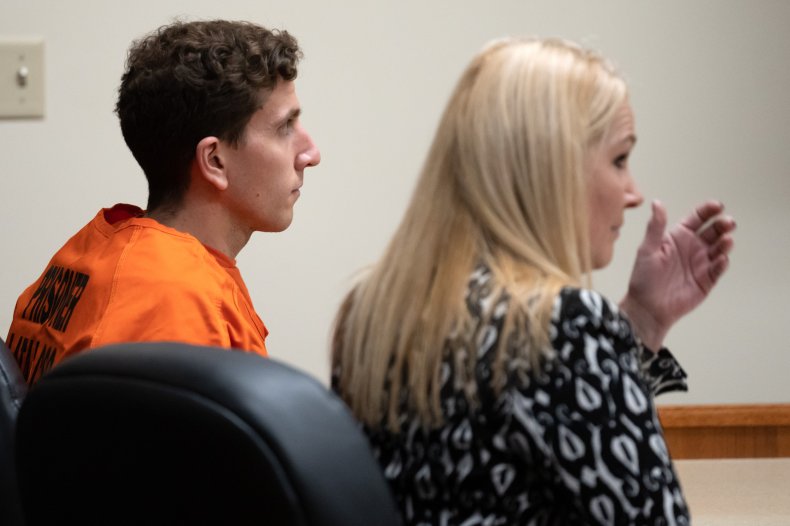 At the time, Kohberger was a graduate student in criminology at Washington State University in nearby Pullman. He is yet to enter a plea to the charges, but a previous lawyer said he was "eager to be exonerated." Kohberger's preliminary hearing is scheduled to begin on June 26.
Prosecutors have not yet said if they will seek the death penalty, but experts told Newsweek they most certainly will.
The "appointment of a death penalty qualified co-counsel in the Kohberger case is a clear sign that the defense considers it a high probability that the state will ultimately seek death. The court evidently agrees," Michael McAuliffe, a former federal prosecutor and elected state attorney, told Newsweek.
"Other than expense, no downside exists to appoint a second seasoned capital defense attorney.
"When the state seeks death, it changes the case in fundamental ways including, among others, bifurcating guilt and punishment, a much longer time frame for trial preparation and trial, and enhanced discovery obligations."
Neama Rahmani, an attorney and former federal prosecutor, told Newsweek that prosecutors "will almost certainly seek the death penalty for Kohberger. There are multiple aggravating factors, including the four victims and the heinous and cruel nature of the stabbings. If you believe in the death penalty, this is a death penalty case."
Rahmani said a second death-qualified attorney "also protects against appellate issues if public defender Anne Taylor is disqualified during the trial.
"Her office previously represented parents of the victims, who claim that Taylor has a conflict of interest. There are reportedly only a dozen death penalty-qualified lawyers in Idaho, so the court may want to take a belt and suspenders approach to avoid a possible mistrial."
In an appearance on NewsNation, Andrew Cherkasky, a criminal defense attorney and former federal prosecutor, noted that Idaho's administrative code requires death penalty cases to have at least two death-qualified defense attorneys.
"In Idaho, when you have that consideration of death-qualified counsel, that means that they have performed representation in a previous death penalty case and have exhibited years of experience so I don't think that there is a large roster to choose from, but there are qualified counsel that they will have to choose from in this case," Cherkasky said.
The Idaho Public Defense Commission maintains a roster of defense attorneys that are qualified to represent defendants in cases where the death penalty may be or has been sought or imposed. That roster was updated earlier this month, but was not available on the commission's website early Thursday. Newsweek has contacted the commission for comment.
While it's not yet clear who will determine who the second death-qualified attorney in Kohberger's case will be, Cherkasky pointed to some things that will likely factor into that decision.
"You really have to look for availability," he said. "Counsel in public defender offices have maximum case loads that they can have at any one given time and so what I think is going to be the primary consideration is who's available for this.
"And then secondarily, I think it's going to be who can really come into the team to be a good second chair." However, he also said there was a chance that the second attorney could end up leading the defense team.
Eight people—seven men and one woman—are on death row in Idaho, according to the Idaho Department of Correction. Idaho's last execution, of Richard Leavitt, took place in 2012. Lethal injection is the sole approved method of execution in the state, although firing squads could be brought back as an alternative method of execution under a bill making its way through the state legislature.
Update, 3/9/23, 7 a.m. ET: This article has been updated with comment from Michael McAuliffe.
Update, 3/9/23, 10:45 a.m. ET: This article has been updated with comment from Neama Rahmani.