New Details Emerge About Bryan Kohberger's Behavior When Police Moved in
Bryan Kohberger, 28, is charged in the deaths of four University of Idaho students.
On the night of his arrest, authorities say he was found in the kitchen wearing latex gloves and putting his trash into separate zip lock bags.
Police only recovered DNA from Kohberger's family members when they took trash from outside the family home in Pennsylvania.
Kohberger has yet to enter a plea to the charges, but a lawyer who represented him said he was "eager to be exonerated."
Pennsylvania authorities have revealed what Bryan Kohberger was doing when he was arrested in connection with the murders of four University of Idaho students.
Kohberger, 28, had been under surveillance for some time when officers swooped in on his family's home in Albrightsville, Pennsylvania, and took him into custody on December 30.
He's charged with four counts of first-degree murder and burglary in the deaths of Kaylee Goncalves, 21, Madison Mogen, 21, Xana Kernodle, 20, and Ethan Chapin, 20. All four were found stabbed to death in a rental home near the university's campus in Moscow on November 13, 2022.
At the time, Kohberger was a Ph.D. student in criminology at Washington State University in nearby Pullman. He has yet to enter a plea to the charges, but a lawyer who represented him in Pennsylvania said he was "eager to be exonerated."
Now, Monroe County First Assistant Michael Mancuso has revealed details about Kohberger's behavior on the night he was arrested.
He "was found awake in the kitchen area dressed in shorts and a shirt a wearing latex medical type gloves and apparently was taking his personal trash and putting it into a separate zip lock baggies," Mancuso said, according to BRCTV13.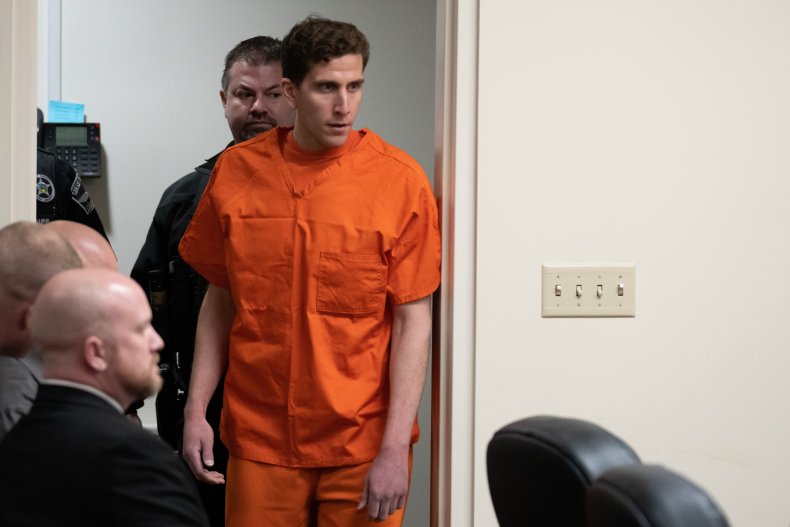 That discovery, Mancuso said, may indicate why investigators only recovered DNA from Kohberger's family members, and not him, after taking trash from outside the family home.
Police in Pennsylvania sent that trash to Idaho for testing, according to a probable cause affidavit unsealed in January. Investigators found a DNA profile recovered from the trash was almost certainly a match for the father of the person whose DNA was found on the button snap of a knife sheath recovered at the crime scene.
Little information has been released about the case by authorities in Idaho since Latah County Magistrate Judge Megan Marshall issued a sweeping gag order in early January barring attorneys, law enforcement agencies and others associated with the case from talking or writing about it.
Last week, a search warrant that was unsealed revealed that items taken from Kohberger following his arrest included medical-style gloves, a silver flashlight, a pair of size 13 Nike shoes and several items of clothing. Police also swabbed Kohberger's DNA at the time.
On Thursday, additional court documents were unsealed, stating that a knife, a Smith & Wesson pocket knife, and a Glock 22 handgun with three empty magazines were found at Kohberger's parents' home.
A cell phone, an Acer laptop, black face masks and two containers of a "green leafy substance" were also seized from the home, along with several articles of dark-colored clothing and a book with "underlining on page 118."
Kohberger's Hyundai Elantra, the garage and a shed on the property were also searched. Police took a door pane, seat cushions, headrests, a seat belt, a visor and brake and gas pedals from the car, as well as hiking boots, a shovel, goggles and other items.
Kohberger's preliminary hearing is scheduled for late June.