Bryce Harper's Phillies Jersey Becomes Most Sold of All Time after Launch, Beats LeBron James's Lakers Record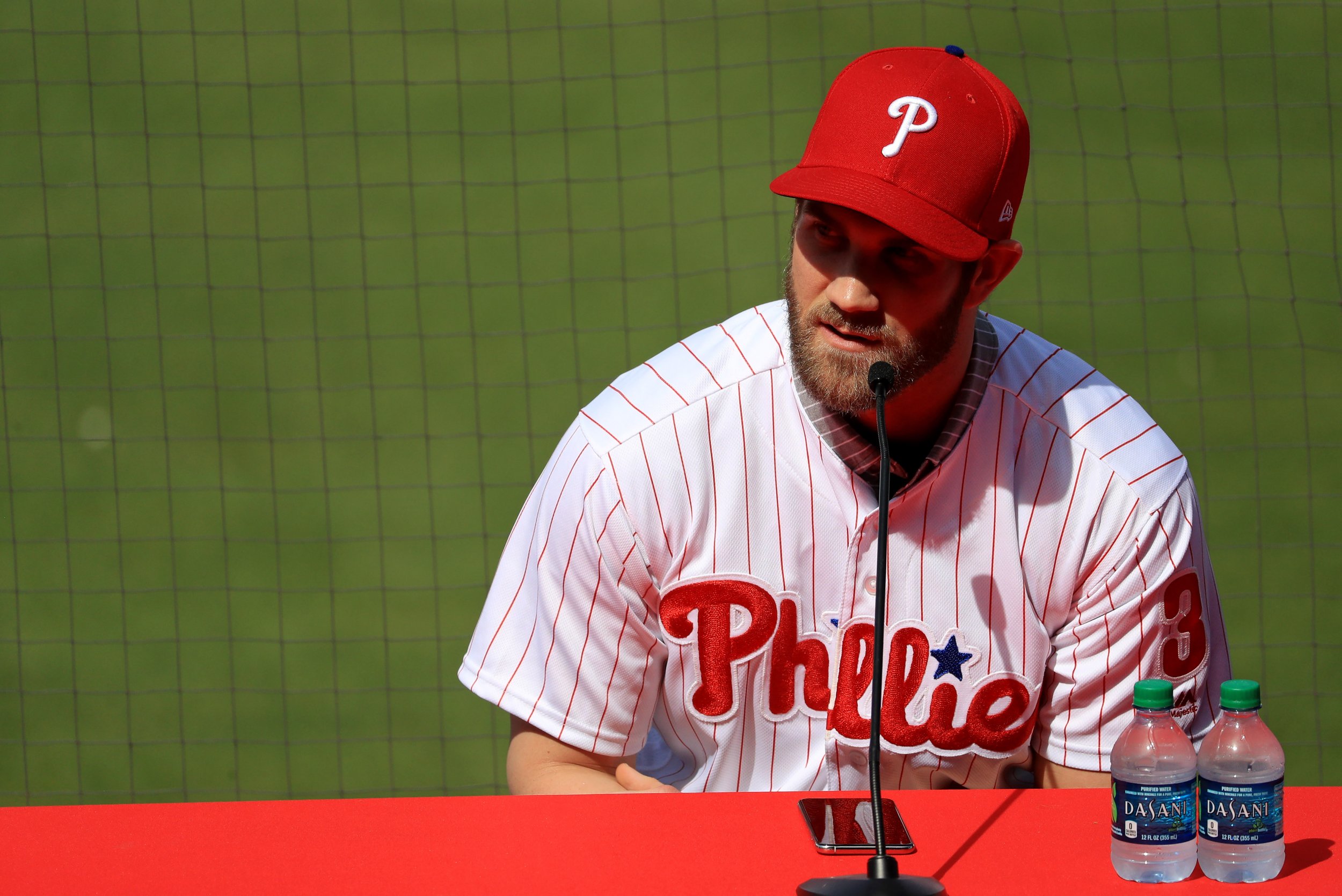 Bryce Harper is obviously already a popular figure with Philadelphia Phillies fans. So much so that according to Fanatics his jersey has become the highest selling in any sport for any player in the first two days since it was put on sale.
Harper's new jersey was first made available at 2:10 p.m. ET on Saturday, shortly after the outfielder was unveiled as a Phillies player after signing a mammoth 13-year deal worth $330 million, the biggest ever in the history of sports in North America.
The sports apparel company indicated that Harper broke a record set by LeBron James in July, when the four time NBA MVP signed for the Los Angeles Lakers. The fact Harper beat the benchmark set by the three-time NBA champion is rather fitting, given Sports Illustrated dubbed him the "LeBron James of baseball" in 2009.
Philadelphia has been the top market for Harper's jersey, followed by Washington D.C. and New York. The capital's appearance in the top three is somewhat puzzling, given Harper has just left the Nationals, the team who drafted him in 2010.
Harper also left in his wake New York Yankees' outfielder Giancarlo Stanton, whose jersey became a best-seller when the 29-year-old signed with The Pinstripers in 2017. Khalil Mack and Jimmy Garoppolo, meanwhile, hold the top two spots in terms of fastest selling jerseys in NFL history.
San Francisco 49ers fans rushed to purchase the latter's jersey after he swapped New England for the Bay Area in October 2017, with Bears fans following suit once Mack was traded to Chicago in September last year.
Fanatics added Harper's was also the number one selling jersey of all time in any sport for any player in the first 24 hours post-launch.
The name on the front of the jersey will not be the only difference between the one Harper will wear in Philadelphia and the one he donned during his seven-season spell with the Nationals. In Washington, Harper wore the number 34, but in Philadelphia he will have the number 3 on his back.
The number 34 jersey has been vacant in Philadelphia since Andrew Knapp wore it during the 2017 season and it previously belonged to the late Roy Halladay. The former pitcher, who died in November 2017, wore the jersey during his four-season stint with the Phillies.
Harper will collect a signing bonus worth $20 million, on top of a $10 million salary this year. The latter figure will then rise to $26 million in each of the following seasons, before dropping to $22 million in the final three years of his contract.