The members of K-pop band BTS' have revealed they're going on hiatus, making the announcement in a tearful video shared with their fans.
The band's seven members—V, Jungkook, RM, Suga, Jimin, J-Hope and Jin—shared the news during their FESTA dinner, which is part of an annual celebration of when they formed as a group.
With June marking their ninth year together, the singing superstars told fans that it was time to take an extended break and pursue solo projects.
RM explained in the video that while they have achieved much during their time in the band, they still needed to grow as individuals.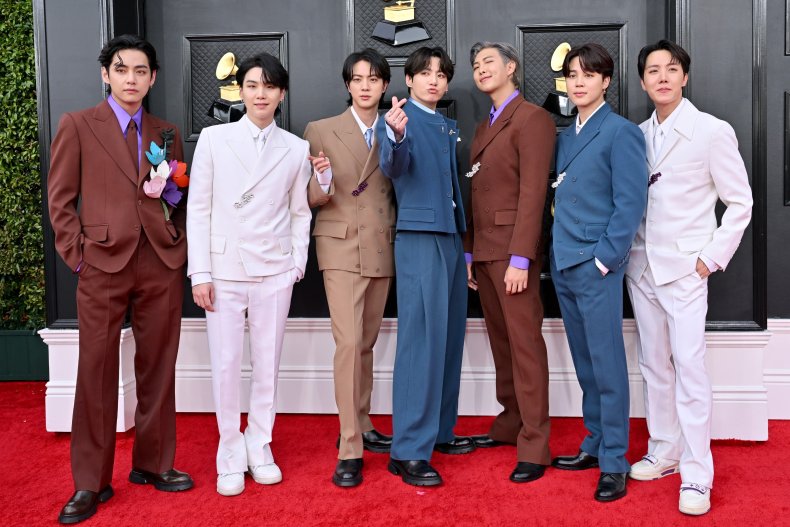 "I always thought that BTS was different from other groups, but the problem with K-pop and the whole idol system is that they don't give you time to mature. You have to keep producing music and keep doing something," RM said.
RM also revealed that he had been feeling like he was lacking direction for quite for time before the decision was made to go on hiatus.
"I feel lost," he admitted. "After releasing 'Butter' and 'Permission to Dance,' I started feeling that I don't know what kind of a band we are anymore. What kind of music do we want to make? What do we want to say? I believe we should have taken this break long ago, but we kept putting it off."
Suga added: "Writing lyrics is the hardest. What message do we want to give? Nothing comes out anymore."
The rest of the record-breaking band also shared that making the decision to go on a break was a difficult one.
"We can't help but think of our fans no matter what, we want to be the kind of artists that are remembered by our fans," said Jimin. "I think now we're starting to think about what kind of artists we each want to be remembered by our fans.
"I think that's why we're going through a rough patch right now, we're trying to find our identity and that's an exhausting and long process."
While they will be taking a break as BTS, the stars revealed that they will be using the time to reconnect with their voice and direction, while also working on their own projects.
J-Hope, who is set to perform at next month's Lollapalooza music festival as a solo act, said: "This is also a new direction for us as a company, the attitude towards solo projects has changed."
The band's youngest member, Jungkook, assured fans: "I promise we will return some day, more mature than now. Until then, we ask for your blessing."
RM said as the video concluded: "This new chapter of BTS, that is yet to come, will be the best, I hope."
In late May, the members of BTS made an appearance at the White House, where they were invited to speak with President Joe Biden to discuss anti-Asian hate crimes, and what can be done to prevent them.
BTS' hiatus comes after the singers' December announcement that they were taking an "extended period of rest." They returned to performing together in March.
Within hours of their break being announced, each of the band's seven members launched individual Instagram accounts, clocking up millions of fans apiece within minutes.
BTS' stars had previously announced that they were taking time off in August 2019. They returned to work soon afterward to release the hit singles "Butter" and "Dynamite."