BTS, the hugely popular K-Pop band, are set to meet President Joe Biden at the White House on Tuesday, May 31, 2022.
All members of the band, except Jungkook, arrived in the U.S, on the May 29, whilst Jungkook arrived a day earlier.
This is the first time the South Korean boy band are meeting the president, and it is their first time visiting the White House.
The band is composed of seven members, including V, Jungkook, RM, Suga, Jimin, J-Hope and Jin.
Why Are BTS Meeting With Joe Biden?
The band are set to visit the White House and meet the Commander in Chief to discuss Asian hate crimes, and what can be done to prevent it.
They will also be celebrating AANHPI Heritage Month, otherwise known as Asian American and Native Hawaiian/Pacific Islander month.
BTS and the President will also discuss the significance of diversity and inclusion as well as the role BTS' platform can play in this. The band want to propagate a message of positivity to the world, as well as champion diversity.
In a statement, the White House said "President Biden has previously spoken about his commitment to combating the surge of anti-Asian hate crimes".
In fact, in May 2021, Biden signed into law the COVID-19 Hate Crimes Act, this provides police officers with resources to investigate, identify and report hate crimes. This act additionally allows hate crime information to be more easily accessible by NHPI and AA communities.
According to NBC, Anti-Asian hate crimes increased 339 percent in 2021.
In response, BTS put out a Twitter post which stated "we recall moments when we faced discrimination as Asians. We have endured expletives without reason and were mocked for the way we look. We were even asked why Asians spoke in English," they said.
"We cannot put into words the pain of becoming the subject of hatred and violence for such a reason."
What Are BTS?
BTS are a South Korean boy band, also known as the Bangtan Boys. The band were formed in 2010 and debuted in 2013.
In August 2018, the band's single 'Idol' hit over 45 million views, which set the record for the most viewed music video online in its first 24 hours.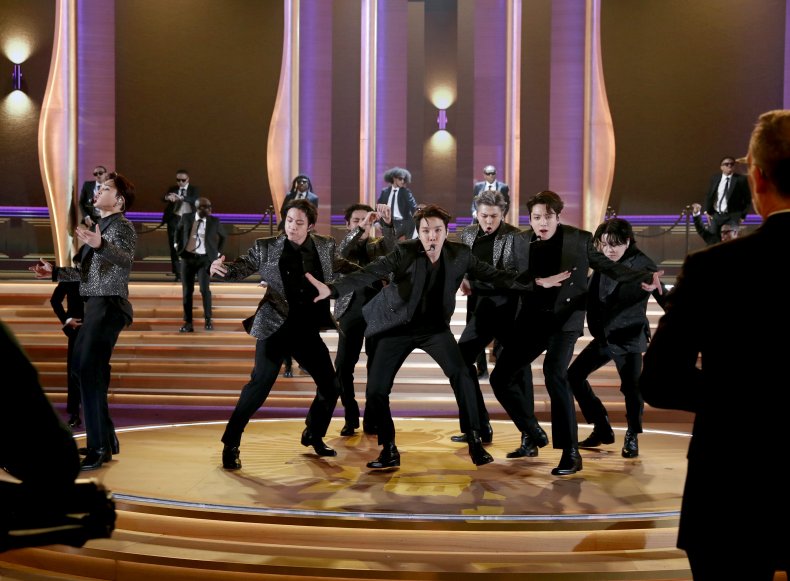 Is Joe Biden a K-Pop fan?
The President has previously stated that "K-pop fans are universal" which was a delight to the BTS ARMY (their fandom name) and K-pop fans around the world.
Shortly following this, the The Tonight Show put a video together of clips of Biden, making it appear that he was singing the popular BTS song "butter".