BTS fans have been well and truly melted by Jungkook's latest debut, a suspected eye brow piercing, in the group's music video for "Butter".
The 23-year-old is a part of the superstar K-pop group, alongside band members Jin, Jimin, J-Hope, RM, V and Suga.
The group have been catapulted to success over the last few years, having recently received a Grammy nomination, created a McDonald's collaboration and become house ambassadors of Louis Vuitton.
"Butter" has already racked up an astonishing 33 million views in the hours since its release on Friday morning, at the time of publishing.
The hotly-anticipated music video went down a treat but it was Jungkook's new eyebrow jewelry that really caught the attention of fans.
Twitter user @lucyj_ford wrote: "jungkook eyebrow piercing has entirely altered my brain chemistry."
"JUNGKOOK WITH LONG BRIGHT BLUE HAIR AND HIS NEW EYEBROW PIERCING????? I CANT MOVE," @YOONlVRSE posted.
@BTSHeartbreaker gushed: "jungkook having tattoos, changing his hair color and now having an eyebrow piercing f****** made me happy. man is having the best time of his life and starting to get comfortable minding nothing else but what he loves and what he wants Loudly crying face I aaaam soooo here for it! Purple heart we love u jk."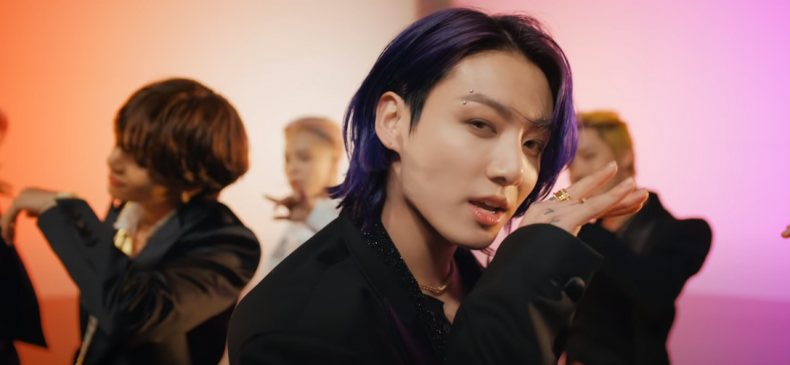 User @AshikaSa25 shared: "omg jungkook eyebrow piercing is confirmed I am screaming bye....."
"the growth in jungkook's stylistic choices from experimenting with a new vibrant hair color every month to trying out an eyebrow piercing for this comeback to continuing to change up his clothing, hairstyles and lifestyle like he is constantly evolving and it's so COOL to witness," @jeonboops praised.
Another excited fan, with the handle @monaaaaaa32, posted: "JUNGKOOK WITH LONG BRIGHT BLUE HAIR AND HIS NEW EYEBROW PIERCING, I JUST CANT MOVE Loudly crying face #BTS_Butter."
Meanwhile user @elle_moonchild7 joked that they would need "up to 10 business days" to process Jungkook's new look.
BTS' dedicated fanbase, known as the ARMY, have become famed for breaking records for the band.
The "Butter" music video, which starts out in black and white before bursting into a bold color palette, perfectly showcases the seamless dancing BTS has become known for.
However, it does have some big shoes to fill if it is going to break the records set by the group's 2020 single "Dynamite".
"Dynamite" obliterated previous YouTube records and earned three new record-breaking titles as the most-viewed video in 24 hours, the most-viewed YouTube music video in 24 hours by a K-pop group and the most-viewed YouTube music video in 24 hours.