BTS Fans Want to Raise $2 Million for Black Lives Matter After Matching K-pop Group's Donation in Just One Day
K-pop supergroup BTS inspired their dedicated fans to match their donation of $1 million to the Black Lives Matter movement—and now they are aiming to raise the sum to $2 million.
The loyal fandom, collectively known as the ARMY, managed to raise $1,026,531 with 35,609 donors in just one day.
The total currently stands at $1.127 million at the time of publishing and the hashtag #2MForBLM started trending on Monday morning.
The group's management, Bit Hit Entertainment announced the donation to Variety on Saturday—and the legions of fans matched the amount in just 24 hours.
The donation was set up by One In an Army, volunteers who have united to help different organizations every month, all over the world, united in their love for BTS.
They used the hashtag #MatchAMillion to track the donations, which they said would go towards "bailouts for those arrested for protesting police brutality, black-led advocacy orgs fighting against systemic injustice, support for the physical and mental health of the black community."
The initiative has since made the BLM donation page a permanent feature on their website, where they are encouraging fans to continue to donate to various causes including Colors of Change, Reclaim the Block, The National Bailout Collective and Black LGBTQIA+ Migrant Project.
BTS announced their support for BLM and the widespread protests against racism and policy brutality last week when they tweeted: "We stand against racial discrimination. We condemn violence. You, I and we all have the right to be respected. We will stand together. #BlackLivesMatter."
K-pop fans, or "stans," have proven themselves valuable allies to the BLM movement over the past week.
On June 3, they flooded the hashtag #whitelives matter drowning out white-supremacist messages with "fancams."
K-pop fans are known for dominating Twitter hashtags with these so-called "fancams"—videos of their favorite singers performing—usually aimed at other celebrities with the goal of getting the most views on clips of their idols.
Last week, K-pop fans spammed the Grand Rapids Police Department in Dallas with fancams after the Dallas Police Department launched an app to report protestors.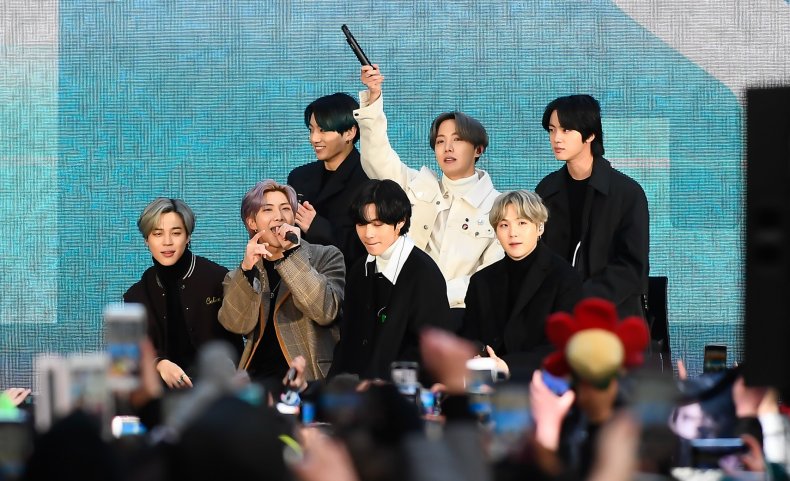 A K-pop fan account shared the department's tweet and called on the subculture to spam the app, tweeting: "guys download the app and f****** FLOOD that s*** with fancams make it SO HARD for them to find anything besides our faves dancing."
Shortly after, the Dallas Police Department said on Twitter that "due to technical difficulties" the app would be down temporarily.
K-pop fans have since been responding to police departments across the U.S. with videos of their favorite singers.
Several other K-pop artists have pledged support and donations to for BLM over the past week with Mark Tuan of boy band GOT7 donating $7,000 to the George Floyd Memorial fund and Korean-American rapper pH-1 pledging $3,000 to Black Lives Matter. While Jae of K-pop/rock group DAY6 made a $1,000 donation to the Minnesota Freedom Fund.
BTS took part in YouTube Graduation Special, Dear Class of 2020 on Friday along with the likes of Barack and Michelle Obama, Beyoncé, Taylor Swift, Lizzo, and more.