BTS Is Back: Fans Freak Out After K-Pop Band Announces New Tour Dates Following Month-Long 'Extended Break'
BTS' much-needed period of rest and relaxation is officially over. Following a four week "extended break" from the entertainment business, the K-Pop band reemerged over the weekend.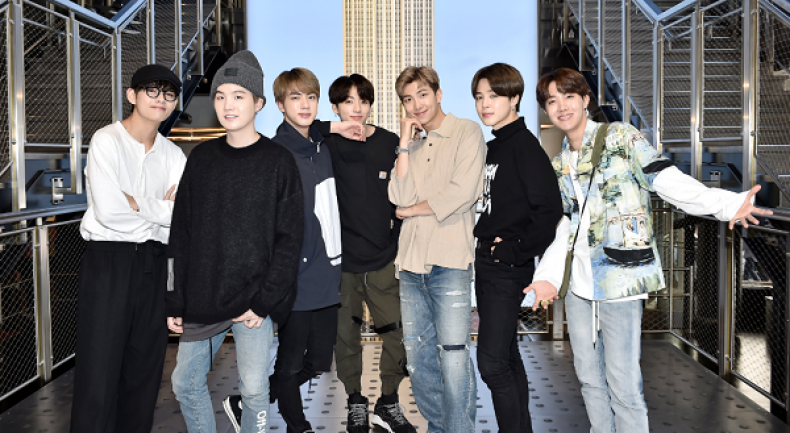 All seven members of the group, including Jungkook, V, Jimin, RM, Suga, Jin and J-Hope were spotted at Incheon International Airport in South Korea on Sunday. They appeared to be filming something on GoPro cameras, although it is unclear exactly what the footage will be used for.
BTS' appearance at the airport sparked immediate speculation online that the group's vacation was finally over, and to the delight of many fans—particularly those in the Middle East—their assumptions about the group's break was right. Shortly after their sighting, BTS announced tour dates including performances in Saudi Arabia on Monday Morning.
BTS is expected to appear in concert as part of their Love Yourself: Speak Yourself tour in Saudi Arabia on October 2. Just a few weeks later they'll perform three nights during a homecoming tour in South Korea on October 26, 27 and 29.
The BTS Army—as fans are affectionately referred to—couldn't contain their excitement to discover the group was back in action. Hundreds of followers flooded social media to share their happiness over the band's official return, and dozens of fans shared sweet messages for BTS's Saudi Arabia Army for finally having the opportunity to see the singers perform live.
"Idk...but seeing the excitement of Arab army getting their tickets to see BTS is making me so happy for them #BTSinRiyadhTickets," one fan wrote.
During their break, BTS' management company Big Hit Entertainment announced an upcoming drama series based on the band members' lives before they became famous. However, that project is expected to only mirror their lives pre-BTS and cast young actors to portray the band. The untitled project is slated for a 2020 premiere.
Fans were already under the impression BTS' break wasn't indefinite. Big Hit said the group would return after enjoying some time off, but rumors began to circulate that they were back in the studio singer after Becky G posted a video of Korean snacks while J-Hope was on vacation in Los Angeles. Both Becky G and J-Hope previously said they wanted to work together on new music, and the timing of her video of Korean treats and his arrival in her city didn't seem to be merely a coincidence to fans.
Big Hit revealed the group was going on hiatus back in August. "We would like to announce that for the first time since their debut, BTS will be going on an official and extended period of rest and relaxation," the statement read, noting that the time off would allow the young men to "recharge and prepare to present themselves anew as musicians and creators."
BTS released their first studio album, Dark & Wild, in 2014. Since then they've released a number of albums—including three in 2018 alone—in addition to three movies.
BTS Is Back: Fans Freak Out After K-Pop Band Announces New Tour Dates Following Month-Long 'Extended Break' | Culture