Bucha Killings in Ukraine Lead Germany, France to Expel Russian Diplomats
In the latest condemnation of reports of Russian soldiers killing civilians in Bucha, Ukraine, German Foreign Minister Annalena Baerbock said Monday that a "significant number" of employees at the Russian Embassy have been declared "undesirable" and will be expelled from the country.
France is also expelling "many" Russian diplomats, with Agence France Presse (AFP) reporting that the nation will boot 35.
Reports of the attacks in Bucha have drawn international criticism, as U.S. President Joe Biden said Monday morning that he believes even more now that Russian President Vladimir Putin is a war criminal who should be tried for the actions of the Russian military.
Russian authorities have denied the allegations of Russian soldiers killing civilians in Bucha as politicians from around the globe have condemned the attacks, and claimed that civilians may have been killed by Ukrainian shelling of the city.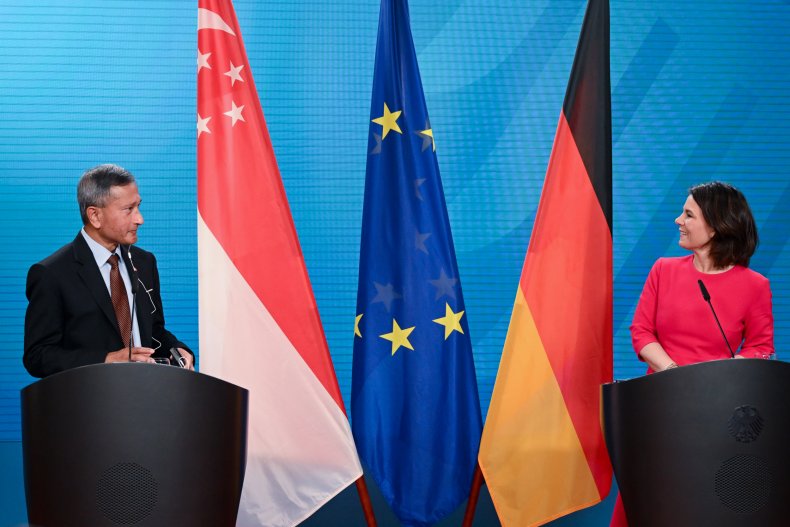 "The images from #Butscha testify to a will to annihilate that transcends all borders," a translation of Baerbock's German tweet reads. "We have therefore declared a significant number of employees of the Russian embassy to be undesirable. We will initiate further reactions together with our partners.
"We will further tighten the existing [sanctions] against [Russia], decisively increase our support to the Ukrainian armed forces, and also strengthen the eastern flank of the #NATO."
Baerbock said in an official statement that the diplomats who will be expelled "have worked here in Germany every day against our freedom, against the cohesion of our society" and that their work is "a threat to those who seek protection with us.
"The pictures from Bucha bear witness to the unbelievable brutality of the Russian leadership and of those who follow its propaganda, to a will to annihilate that transcends all borders," Baerbock said. "We have to fear similar images from many other places that Russian troops have occupied in Ukraine.
"We must oppose this inhumanity with the strength of our freedom and our humanity. However, it must also be clear that we must stand up for our freedom and be prepared to defend it."
Germany has presented new sanctions for the European Union to levy against Russia in response to the attacks, Baerbock said. She also said it is important for international investigators to gather evidence and information into potential war crimes for future prosecution efforts.
"France decided this evening to expel many Russian personnel with diplomatic status assigned to France whose activities are contrary to our security interests," the French Foreign Ministry said in a statement. "Our first responsibility is always to ensure the safety of French people and Europeans."
Last week, dozens of Russians were expelled from several European countries over alleged "national security threats," the latest in a series of expulsions of Russian diplomats from across the globe in response to its invasion of Ukraine.
Also on Monday, Lithuania and Latvia altered their diplomatic relations with Russia in response to the deaths in Bucha. Lithuania announced that Russia's ambassador will be required to leave, and the Lithuanian ambassador in Moscow will return home soon.
"What the world has seen in Bucha, unfortunately, may only be the beginning. With other liberated cities, we may see more horrific examples of war crimes. All war crimes and crimes against humanity committed by the Russian armed forces in Ukraine will not be forgotten," Lithuanian Foreign Minister Gabriel Landsbergis said.
Latvian Foreign Minister Edgars Rinkēvičs said Monday that his nation is planning to "tighten" diplomatic relations with Russia, and said further details will be announced when they are final.
Update 4/4/22, 4:19 p.m. ET: This story has been updated with additional information, and statements from the French and German, Lithuanian and Latvian foreign ministries.