Budweiser Silent On Renewing Russian Contract Amid Putin's Ukraine Invasion
Anheuser-Busch InBev SA/NV, the Belgian company that owns Budweiser Brewing Group, told Newsweek that it would not comment on whether it would sever its partnership with a Russian firm it had partnered with for its "ultra-low carbon" can project that took place in the U.K. and Ireland.
On Thursday, Politico's E&E News, which covers energy and environmental issues, reported that Budweiser's pilot program to introduce eco-friendly cans produced in collaboration with En+ Group IPJSC, a Russian company that stands as one of the world's largest low-carbon aluminum producers, had concluded.
Anheuser-Busch InBev told Newsweek that the program had ended in December 2021. However, when Newsweek asked the company if it would end its partnership with En+ since the pilot program had ended and address whether it planned to work with the Russian company again in the future, a spokesperson referred to the following statement:
"We can confirm that our pilot project to produce the low carbon can has concluded according to the estimated timeline. We are focused on supporting our Ukrainian colleagues and the humanitarian efforts for those affected."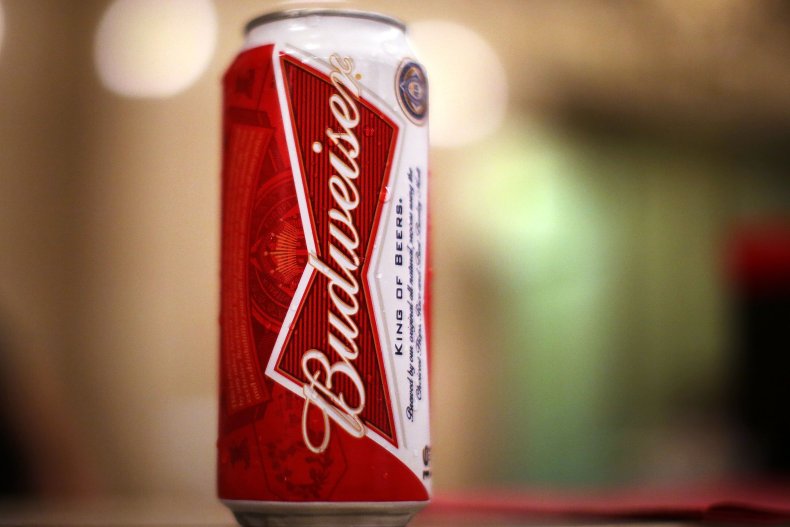 Anheuser-Busch InBev announced in September last year that it was planning to use the Russian company's technology to produce low-carbon cans from emissions-free aluminum.
Because many aluminum producers rely heavily on coal and gas as a part of the smelting process, according to E&E News, the industry plays a significant role in the creation of carbon emissions. Budweiser's aim to partner with the low-emitting En+ was a part of the company's aim to move to net-zero emissions by 2040.
En+'s access to hydropower allows it to bring aluminum to market that it says is five times less carbon-intensive than the industry's average, E&E said. It is also developing other technologies to make the process even less carbon-heavy.
E&E News reported that Anheuser-Busch InBev "remains committed to its previous climate goals," despite the ending of its pilot program with En+. However, there was no immediate announcement as to how the company plans to move forward toward that goal.
While Anheuser-Busch InBev would not confirm whether it would sever its ties to this specific Russian firm, other corporations have announced measures to retool their operations in the country. Apple announced it would halt the sale of its products in Russia and Google has removed Russian state-funded publishers from its system.
Much of the West has chosen to crack down on Russia through a series of economic maneuvers. In addition to private companies pulling their services out of the country, the U.S. and its NATO allies have released a series of sanctions that have seen the value of the country's currency crumble as its markets take a severe dip. President Joe Biden warned the West would not stop there if Putin continued his conquest.
"Our forces are not going to Europe to fight in Ukraine, but to defend our NATO allies—in the event that Putin decides to keep moving west," Biden said during the State of the Union address this week. "As I have made crystal clear the United States and our allies will defend every inch of territory of NATO countries with the full force of our collective power."
Newsweek contacted En+ Group for comment but did not hear back before publication.
Correction 3/4/22 1:00 PM ET: A previous version of the article incorrectly indicated that the ending of the pilot program ended Anheuser-Busch InBev's relationship with En+ Group. The article and its headline were updated to reflect that Anheuser-Busch would not comment if it will sever its future partnership with En+ Group.