Joss Whedon: What Every 'Buffy' Cast Member Has Said After Charisma Carpenter Allegations
Buffy the Vampire Slayer stars have been rallying to support Cordelia actor Charisma Carpenter after she accused show creator Joss Whedon of abusing his power through a number of "disturbing incidents."
The actor, who played Cordelia first in Buffy the Vampire Slayer and then in spin-off Angel, released a statement on her Twitter in February, which read in part: "Joss has a history of being casually cruel. He has created hostile and toxic work environments since his early career. I know because I experienced it first-hand. Repeatedly."
With Carpenter alleging this treatment happened on the set of the show, fans were left wondering what other cast members of the WB series had to say about the allegations.
What the cast of Buffy the Vampire Slayer has said about Joss Whedon
Sarah Michelle Gellar
Buffy herself was among the first to react to Carpenter's post. In an Instagram post, she wrote: "While I am proud to have my name associated with Buffy Summers, I don't want to be forever associated with the name Joss Whedon. I am more focused on raising my family and surviving a pandemic currently, so I will not be making any further statements at this time. But I stand with all survivors of abuse and am proud of them for speaking out."
David Boreanaz
Despite working with Carpenter on both Buffy and Angel, Boreanaz released only a very brief comment about her allegations. He replied to her post: "I am here for you to listen and support you. Proud of your strength."
Carpenter replied to this by saying: "I know you're there for me, David. I appreciate all you've done to demonstrate that support privately as well. Especially since Wednesday. -Thank you so much."
Amber Benson
Benson, who played Tara before her character was killed off in Season 6, quoted tweeted Charisma's statement, writing: "Buffy was a toxic environment and it starts at the top. @AllCharisma is speaking truth and I support her 100%. There was a lot of damage done during that time and many of us are still processing it twenty plus years later. #IStandWithRayFisher #IStandWithCharismaCarpenter."
Michelle Trachtenberg
The Dawn actor, who joined Buffy as a 15-year-old in the show's fifth season, made one of the most explosive allegations against Whedon. Posting Gellar's statement on her own Instagram, she added: "Thank you @sarahmgellar for saying this. I am brave enough now as a 35 year old woman....To repost this. Because. This must. Be known. As a teenager. With his not appropriate behavior....very. Not. Appropriate. So now. People know. What Joss. Did. The last. Comment I will make on this. Was. There was a rule. Saying. He's not allowed in a room alone with Michelle again."
Anthony Stewart Head
The Giles actor was asked about the allegations on British show This Morning. He said that he had not seen anything on set, though added that this did not mean that nothing happened."You can probably see that I've been up most of the night, just running through my memories, thinking, 'What did I miss?'"
He later added: "One of my memories—my fondest memory, in fact—was that he [Whedon] was so empowering, not just in the words of the script but in the family feel of the show."
Eliza Dushku
The actor, who played Faith on both Buffy and Angel before going on to work on Whedon's Dollhouse, wrote a length Instagram post in which she did not address the allegations specifically (or use Whedon's name) but offered her support to Carpenter.
This post began: "CC, my heart aches for you & I'm so sorry you have held this for so long. Your post was powerful, painful, and painted a picture we'll collectively never un-see or un-know. Thank you. I hadn't known it and I won't forget it."
James Marsters
The Spike actor's tweet seemed to mirror that of Gellar, hinting at a difficult work environment without calling out specifics. He wrote: "While I will always be honored to have played the character of Spike, the Buffy set was not without challenges. I do not support abuse of any kind, and am heartbroken to learn of the experiences of some of the cast. I send my love and support to all involved."
Nicholas Brendon
The Xander actor first said on his Facebook: "I'm not speaking on Joss yet. It's very personal for me, so I'll speak on that when I'm ready to speak on that. Because he and I had a relationship."
This was then followed by a Facebook Live, in which Brendon did offer his support to Carpenter, but seemed to be more positively inclined to Whedon than other cast members. He said: "I mean, unless you know Joss, it's just kinda, like... I just hope that growth comes, and healing, and him being a better person and better people... 'Cause I think that's what every day is about.
"You know what I mean? Not beating somebody up...I mean, were there transgressions? Yeah, there were. To me as well, you know what I mean? It's like, I had my relationship with Joss as well. And I love him. You know, you take... I mean for me, I took the good, I took the bad...but that's not everybody."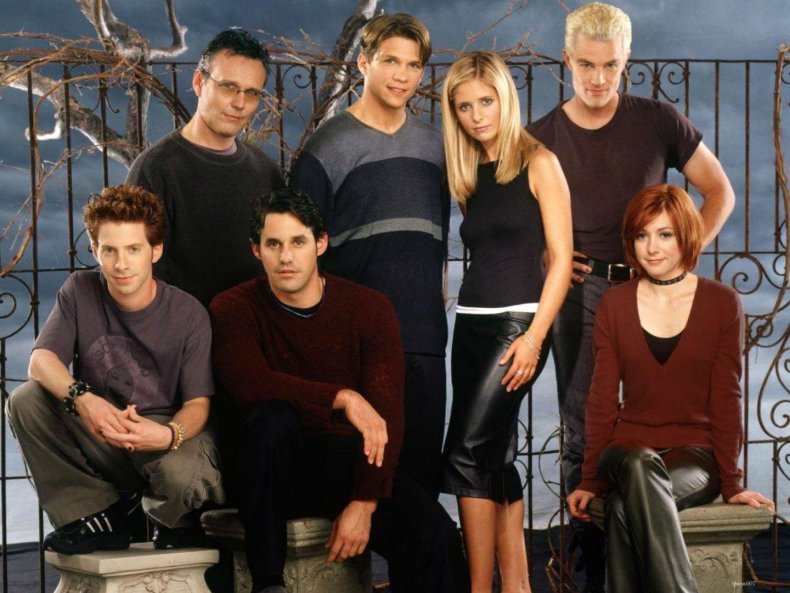 Emma Caulfield
In an Instagram story, the Anya actor reposted Gellar's statement.
Yet to comment
Both Alyson Hannigan (Willow) and Kristine Sutherland (Joyce) have yet to publicly comment on Carpenter's allegations. We will update this article if either makes a public statement.
Newsweek has reached out to Sutherland, Hannigan and Whedon for comment and will update this article when we get a response. Marc Blucas (Riley) and Seth Green's (Oz) representatives have also been contacted for comment.