Bugs Bunny's Controversial History Revisited After Ron DeSantis' Comments
Social media users are revisiting the controversial history of Bugs Bunny cartoons after Florida Governor Ron DeSantis claimed that Disney is pushing for certain topics in its cartoons.
"One of the things that really bugged me were these Zoom videos with all these people that are high up in Disney, talking about how there was intention to inject sexuality into the programming for these very young kids," he said on Wednesday during a campaign event for Republican U.S. Senate candidate Adam Laxalt in Nevada, according to The Recount.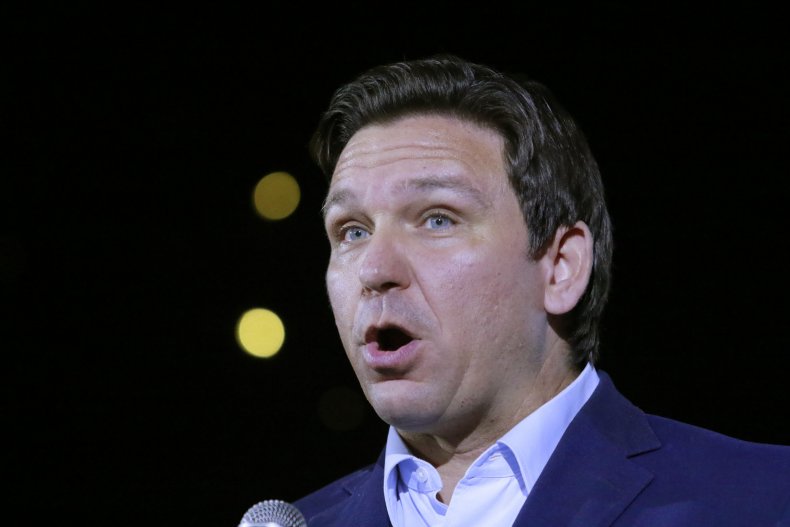 He continued: "When we were young, you can watch cartoons without having to worry, now parents have to sit there and worry about what are they trying to inject in? What type of ideology are they trying to pursue? And that is wrong."
Though DeSantis didn't specifically name Bugs Bunny during his remarks, some individuals online responded to his comments by using the cartoon character as an example to show that sexuality was addressed in old cartoons.
One person on Twitter shared on Friday a number of cartoon stills in which Bugs Bunny is seen cross-dressing and wrote: "I'll just leave these reminders of Bugs Bunny for anyone that wants to wax on about 'old cartoons that weren't indoctrinating our kids.'"
DeSantis' comments came amid an ongoing feud that he is having with Disney after the company said that it will work to repeal the Parental Rights in Education bill, also dubbed as the "Don't Say Gay Bill," which was signed into law. The bill aims to ban teachers from addressing sexual orientation and gender identity issues in kindergarten to third grade classrooms.
In response to DeSantis' remarks made this week, another person also pointed out Bugs Bunny's cross-dressing, saying: "Apparently, Ron is still feeling icky about being turned on by Bugs Bunny in drag when he was 8."
One Twitter user argued that animator Chuck Jones considered Bugs Bunny as a non-binary character.
"Chuck Jones in his later years considered Bugs Bunny 'Trans and Beyond the Binary' in support of the Trans Community. Conservatives would lose their s**t if Chuck was alive and said this today," Twitter user Zak Wood wrote in a tweet in which he shared DeSantis' remarks.
The notion that Bugs Bunny was meant to cross-dress in support for the trans community was also addressed online almost a decade ago when one blogger wrote "I realized that Bugs and the other occasional Warner Brothers cartoon cross-dressers were the only children's TV characters that validated my young son's desire to dress in girls' clothes."
Meanwhile, other Twitter users responded to DeSantis' remarks by pointing at the controversial history of Bugs Bunny. One person referred to an instance when the cartoon character sawed off Florida and sent it drifting in the ocean.
Another instance showed Bugs Bunny shooting and killing a member of the audience for coughing during a piano recital.
Newsweek reached out to Disney for comment.