Ted Cruz Mocked Over Disney Remarks About Mickey Mouse 'Going at It'
Critics have mocked Senator Ted Cruz (R-TX) after he suggested that Disney cartoons might feature Mickey Mouse and his pet dog, Pluto, having sex with each other.
Cruz made the remarks during a recording of his podcast Verdict With Ted Cruz as part of his disapproval of Disney for the company's public opposition to a controversial new Florida education legislation that critics have dubbed the "Don't Say Gay" law.
A clip of the recording released on Tuesday garnered criticism on social media, with some Twitter users mocking Cruz for bringing up the idea of intercourse between the well-known cartoon characters.
"I think there are people who are misguided, trying to drive, you know, Disney stepping in, saying, you know, in every episode now they're gonna have, you know, Mickey and Pluto going at it. Like, really?" Cruz said.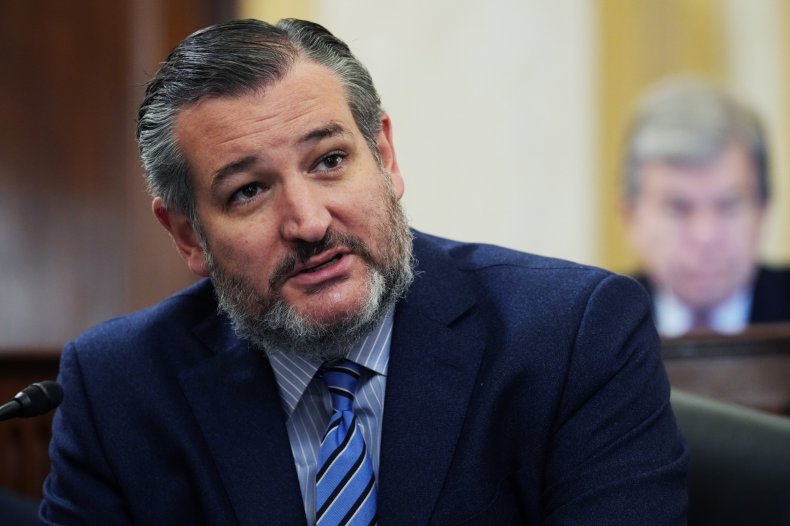 "It's just like, come on guys, these are kids, and you know, you could always shift to Cinemax if you want that. Like, why do you have—it used to be, look, I'm a dad. You used to be able to put your kids on the Disney Channel and be like, alright, something innocuous will happen," he went on.
The official Twitter account of the Lincoln Project, a conservative group opposed to former President Donald Trump, shared the video and added the comment: "Ted Cruz has some ...odd thoughts."
Lincoln Project cofounder and former Republican political strategist Rick Wilson tweeted: "I did NOT have 'Cartoon Dog Porn Expert' Ted Cruz in my Tuesday Hellscape Bingo card."
Princeton University historian Kevin M. Kruse also chimed in, tweeting: "Look, all we parents want is to have a safe space on Twitter without having to hear Ted Cruz's creepy fantasies about Disney characters committing bestiality, but he keeps cramming it down our throats."
"My apologies, I'm told that non-parents want that too," Kruse later added.
Jemele Hill, contributing writer at The Atlantic, wrote: "Why are some of the straights so obsessed with gay people's sex lives?"
"As if there is some sordid history of Disney cartoon characters having sex on screen. I would call Ted Cruz shameless, but that would indicate he was capable of feeling embarrassed about his stupidity," Hill said.
MSNBC host Joy-Ann Reid shared a picture of cartoon characters Beauty and the Beast from Disney's 1991 movie of the same name.
"@tedcruz misses the days when you could put your kids in front of a Disney movie and something innocuous would happen... no 'nuvo' style relationships that would make a red-blooded man uncomforta... wait a minute!!!" Reid tweeted.
Mike Sington, a retired senior executive at NBCUniversal, struck a more serious note.
"The far right's crusade against Disney goes into overdrive," Sington wrote. "Ted Cruz suggests Disney on the verge of Mickey and Pluto having sex. Then he mentions he's a dad, and the horrifying reality hits that someone had sex with Ted Cruz."
Molly Jong-Fast, contributing writer with The Atlantic and Vogue, tweeted: "Cruz will say he's joking, some Qanon people will think Disney is making adult content."
Florida's Parental Rights in Education law prohibits "classroom discussion about sexual orientation or gender identity in certain grade levels or in a specified manner."
Disney had earlier faced criticism, including from some of the company's employees, for not speaking out against the new Florida law. On March 7, Disney CEO Bob Chapek wrote in a memo before the bill was signed into law that companies "do very little to change outcomes or minds."
Later in March, the Walt Disney Company said the law "should never have passed and should never have been signed into law." It said the company would help to have the law repealed or struck down in the courts.
Newsweek has asked Senator Ted Cruz's office for comment.